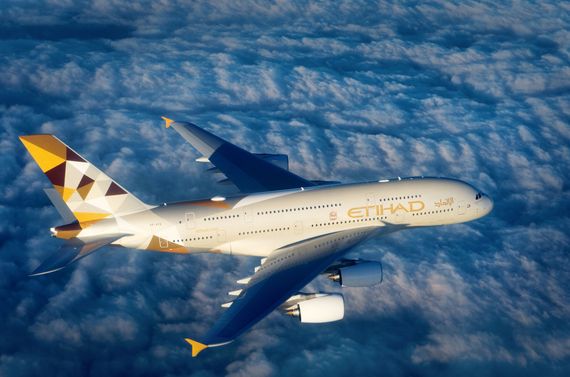 Today, of course, airlines everywhere are scaling back, devising ever more ways to cut, condense, or charge customers for every amenity once considered standard. So, it is with delight I can report that one airline has gone the other direction, and is pushing the envelope of luxury, comfort and service in the sky, while at the same time acting as an exemplar in ethical practices.
I spent much of the year contained in the stratosphere, employing various winged chariots to connect points on the globe, traveling to such as Burma, Djibouti, Saudi Arabia, Albania, Bosnia, Namibia, Turkey, Montenegro, Papua New Guinea, and many points between. And in so doing I experienced a panoply of airlines. Many, including most of the North American carriers, were simply adequate, making minimum effort to maximize profits. Some were quite good, and went the extra 10 miles or so. But Etihad is in a category by itself, so far above the rest as to be in a different orbit. Etihad Airways, in my book, now takes the prize as the best carrier in the world. And I'm not the only one to bestow this honor. Etihad was named 'Best Airline - Business Class' for the second consecutive year at the TTG Travel Awards in Bangkok in October. And for the tenth consecutive year Etihad was awarded the title of Middle East's Leading Airline at the World Travel Awards.

But let me share my take on the lofty designation. Flying to Africa from North America can be a pitiless two-day exercise. Traveling with my son, Walker, I am on my way to the Namib desert to document the Cheetah Rehabilitation Center within the 45,000-acre Solitaire Land Trust, overseen by friends Pasquale Scaturro and Carey Peterson. The transport to this project is all the more meaningful because Etihad Airways has launched a new Animal Welfare and Conservation Policy as part of an ongoing effort to promote wildlife conservation. How many major companies, let alone travel concerns, or airlines, take on such a bold initiative?

The policy prohibits the carriage of hunting trophies, any endangered to threatened species, or any animal parts, shark fins and live animals intended for scientific research. In addition, the airline is supporting the Born Free Foundation's Travellers' Animal Alert - an online tool that gives travelers anywhere in the world the opportunity to raise concerns about any cases of animal suffering encountered on their trips. As a long-time purveyor of travel to Africa, and a witness to wildlife loss of unimaginable scale, I loudly applaud this effort, and believe Etihad is a flagship with heart, and a carrier with higher purpose.
And, it is such a transporting pleasure to find that conscientiousness can be combined with luxury. Etihad is living proof.
I so remember the heady prime of Pan Am when travel was a sumptuous experience, and passengers dressed up for the passage. I was once turned back from an upgrade to the front of the plane for not wearing a coat and tie. But that made the experience that much more exclusive and glamorous. Oh, what happened to that golden age of travel?
Etihad has brought it back, and raised the bar.
Etihad has gateways throughout the U.S., including L.A., where I step through the threshold and into a magic glass, into the lobby of what could be a seven-star resort. When I met James Hogan, the Etihad CEO, in Los Angeles earlier this year, he said "We don't carry passengers; we carry guests. Our benchmark is not set against other airlines, but with the best hotels and restaurants in the world."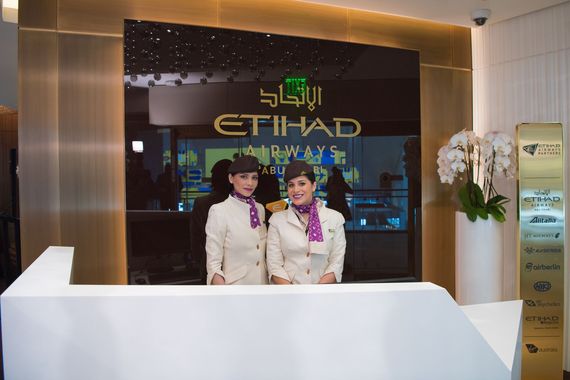 Spinning past the custom Arabic fretwork screens and blinds, I find my seat, and settle in. The plane takes off, rising above the noise. And the extreme amenities begin.
Despite rumors of demise, style, class and the tailored experience are not extinct, not here, not now. They are here re-imagined. I sip the wickedly refreshing lemon-mint welcome drink. I pull on my socks from my Sougha amenity kit. I freshen up in the spacious lavatory, awash with toiletries, perfumes and lotions, niceties no longer available on most U.S. airlines. Back at my seat, I recline, pull the plush comforter to my chest, and, in lieu of the live T.V., watch a classic film on the large flat screen, while sipping a boutique wine. Dinner, which can be served anytime by the on-board gourmet chef, is brought by a trolley covered with elegant wood-finish doors. I sup the gladness of the chicken vindaloo curry, with a punnet of strawberries for dessert. But, the wait staff makes it clear that almost any meal can be prepared, and customized to taste, anytime during the flight. Afterwards, I order up a caffè latte, hand-crafted on the spot, even with the swirl on top. It may be the best latte I have ever sipped.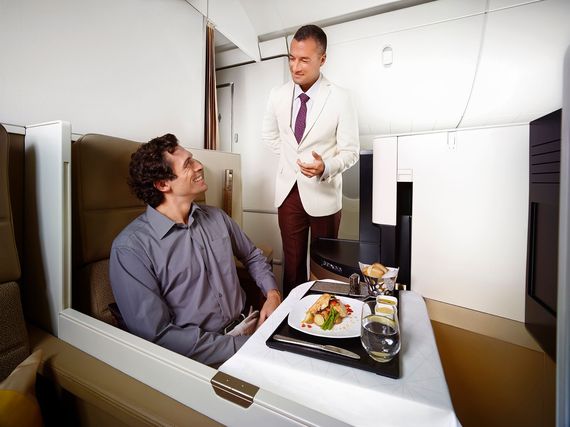 Too soon we are on the descent.
Abu Dhabi is a super-hub, a crossroads within a few hours flying time to two-thirds of the world's population, and it serves all the great gateways, from London to Delhi to Beijing, as well as most of the capitals of Africa, over 600 destinations in all. And, it has its own immigration clearance facility which allows passengers traveling to the United States to clear customs and immigration before boarding, so no bleary-eyed long lines after landing in the U.S.
But, rather than zoom on through to Africa, we choose to spend the night, to dip toes in what may be the most chimerical urban nerve-center in the world. So, of course we book the Etihad Towers Hotel, a dazzling bolthole, and the place to restore and recharge after a day of air travel, before continuing onwards. It may be most famous as the setting for a Fast & Furious 7 scene in which one of the super cars speeds out of one tower and lands in the middle of a cocktail reception in another. But I didn't know that when I checked in and was greeted with complimentary dates, a chilled lemon and mint juice, and a cold face towel.
From its grand spacious lobby dominated by an oversized modern bauble chandelier, and the room overlooking the Emirates Palace, marina mall, the Corniche and the piercing blue of the Arabian gulf, everything speaks to a triumph of space and high-design. I luxuriated in the free standing bath. The bed, adorned with rose petals, was so comfortable it was like sleeping on a puff of air. And the executive lounge, which takes up the entire 45th floor, is so complete you never want to leave, but especially during its Veuve Clicquot champagne hour.
There are so many exquisite touches, from the bottles of shampoo fashioned in the Etihad towers shape, to the mood lighting, electric curtains and netting, the Nespresso machine, wide-screen TV, and the three swimming pools and private beach, and even to the endless international buffet breakfast at The Rosewater Restaurant. The experience is as close to a magic carpet ride as any Arabian Night ever told.
After a breakfast buffett offering more choices than any in the known universe (including towers of fresh breads), we head to the airport and check into one of the most magnificent lounges ever conceived. Rightly so, it was named by the World Travel Awards as the Middle East's Leading Airport Lounge for 2016.
Once through the door we are greeted by a smiling hostess who offers up fresh dates and coffee in a silver dallah. Inside, it is a sanctuary. There is a white-linen restaurant that will serve most anything to order, all fresh. There is a cigar bar, packed with premium Cuban smokes. There is a champagne bar. And a Quiet Room, with huge, swish couches, for sleeping. And a Prayer Room. There is a family room designed for young travelers, bright and colorful, with a nanny. There are showers, televisions, computer monitors...but most impressive: The Six Senses Spa. It has 13 treatments, including massages, facial therapies, scrubs and wraps. The first fifteen minutes are complimentary. I choose the Bamboo Fusion, a deep pressure bodywork using real bamboo. And, surprise, they press my clothes while being massaged.
Afterwards we are so relaxed we almost melt into the soft chairs.
When it is finally time to board, we're escorted to an air conditioned white BMW with a chauffeur, and whisked across the tarmac to the plane logoed with Etihad's design motif -- a series of warm-toned triangular mosaic patterns, which their designers call "Facets of Abu Dhabi." Up the staircase, and to my seat for take-off. Then, with a completely flat bed, with direct aisle access, the inbuilt massager on low, the noise-cancelling headphones fitted, and stars in the ceiling, I sleep most of the way to Johannesburg. Nobody can be uncheered on Etihad.
Oh, on such a flight, the time is too swift, feathered with flying hours; it is flight that dissolves the qualms of earth-bound life. Like a good book, I don't want this flight to end.
I am in Business Class, which unfurls like a poet's dream. But as luxurious as this seems, it is outdone by another innovation, one that hurtles so far ahead of any other carrier that it flies in a space by itself.

On its long-haul A380s, Etihad has introduced The Residences, luxury hotel-style three-room suites, with a double bedroom (complete with Egyptian cotton sheets on a natural fiber mattress); private bathroom with stall shower; a living room with marquetry table, custom carpet, large-screen T.V., and seats designed with the same leather used in Ferraris; and, get this, a dedicated English butler (trained at the Savoy Butler Academy in London.) It's a penthouse in the plane, the world's most deluxe living space in the sky. We're talking posh private cocoons with your own personal chilled-minibar. This goes beyond First Class, to some other category yet understood or even named.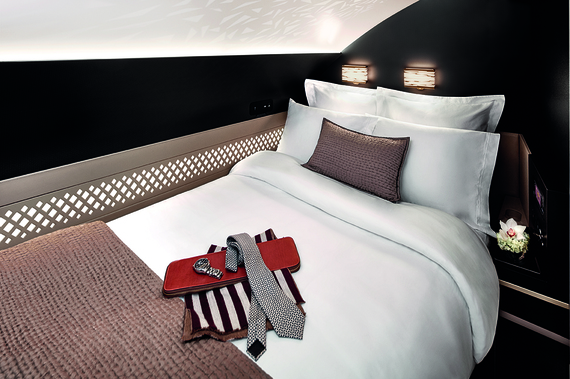 But with great luxury comes great responsibility.

Besides the mindful policies concerning wildlife, Etihad is leading the way towards environmental equity in the skies with its 'BIOjet: Flight Path to Sustainability' program.

The goal is to create a viable alternative to fossil-based aviation fuel, and the project has seen promise in a pathway that includes fish farming and a flowering plant called Salicornia. The initiative, if successful, could significantly reduce our carbon dependency, a good thing, especially from an airline. Etihad is not just a steward to its customers; it is attempting to be a steward for the planet, and for that I give it very high marks.
There is an ancient and deeply revered Arab concept called diyafa, which means hospitality that is so good and generous it rides the clouds.
Etihad has taken this sensibility to the 21st century and created the most hospitable experience in the skies--it is so warm and welcoming, so pro-active in preservation effects, it is so exceptional, you never want to go home again.
In the wake of bestowing this honor, I caught up with Peter Baumgartner, CEO of Etihad Airways, and Shane O'Hare, Senior Vice President of Marketing, and asked them a few questions:
Richard: Etihad is the fastest growing airline in the history of commercial aviation. How did you accomplish this, and what is the strategy for the future?

Peter: Our equity investments and codeshare partnerships have played a vital role in our rapid growth over the last 12 years.
Years ago, when we looked into our options with the global alliances, we found we had none. None of the three global alliances wanted a Gulf carrier member at that time.
Yet, to have any chance of success, we had to get to a size and scale that could compete against the networks of airlines that had not only been operating for years, but had benefited from decades of government investment and infrastructure support.
Our equity strategy was born of necessity. The alliances did not want us so we simply changed our strategy. We found a new way to compete. We developed a truly unique partnership approach that offers a new model for airline competition.
To become a competitive global network carrier today is incredibly challenging. Our main competitors have flown for decades, even generations - they have mature networks, large fleets, global presence and market access.
Partnerships allow us to compete effectively and give us scale, access, and differentiation. Then we took that a step further with minority equity investments in strategically important airlines. Each one was made in response to a specific strategic requirement.
We have a two-pronged approach. From a strategic level, we are looking for the equity partners to bring network connectivity, generate additional revenues and create economies of scale.

Customers benefit from new routes, schedules, capacity and connections; more choice and convenience; and more competition on price and product. Together with our partners we represent the world's seventh largest airline group. Our combined revenue is more than US $25 billion. We carry more than 110 million passengers a year and employ more than 72,000 people. That gives us great scale and also great bargaining power.
So, strategic partnerships and minority equity investments have provided the scale and market access we require to compete efficiently and effectively while creating a new competitive choice for air travelers in key markets around the world which is good for consumers, good for tourism and good for trade.
Within the U.S., we also have strong codeshare partnerships with American Airlines and JetBlue Airways.
Looking 10 years from now, I hope that we'll be in a bilaterally unconstrained world where Etihad Airways itself will remain the world's best airline, providing more choice at competitive airfares to the travelers in the market segments we choose to serve, always via our hub and home, Abu Dhabi.
Richard: Tell us why you think Etihad has become the Best Airline in the World?

Peter: We are always thinking ahead when it comes to innovation. Even when we unveiled products such as The Residence on the A380, we were already thinking about innovations that will follow. We never stand still.

Few industries are as competitive as aviation so we know that a sustained innovation process is fundamental. It's key to providing remarkable products and services to our guests now and into the future.
Innovation can clearly increase profits - if consumers value it enough to pay a premium - or it can lower costs by increasing efficiency or functionality. The one thing we do not do is innovate for the sake of innovation. There has to be a clear strategic purpose and direction, a valid reason and a worthwhile return on the investment. If there is not, then no idea will make it from the drawing board to reality.
We have a proven track record of acting with agility and innovation when we decide to move in a certain direction. While we have faced a lot of challenges and resistance in some quarters in our first 12 years, we are winning the hearts and minds of consumers because we are delivering the products and experience they want - and deserve.
Etihad Airways today is a sustainably profitable business. 2015 was our fifth consecutive year of increased profitability. That didn't happen by chance, it happened by design. It took a lot of hard work and investment in people, infrastructure, and network.
But it also involved a lot of thought and effort to produce a bespoke product and service that our guests love and want to fly. Take The Residence on our Airbus A380 aircraft - that was the result of a seven-year research and development program led by the Etihad Design Consortium.
Our Butlers, Inflight Chefs and Nannies, among many others, are further reasons why people choose to fly with Etihad Airways. These are reasons people look at us and think, 'Hey, here's an airline that really thinks carefully about the guest experience and does things differently'. So, they try us. And once they try us they remain loyal to us.
Richard: There is nothing like The Residence in the sky. How did you come up with this concept, and usher it into being? How popular is it?
Peter: We sought to create a hospitality environment on board our aircraft. We had a clean sheet of paper - so we decided to use it to our full advantage. We've never been a company to draw our inspiration from other airlines and we never benchmark ourselves against other carriers alone. Most airlines do the same thing in pretty much the same way. Occasionally, someone will come along and take a small step forward, doing the same thing in a slightly better way than before.
Right from the start, we decided to benchmark ourselves against the very best the world of hospitality has to offer. We benchmark ourselves against five-star hospitality brands, including the best restaurants, hotels, or private members' clubs.

On the A380 we have literally created a home in the sky with The Residence. This is the only three room suite on a commercial aircraft and includes a living room, double bedroom, ensuite shower room and personal Butler service.
We never try to take the status quo and improve upon it. We instead look to turn things on their head and create remarkable new and unexpected experiences. There's simply nothing else like The Residence in commercial aviation.
We have seen a good take up from a diverse range of people - everyone from celebrities and top businessmen to people celebrating milestone birthdays and anniversaries and those whom simply have The Residence on their 'bucket list'.
There's also a considerable halo effect from The Residence and the amount of column inches it has generated across the world has been phenomenal - it's been worth millions in free advertising alone.
Our New York to Abu Dhabi route has been particularly popular for guests traveling in The Residence. We currently operate one A380 daily between the two markets but we plan to up gauge our second daily flight to an A380 aircraft, beginning in June 2017.

Richard: While most airlines are becoming ascetics in their offerings, even considering charging for in-flight bathroom visits, Etihad is going the other direction, sky-high. I, for one, am thankful. Why this approach?
Shane: We do not consider travelers who fly with Etihad Airways to simply be our passengers. They are our guests. Our first priority is to deliver the best customer service experience possible every time they fly with us which includes offering a taste of our home of Abu Dhabi and modern Arabian hospitality. This philosophy has been central to the culture of our airline and how we continue to operate.

From exclusive and unique amenity kits, available across all classes of service for the comfort of our guests to the best-in-class service provided onboard by our Butlers in The Residence, In-Flight Chefs in First Class, Food and Beverage Managers in Business Class and Flying Nannies in Economy Class, every aspect of the travel experience has been meticulously crafted to deliver the most luxurious, comfortable, and stylish experience in the world. We also take the opportunity to frequently speak with our guests about what they want and need when they travel with us and how we can best deliver this. We are constantly looking to reset the bar for innovation and hospitality by leading the industry versus following what others have done.
Richard: Abu Dhabi is a super-hub, a crossroads within a few hours flying time to two-thirds of the world's population, and it serves all the great gateways, from London to Delhi to Beijing, as well as most of the capitals of Africa. How did the airline achieve such an ambitious roster so fast, and without sacrificing quality in any aspect?
Peter: The Middle East is a region that offers tremendous growth opportunity. It benefits from a superb geographical position, ideally placed to connect mature, expanding and emerging markets. Abu Dhabi is a convenient stopover point for travel from Europe to Far East and Australia and a crossroads for India, China, Africa, Far East and South America.
The Middle East's location also enables non-stop flights to almost any destination worldwide. The Airbus Global Market Forecast emphasizes our unique geographical position - it shows that more than 95% of urban population is within a range circle of 15,000 km of Abu Dhabi.
Passenger numbers at Abu Dhabi International Airport rose ¬by 17.2 per cent in 2015, with more than 23 million travelers passing through its terminals. Etihad Airways alone carried 17.4 million passengers in 2015, up 18.4% on the previous year. We were responsible for nearly three-quarters of traffic through Abu Dhabi during the year. And, we are the only commercial carriers to provide direct, nonstop services between the US and Abu Dhabi.

We are certainly planning for further growth with a new Midfield Terminal at Abu Dhabi International Airport. This is 700,000 square meter building, set over seven levels with an annual capacity of 30 million passengers. It will have a handling capacity of up to 8,500 passengers per hour, more than 150 check-in desks and more than 40 self-service check-in kiosks. The facility includes a 400,000-square meter cargo terminal and a transit hotel with more than 160 rooms.
But we will not sacrifice quality for growth. We remain ever-mindful of our commitment to our guests to deliver the highest levels of service, hospitality, innovation and operational performance. We continue to invest in technology and customer improvements to accomplish exactly that including, most recently, the First-Class Lounge & Spa we just opened at Abu Dhabi International Airport as just one example.
Richard: Etihad has its own immigration clearance facility which allows passengers traveling to the United States to clear customs and immigration before boarding, so no bleary-eyed long lines after landing in the U.S. That is a brilliant value-add for the international business traveler. How did you manage to arrange this, when few others in the world offer such?
Peter: Abu Dhabi International Airport was selected by the U.S. Government to offer this service to U.S.-bound travelers. It allows them to be processed through the U.S. Customs and Border Protection Preclearance facility at Abu Dhabi International Airport, clear all U.S. immigration and customs checks before boarding, and arrive in the U.S. as domestic passengers, saving them valuable time connecting to other flights or proceeding directly to their final destination. We are delighted that Etihad Airways guests can enjoy the benefits of preclearance. More than 600,000 passengers were processed through the Preclearance facility in 2015. This facility is the first of its kind in the Middle East, Asia and Africa and one of only a few available in airports worldwide.
We also participate in TSA Pre-Check, allowing guests who are approved by the TSA for the program to speed through security lines - a huge time saver which I am sure my fellow travelers can attest to.

Richard: Some say the Etihad lounge in Abu Dhabi is the best in the world. Tell us about it? What is The Six Senses Spa?
Shane: We would have to agree. Our new First Class Lounge & Spa is spectacular and the jewel of our airline lounges, providing an unmatched hospitality experience. We set out to create a refined and stylish environment for our guests, with great design, comfort, world-class dining, and bespoke beauty and relaxation services.

The lounge is open 24 hours, 7 days a week and offers 16 unique zones, including an à la carte restaurant, bar, fitness room, cigar lounge, TV room, secluded relaxation room, prayer room, children's play room, Style & Shave salon, and our renowned Six Senses Spa. Guests are welcomed by a specialized team of reception and lounge staff, which include a General Manager, Concierge, Maître d'hôtel, Savoy-trained Butlers, chefs and mixologists with unique skills designed to complement our luxurious lounge environment.
The Six Senses Spa has three treatment rooms with shower facilities. First class guests can enjoy a complimentary treatment, which adds to our goal of not only providing the highest quality services to our guests, but of making travelers feel relaxed and attended to whenever they travel with Etihad.

Richard: Etihad has a unique way to whisk business-class passengers from the terminal to the plane (an air-conditioned BMW with a chauffeur). Tell us about this amenity.

Shane: We believe the travel experience doesn't just begin when you arrive at the airport, but from the moment you leave your home.
Within the U.S., Etihad Airways guests traveling in The Residence, First and Business classes can take advantage of our door-to-door chauffeur service when traveling within a 60-mile radius of New York, Washington, Los Angeles, and San Francisco or a 70-mile radius of Chicago and Dallas.
Guests traveling in these same classes of service are also eligible to receive complimentary limousine service to anywhere in the United Arab Emirates, including Dubai. The Etihad Chauffeur service can be requested online, through our Global Contact Centers, or through local travel agents up to 24 hours prior to the date of travel.
This is just another way we aim to deliver the highest levels of comfort, luxury, and world-class hospitality at every point in a guest's journey.

Richard: There is an ancient and deeply revered Arab concept called diyafa, which means hospitality that is so good and generous it rides the clouds. Is that an element of the Etihad philosophy?

Peter: Diyafa absolutely speaks to the Etihad philosophy. The Etihad Airways experience is one of a kind and reflects the very best of the United Arab Emirates and Arabian hospitality, including the warmth, culture, prestige, and generous spirit of the country, our home of Abu Dhabi and its people.
Our cabin crew are Etihad Airways' secret weapon in delivering on this philosophy of hospitality. They represent more than 140 different nationalities to meet the needs of our diverse guests who come from everywhere around the world. One of the advantages of being a non-legacy carrier is that we can train our cabin crew in a unique way to our exact standards. From Savoy-trained Butlers and Michelin-star chefs to renowned Food and Beverage Managers and Flying Nannies trained at Norland College, we train our people on board our aircraft, across all cabins, to offer the highest standards of service.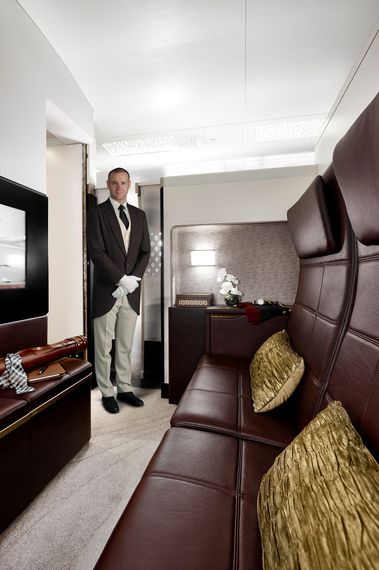 Any aircraft you board will have 12 different languages spoken. We are fortunate to have great people who work for us in Abu Dhabi who are committed to delivering world-class hospitality.
At the end of the day, it's up to the guest who they choose to fly with but what sets us apart is that we have fantastic, innovative products and engaged, enthusiastic people who enjoy working for us and welcoming our guests traveling with us each day.
Richard: Etihad has a modern fleet, including several A380s. Tell us about the fleet, and their routings?
Peter: Overall, from our home of Abu Dhabi, we fly to 117 passenger and cargo destinations in the Middle East, Africa, Europe, Asia, Australia and the Americas. And we continue to improve and expand our fleet, which includes 122 Airbus and Boeing aircraft, with 204 aircraft on firm order, including 71 Boeing 787s, 25 Boeing 777Xs, 62 Airbus A350s and 10 Airbus A380s.
We are taking advantage of the latest in technology with these great aircraft. With our current fleet order, we will be the largest operators of the B787. We will also be a large operator at the Airbus A350-900 and -1000, along with the next-generation B777. And within the region, we also operate A320s and A321s.
We gave careful thought to create just the right fleet mix to take advantage of the short-haul, mid-haul and ultra-long-haul markets, and ultimately, offer superior connectivity for our guests.
As far as our fleet of A380s, we operate daily flights between Abu Dhabi and London (2x), New York (1X), Mumbai (1X), Sydney (1X), and Melbourne (1X). Our A380 service between New York and Abu Dhabi will get a boost as we move to all A380 service between the two routes beginning next June with the up gauge of the aircraft operating our second daily flight.
Peter: For us, it is all about the guest. We are going to keep pushing the envelope. We are going to keep innovating and developing the best aviation group in the world. We will not rest on our laurels and we have no time for the status quo nor doing things the way they have always been done.
Looking ahead, what I think we will see more of is interaction with our guests and how they choose to interact with us. People, businesses and societies are interacting in ways previously unimagined and I think it is in these areas where we will see the greatest innovation. Each month, over two billion people use global messaging platforms - WhatsApp, WeChat, Facebook Messenger, or LINE (according to KPCB Internet Trends 2015). An Ericsson Mobility Report states that 90 percent of the world's population over six years old will have a mobile device by 2020. This is the world we live in now.
We recently launched a Digital Guest Innovation Vision - a five-year roadmap for our digital development. This is about knowing our guests and tailoring their experience like never before. Neither is it just about self-servicing - it is about empowering face-to-face personal service, too. For us, it is about everything from getting the basics right to becoming remarkable for digital.
There's always more we can do and our track record of innovation and delivering are the proof points as we continue moving forward. We've built this business on safety, sound strategy, innovation, service, and hard work. That will continue.
We are still hungry to grow and be the best but it will be smart growth, launching to the right destinations at the right time with the right return on investment. So, while we get bigger, our aim will remain to be the best, not the biggest, with the very best people providing the very best products and services in the industry.