Yes, one lone travel warrior can hardly contest with the crowd-sourcing data we've come to expect and rely upon with the likes of TripAdvisor, Yelp and such. Yet, as Matthew Upchurch, CEO of Virtuoso and champion of the personalized, expert advice, likes to say: "Automate the predictable so you can humanize the exceptional."
Traveling for a living (and for the sheer love of movement) has been my ken for quite a number of years, and along the way I've had the chance to compare and contrast rafts of service providers. In the past months I've flown most of the major international carriers, and quite a few of the minor ones, and so have decided to memorialize my own personal recommendations of those I found exceptional. While most airlines are becoming ascetics in their offerings, even considering charging for in-flight bathroom visits, these carriers are going the other direction, sky-high. Despite rumors of their demise, style, class and the tailored experience are not extinct.
These eight finalists are not ranked hierarchically, but rather as those who made the cut to unanticipated quality, extraordinary service and overall distinction.
1)Qatar Airways:
The national carrier of the State of Qatar connects to just about everywhere. Its ultra-modern airport is within 8 hours flying time to 3/4s of the earth's population. Checking in for a business class seat is like checking into a five-star hotel, complete with concierge and welcome drinks. Settle back to some celebrity chef fare (on my flight, Nobu), and a full flat bed, before stepping into the hot, humid night air of the Gulf. Oh, on such a flight, the time is too swift, feathered with flying hours; it is flight that dissolves the qualms of earth-bound life. Like a good book, I don't want this flight to end.

2)Etihad Airways:
The flag carrier for the United Arab Emirates, Etihad is not only the fastest growing airline in the history of commercial aviation, it is also about to make all other First Class offerings feel quotidian and wanting. Etihad is introducing, on its A380s, The Residences, luxury hotel-style three-room suites, with a double bedroom (complete with Egyptian cotton sheets on a natural fiber mattress); private bathroom with stall shower; a living room with marquetry table, custom carpet, large-screen T.V., and seats designed with the same leather used in Ferraris; and, get this, a dedicated English butler (trained at the Savoy Butler Academy in London.) It's a penthouse in the plane, the world's most deluxe living space in the sky. We're talking posh private cocoons with your own personal chilled-minibar. This goes beyond First Class, to some other category yet understood or even named.
3)Cathay Pacific:
I've flown Cathay thrice in the last months, once to Borneo; another to connect to North Korea; and recently from Rome to Bangkok. The seats are among the most comfortable in the world. The 'herringbone' layout gives everyone easy and direct access to the aisle without gracelessly stepping over a fellow passenger. It offers up the ideal amount of seclusion with easy access to the rest of the cabin. And there's lots of room for personal effects, including a nook for your shoes; a shelf to one side of the seat; and a deep side pocket for your laptop, tablet, noise-cancelling headphones, reading glasses and what-not. Cathay Pacific has won the 'World's Best Airline' award more than any other airline, and for good reason. It is always a delight to fly Cathay.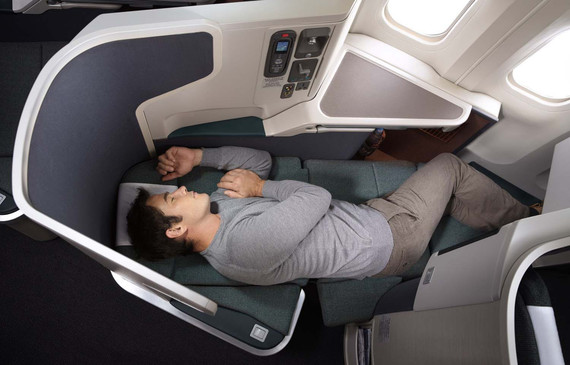 4)Turkish Airlines:
I've flown Turkish a couple times in the last year, once to Delhi (to run the Zanskar River in Ladakh), and just last month to Sarajevo. The seats are as comfortable as a La-Z-Boy, with a hot towel and sparkling mimosa waiting. The toiletry kit looks like an iPad briefcase -- biggest I've ever seen -- and is filled with Crabtree & Evelyn accoutrement. Everything is clean, gleaming like a needle. Not long after take-off the table is set, with real silverware, fine table linens and porcelain salt and pepper shakers. I order up a Mercimek Çorbası (traditional Turkish lentil soup); Kuzu Şiş Kebap (lamb, grilled tomato and green pepper on a skewer), along with a Prestige Narince wine, a distinctive Anatolian varietal. Then, of course, for dessert, an immaculate confection: Ekmek kadayıfı, the Turkish bread pudding smothered in clotted cream. It turns out, according to Skyscanner, which polls airline passengers, Turkish Airlines ranked best for on-board food, and with smacking lips, I can agree.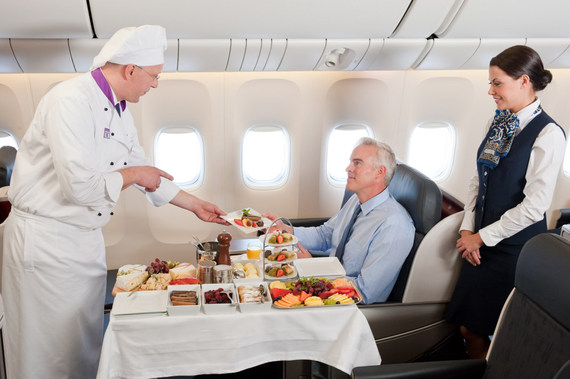 5)LAN Airlines:
This is far and away my favorite airline for any travel to South America. In the last months I've flown LAN to Iguaçu, Buenos Aires, Santiago, Easter Island, Lima, Cuzco, Quito, and twice to The Galapagos. I first flew LAN when it was the primary airline for Chile, back in 1978 when I set out to make the first descent of the Bio-Bio River. Over the years the airline has grown to become the continental carrier for Latin America. It started LAN Perú, Lan Ecuador, and a little later, LAN Argentina and LAN Columbia. It unified under a single LAN brand, and opened up direct service from key US gateways, including LAX, Miami, NY and SFO. And it merged with Brazil's TAM, so it's well positioned to be the carrier of choice for the upcoming Summer Olympics.
The beds in business are completely flat, and the wine is fine Argentinian Malbec and Chilean Sauvignon Blanc. It is leading the way in the continent in sustainability practices, and runs among the greenest airports in the world, in Easter Island (where it is the only carrier with commercial service).

6)Emirates:
It is a 16-and-a-half-hour flight to Dubai from LAX, one of the longest in the world, so there is need for comfort, and there is, seats that recline 180 degrees and sport winged headrests, extra-wide plush eye covers, noise-cancelling headphones, automatic window shades, even stars on the ceiling to lend some ambience and ease away jet lag. The seats give massages, in four settings: normal, pulse, wave and zig-zag. A bottle of Voss water is just an elbow away. And you need entertainment: Emirates spares little with its 17-inch-wide screen and Ice digital video system (a bordering-on-the-ridiculous 1,200 channels), which includes a tablet you can control from the furthest reaches of the chair. The only thing missing is popcorn.
7)Cayman Airways:
I take the Bird of Paradise, Cayman Airways, from Miami, a Boeing 737-300, and am delighted to find the carrier allows two free checked bags, the exception these days. It is also the only carrier I've ever flown that offers rum punch on the service tray. Turns out the punch is supplied by the Tortuga Rum Cake factory, started by a former pilot, Robert Hamaty, whose son, Basil, is our captain.
As we pull to the gate at Owen Roberts Airport there is a giant green iguana on the tarmac. No ordinary airport, this. No ordinary airline. There have been dozens of airlines in the Caribbean that launched and then fell into the ocean of bankruptcies. But Cayman Airways has been around since 1968, and now serves half a dozen cities in the U.S., as well as Cuba, Jamaica, Panama and Honduras.
8)BushCat:
Okay, the BushCat is not really an airline, but an aircraft. Nonetheless, if you want an authentic experience in the African Bush, this is the plane to take. I recently flew in BushCats the length and width of Namibia, and it was the most breathtaking flying of my life.
Manufactured by SkyReach in South Africa, it is a lightweight, low- and slow-winged vehicle, designed for the outback. A BushCat is like a kayak, beautiful in its simplicity. It is low maintenance, largely modular, so any part can be replaced with ease. There is nothing quite as perfect as a small plane, in that perfection is attained not when there is no longer anything to add, such as in a rich man's jet, but when there is no longer anything to take away.
Happy Flying, my friends!
###
Related