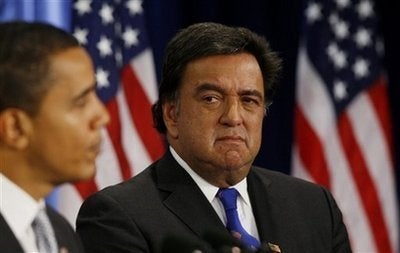 When the New Mexico governor stabbed his former patrons Bill and Hillary Clinton in their backs last March by endorsing Obama over Hillary, everyone knew that Richardson was simply making a calculated political wager by throwing his support Obama's way. After serving in the 1990s as both Bill Clinton's Ambassador to the United Nations and later Secretary of Energy, Richardson desperately wanted to be back in the big show.
Richardson's penchant for lying and unsavory associations has finally caught up to him. His withdrawal as Obama's nominee to serve as Commerce Secretary because of an ongoing grand jury investigation into whether he traded New Mexico government contracts for campaign contributions should come as no surprise. Richardson has always been only a step or two ahead of trouble. And there are reports coming out that he wasn't entirely candid with Obama's transition team about the nature of the investigation.
Richardson made national headlines a few years ago when he claimed he had been drafted during his youth by baseball's Kansas City Athletics. He knew better, and Richardson--a mediocre small-college pitcher--finally had to admit he concocted the story. The lie had nothing to do with politics, but it shed a great deal of light on his character.
A more troubling tale took place on the campaign trail last year when Richardson embellished a story about a young American soldier from New Mexico, Lance Cpl. Aaron Austin, who had been killed in Iraq. During his campaign, Richardson often claimed that he had an emotional conversation with Austin's mother, saying she thanked him for the federal death benefits she had received and even showed him the government check.
Only one problem. Austin's mother said she never had the conversation with Richardson. It was yet another of his self-serving embellishments.
Richardson also played a central role in the Monica Lewinsky scandal, during which time he offered Lewinsky a job at the U.N. in order to get her out of the White House. Evidence suggests that he knew far more about her relationship with Clinton than he let on at the time.
Just this past year, Mother Jones reported on Richardson's unsavory ties to big oil and his peripheral participation in the Peregrine Systems scandal, in which the San Diego company, on whose outside board Richardson served (his wife was also the sister in-law of Pergegrine's CEO), was "engaged in various acts of financial impropriety, including masking the severity of Peregrine's losses with phony accounting."
And he also worked as a lobbyist for Henry Kissinger's DC-based lobbying firm, Kissinger McLarty Associates.
In his current imbroglio, Richardson, who says he did nothing "improper," is being investigated in a pay-to-play scheme involving a Beverly Hills firm, CDR Financial Products Inc., which won two consulting contracts in 2004 worth about $1.4 million to advise New Mexico on a large bond issue.
CDR Financial Products has been investigated twice in recent years by federal agents regarding irregularities in the municipal bonds marketing industry--in which government officials have supposedly received under-the-table payments from companies selling municipal bonds.
REAL LIFE. REAL NEWS. REAL VOICES.
Help us tell more of the stories that matter from voices that too often remain unheard.