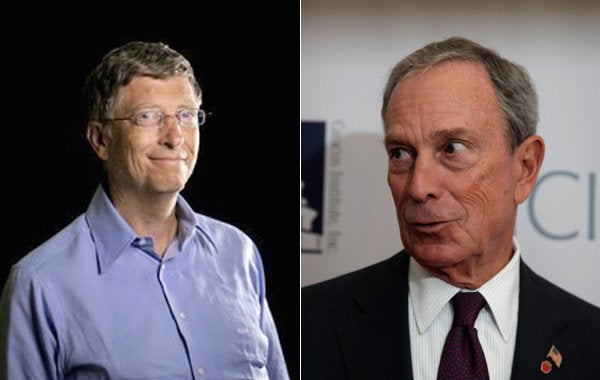 The richest Americans got even richer this year, according to the new Forbes 400 list, even as the country's total net worth tanked during the second quarter.
The top 400, all of whom are worth at least $1 billion, saw their combined wealth increase 8 percent this year, to the dizzying total of $1.37 trillion, according to analysis from CNN.
Meanwhile, according to data released last week by the Federal Reserve, the net worth of American households and non-profits in the second quarter of this year plunged 2.8 percent, or $1.52 trillion, from the previous quarter, to settle at $53.5 trillion.
This means the 400 richest people in America account for about 2.6 percent of the nation's private wealth.
Topping the list -- again -- is Bill Gates, at $54 billion, up from $50 billion last year. In second is Warren Buffett, the so-called Oracle of Omaha who Thursday said it's "common sense" that "we're still in a recession," with $45 billion. Members of the Walton family (of Walmart fame) snagged spots four, seven, eight and nine. New York mayor Michael Bloomberg, with $18 billion, came in 10th. Investor George Soros, who last week called the nation's economy "blah," came in 14th with $14.2 billion.
Charles and David Koch, the manufacturing and energy titans and Tea Party movement bankrollers, profiled by Jane Mayer in The New Yorker last month, tied for fifth place with $21.5 billion apiece.
Facebook founder Mark Zuckerberg, in 35th place with $6.9 billion, is no longer the youngest billionaire on the list -- his colleagues at Facebook, Dustin Moskovitz (in 290th with $1.4 billion) and Eduardo Saverin (in 356th with $1.15 billion) have joined him. Moskovitz is eight days younger than Zuckerberg. Both are 26.
In a video interview with Forbes, Buffett said he is "sort of wired for capital allocation" and that he loves his profession so much that "I would be doing what I do now, and I would have done it in the past, if the payoff had been in seashells or shark's teeth or anything else."
Buffett was having a conversation with rapper Jay-Z, who didn't make the billionaires list, and who offered insights into his own rise to glory:
"We were into a lot of street things," he said. "It just so happened I had a talent to make music."
Related
Popular in the Community