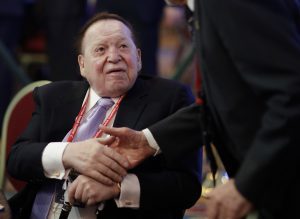 Know what it feels like to be worth more than 10 digits? These 2,043 people do. Forbes released its 30th annual World's Billionaires list last week to make us all feel bad about our bank accounts.
But what does one do with all that dough? With great wealth comes great potential to help your favorite politicians get elected. Of the world's 100 richest billionaires, 36 are U.S. citizens and thus eligible to donate to candidates and other political committees here. OpenSecrets Blog found that 30 of those actually did so, contributing a total of $184.4 million — with 58 percent going to Republican efforts.
Eight of these billionaire households (we included spouses) also fall on our top 100 megadonor list, meaning they and their families were in the uppermost layer of donors to candidates, parties and outside groups in the 2016 cycle.
These eight gave $175.7 million, with $74 million going to Dems and liberal groups, while $102 million went to Republican and GOP causes.

Larry Ellison – Estimated worth: $52.2 billion. Contributions since 1989: $9.5 million
Charles Koch – Estimated worth: $48.3 billion. Contributions (with wife Elizabeth Buzzi) since 1989: $13.1 million
The chairman and CEO of the sprawling Koch Industries conglomerate and his wife donated $6.9 million last cycle, the bulk of which went to Freedom Partners Action Fund, a hub in their vast political money machine. The super PAC spent $28.9 million against Democrats such as Senate candidates Ted Strickland, Catherine Cortez Masto and Katie McGinty. Koch also donated directly to a number of lawmakers, including now-CIA Director Mike Pompeo, House Speaker Paul Ryan (R-Wisc.) and Sen. Rand Paul (R-Ky.).
Of course, these totals, and those for the everyone else we've listed, don't include any dark money contributions — funds given to organizations that can be engaged in politics but don't have to disclose their donors. In Koch's case, that sum may be considerable.
Michael Bloomberg – Estimated worth: $47.5 billion. Contributions since 1989: $68.9 million
Former New York City Mayor Michael Bloomberg has donated tens of millions of dollars in the past three elections, securing him a spot on our list of the 10 biggest donors since 2010. In the 2016 cycle most of his $23.6 million went to Independence USA, a super PAC completely funded by Bloomberg's $21.5 million and $500 from his Everytown for Gun Safety Action Fund. The super PAC spent $6 million against former Sen. Kelly Ayotte (R-N.H.), $789,000 against Donald Trump, $5.9 million for Sen. Pat Toomey (R-Penn.) and $539,000 for Rep. Val Demings (D-Fla.). Bloomberg also gave $1 million to Planned Parenthood's super PAC and $1 million to pro-choice Women Vote!, and contributed to a bipartisan mix of lawmakers, such as Rep. Joseph Crowley (D-N.Y), former Sen. Mark Kirk (R-Illinois) and Rep. Pete King (R-N.Y.). In 2014, Bloomberg won second place with $28.6 million in contributions, most of which went to Independence USA.
Sheldon Adelson – Estimated worth: $30.4 billion. Contributions (with wife Miriam) since 1989: $190.4 million
Sheldon and Miriam Adelson spent $82.5 million last cycle, coming in at No. 2 after opening the spigots late in the election season to douse GOP outside groups with cash: the Congressional and Senate Leadership Funds, pro-Trump super PAC Future45 and Granite State Solutions, which worked against Democrat Maggie Hassan's bid to win a New Hampshire Senate seat. The casino magnate couple topped our list in 2012, donating $93.2 million to Republicans and super PACs like Restore Our Future ($15 million), which was devoted to helping elect Republican presidential nominee Mitt Romney.
George Soros – Estimated worth: $25.2 billion. Contributions since 1989: $61 million
The founder of Soros Fund Management shelled out $21 million last cycle, placing him twelfth on the biggest donor list. About $9.5 million went to Priorities USA Action, which focused on boosting Democratic nominee Hillary Clinton in her White House bid, as well as other liberal groups like House Majority PAC, Planned Parenthood Votes and the anti-Rubio United for Progress. Soros spent more in 2016 than he had in any of the three previous election cycles.
Laurene Powell Jobs – Estimated worth: $20 billion. Contributions (including those of her deceased husband, Steve) since 1989: $4.2 million
Laurene Powell Jobs, founder of social reform organization Emerson Collective and widow of Apple founder Steve Jobs, gave $2.7 million to mostly Democratic causes in the 2016 election, including $1.5 million to Senate Majority PAC, $400,000 to pro-Clinton Local Voices and gifts to a smattering of state Democratic parties. This is the first year this decade she broke into our top 100 list, spending less than $1 million in each of the last three election cycles.
James Simons – Estimated worth: $18 billion. Contributions (with wife Marilyn) since 1989: $46.1 million
The founder of Renaissance Technologies and his wife Marilyn gave out $26.8 million of their $18 billion in wealth in the 2016 cycle. About $11 million went to Priorities USA Action and $8 million to Senate Majority PAC. They also gave directly to Dems in tight races, such as Senate candidates Maggie Hassan (N.H.) and Tammy Duckworth (Ill.), and Clinton.
Steve Cohen – Estimated worth: $13 billion. Contributions (with wife Alexandra) since 1989: $7.3 million
The founder Point72 Asset Management and his wife Alexandra distributed $6.7 million in 2016 by giving about half to pro-New Jeresey Gov. Chris Christie (R) super PAC America Leads to help Christie's presidential effort, and donating to Clinton after she dropped out. As for candidates, once again Cohen didn't discriminate by party, giving to lawmakers such as Rep. Barbara Comstock (R-Va.), Sen. Kamala Harris (D-Calif.) and Sen. Charles Schumer (D-N.Y.).  The couple didn't spend more than $200,000 in any of the previous three election cycles.
In case you haven't caught the pattern, the majority (or 92 percent) of the top billionaires' cash went to outside groups, as opposed to candidates. That was also true in the previous two cycles for these 36 donors' households: 90 percent in 2014 and 97 percent in 2012.
The GOP's ownership of the lion's share of contributions from these titans of wealth was a switch from the past cycle: In the 2014 midterm elections, Democrats and liberals collected 81 percent of the billionaires' $51.6 million in cash. But in the 2012 cycle, when President Obama faced off against Republican nominee Mitt Romney, 78 percent of the $127.8 million from these same wallets went to the Republicans and conservative groups.
Still, those with the greatest wealth don't necessarily pour the most into politics. For example, Nos. 1, 2 and 5 on Forbes' list each gave six figures or less last cycle to federal political causes: Bill Gates ($159,000), Jeff Bezos ($56,000) and Mark Zuckerberg ($33,00) have a lot of room for growth.
For more details about the rest of the rich, see our table below: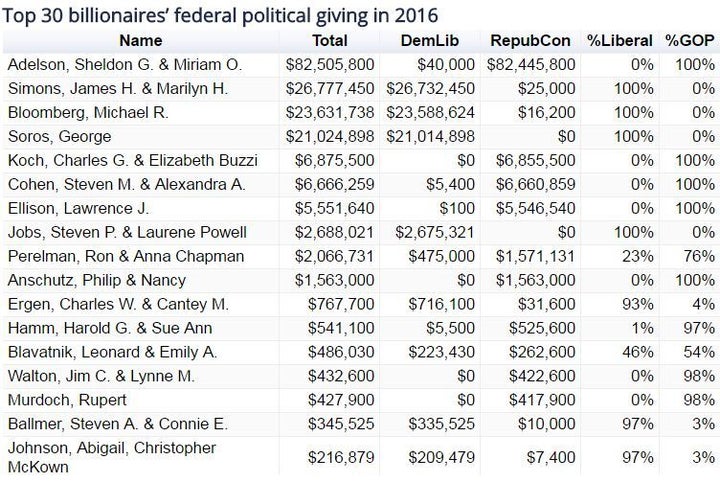 Senior researcher Douglas Weber contributed to this post. 
REAL LIFE. REAL NEWS. REAL VOICES.
Help us tell more of the stories that matter from voices that too often remain unheard.