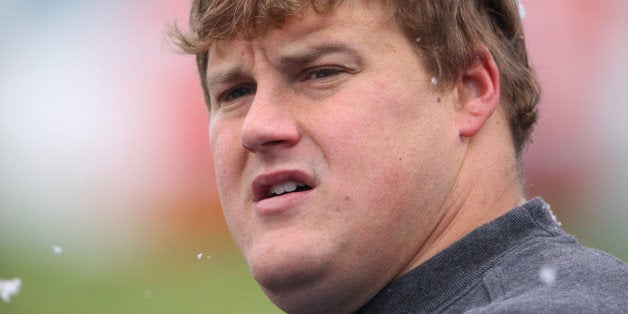 Richie Incognito, the NFL player fighting to repair his image and rejuvenate his career after his long history of racist and homophobic bullying became public knowledge, just wants everyone to know he's not actually a "racist jerk" anymore. He just might find some things kind of funny that other people might think are kind of horrible.
"I told [the Buffalo Bills] what I had learned from the whole situation," Incognito wrote in the text, "that I needed to respect those around me more and that I needed to realize I may find things funny that other find offensive."
"[I want to take] the opportunity to bring attention to a sensitive subject while proving to people that I'm not a racist jerk," he continued. "We talked about possible ways to turn this situation around and ways we can impact the community."
The deal with the Bills is Incognito's first since he was suspended by the Miami Dolphins in 2013 over his treatment of players and trainers. A report conducted last year by an independent investigator for the NFL found that Incognito repeatedly hurled racial slurs at one of the team's trainers and subjected an anonymous player known as "Player A" to "homophobic name-calling."
On December 7, 2012, the anniversary of the Japanese attack on Pearl Harbor, Incognito, Jerry and Pouncey donned traditional Japanese headbands that featured a rising sun emblem (which the Assistant Trainer had given them) and jokingly threatened to harm the Assistant Trainer physically in retaliation for the Pearl Harbor attack. According to Martin, the Assistant Trainer confided in him that he was upset about the Pearl Harbor comments, finding them derogatory toward his heritage.

[...]

During his time with the team, Incognito, Jerry and Pouncey frequently taunted Player A with homophobic insults. He often was called a "fag" or a "faggot" in a demeaning tone. Incognito reportedly accused him of "sucking dick" and "pissing while sitting down" and asked him "where's your boyfriend?" Incognito acknowledged that Player A, although not actually believed to be gay, was spoken to in this manner repeatedly and persistently—he got it "every day from everybody, high frequency."
But a large portion of the report focused on the team's starting right tackle, Jonathan Martin, who eventually left the team to receive help for "emotional issues." Martin, in particular, was "subjected to persistent harassing language," according to the report.
Hey, wassup, you half n----r piece of sh-t. I saw you on Twitter, you been training 10 weeks. [I want to] sh-t in your f--king mouth. [I'm going to] slap your f--king mouth. [I'm going to] slap your real mother across the face [laughter]. F--k you, you're still a rookie. I'll kill you.
For now, anti-bullying advocates in Buffalo are trying to remember that people can change, but seem dubious about whether Incognito really has.
"Can people be redeemed? Should we give second chances? Absolutely, if we're talking about a kid or a first offense," Amanda Nickerson, director of the University at Buffalo's Alberti Center for Bullying Abuse Prevention, told The Buffalo News this week. "[But] I'm concerned about it. If it was just Incognito's issues from 2013, that would be one thing. But there's been a history of aggressive and violent and demeaning behavior that is hard to ignore."
Related
Popular in the Community