I went to NAMM (National Association of Music Merchandisers) for the first time in Anaheim, CA in January. It was staggering -- the equipment, the instruments, shows, musicians, merchandise, lectures -- overall, an overwhelming amount of information. It was fun to walk around in a Singingbelt t-shirt, imagining and strategizing for the future.
Hands down, the highlight of the adventure was finding the Onori Entertainment booth and having the opportunity to meet Richie Onori. If there is a "living legend" DIYer, it is Richie. The current drummer for '70s multi-platinum Brit-rock band The Sweet (on tour with Journey in March), Onori is also a songwriter, recording artist (SOLA Label) and major music merchandise entrepreneur. Owner of Onori Guitar Straps, he has worked in music merchandising for decades and currently, he also represents and distributes Albion Amps in the U.S.
One of he most welcoming and open people you can meet, Richie has the most years of pragmatic experience as an indi artist, musician, and entrepreneur of anyone I know. He has much to say about making a living making music and the many hats one wears as a DIYer to get it done.
RG:When did you start playing?
RO: I started playing drums at age 11. I picked up guitar a little later. In the late '90s I formulated my song ideas and recorded my first tunes.

RG:How long have you been making a living making music?
RO: Since a teenager I was paid for my artistic abilities. However, making a living consistently as a full time musician is easier said than done. The financial wants and needs when you're in your 20s compared to the responsibilities of later life caused me to wear many hats to reach my goals.

RG: How has your business -- Onori Guitar Straps and now Albion -- affected your music career?
RO: It has only enhanced it. Being an entrepreneur I tend to look at all my projects as one business. I can handle my reps, customers and staff from any remote city or airport I'm in. I believe, and it has been my intention, that each one of my endeavors can go hand in hand and can feed off of each other creating a better opportunity for a higher level of branding...

It's the passion of music that drives me and it's a challenge and a balancing act sometimes to say the least, but I find it very exciting and I rarely have time to be bored. Playing drums or guitar or writing songs and singing or selling and being the boss, its all one thing to me and it all seems so necessary for me to do.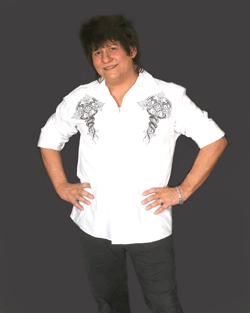 RG: You must often have people starting out -- or those struggling in the middle -- asking you for guidance. What comes to mind?
RO: Have fun doing it and gain or explore your talent you innately have inside of you. Give yourself time to develop and be open to have success. Don't limit yourself because of age or self imposed barriers because if you really want something you'll figure out a way to get it.
RG: I can hear that limitlessness in your music.
RO: I believe in "PFANA" People For a New America" it's the idea of combining the principles of the old and new ideas of changing the planet by new ways of thinking. By respecting our environment and our liberties, and implementing a tax system that makes sense and being open to other ways to heal our bodies and minds.
RG:You were touring extensively in major bands, what inspired you to start Onori Guitar Straps when you did?
RO: I was touring with Bobby Kimball from the multi-platinum group Toto in the late 90's and at the same time I had my own successful rep firm. The problem with being a manufactures rep is when you start making too much money, and at the same time have a career in music, it tends to make people jealous. I was making a great high six figure income from my rep firm, but I was hung out to dry when my partners and the manufacturer teamed up against me. So the answer to your question is threefold 1) I knew I could do it because I did it before so I can do it again 2) I thought if I built my own brand nobody could screw me after I built something and 3) Revenge.
RO: My purpose has been to learn, listen and live and then communicate and tell stories through the medium of music from what I have experienced and witnessed. I love communication, people, and the artistic expression that can be attained from being an artist...I realized that communication and selling, like music, was an art form, too and I excelled in this field. I'm so pleased to have the diversity in my life, never a dull moment.

Related
Popular in the Community