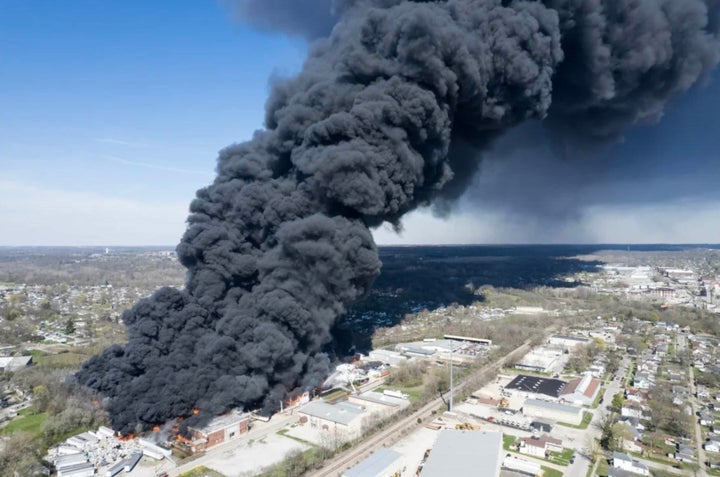 A massive fire at a plastic-packed facility in eastern Indiana is expected to burn and release toxic smoke, soot and ash into the air for several days, authorities said, leading to evacuations and advisories to shelter-in-place for those downwind.
"The smoke is definitely toxic," Indiana State Fire Marshal Steve Jones told reporters Tuesday near the scene of the fire in Richmond, just west of the Ohio border. "We don't want the residents in the smoke, so as the wind changes, we may change the direction of the evacuations."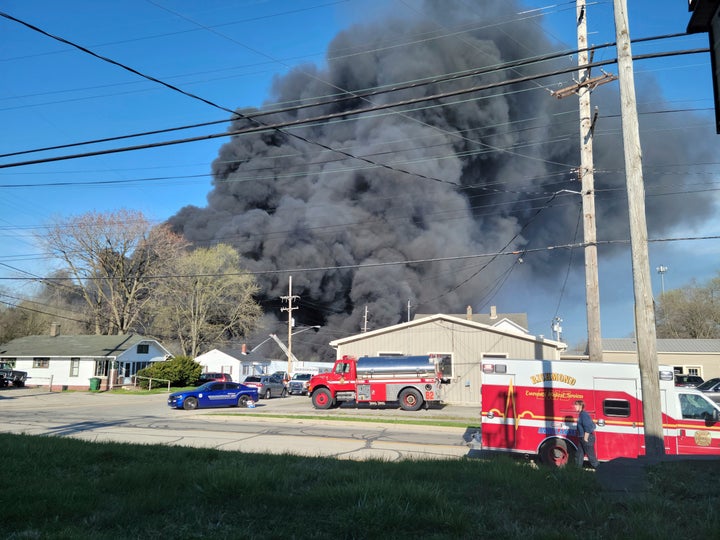 Residents outside the evacuation zone ― especially those downwind, to the east and northeast of the facility ― have also been instructed to stay inside with windows and doors closed and HVAC units off or temporarily relocate. Pets should also stay inside.
It's not clear when evacuation orders will be lifted, with the timing expected to be based on the results of air monitoring tests, the Wayne County Emergency Management said in a statement.
Firefighters have been working in "a defense mode" since first discovering a semi-tractor trailer containing plastic, and reportedly other recyclable materials, fully engulfed in flames behind the estimated 175,000-square foot recycling facility around 2 p.m. Tuesday, said Richmond Fire Chief Tim Brown.
Brown described the fire at Tuesday's press conference as "probably the largest fire I've seen in my career" but under control and not expected to spread to surrounding homes and other properties.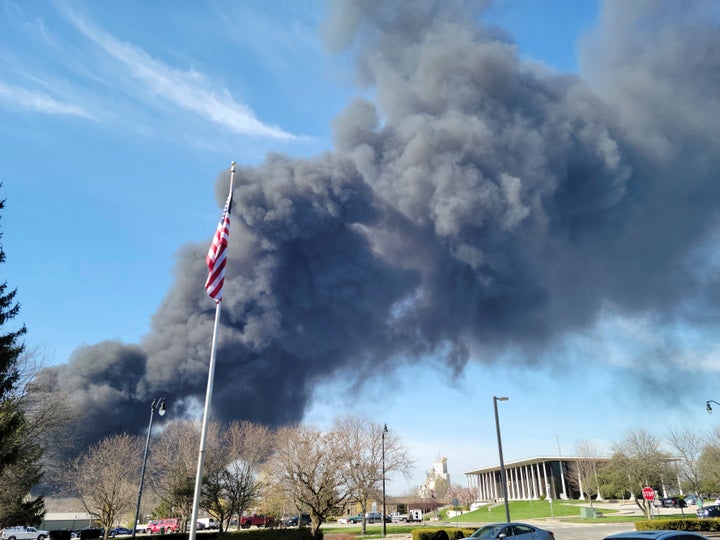 "Because of the nature of the fire and the fuel it is burning, it is expected to continue burning and producing smoke, soot, and ash for several more days," the Wayne County Emergency Management Agency said in a statement.
Brown said the blaze is expected to become increasingly difficult for responding firefighters, including personnel from six assisting fire departments.
"In the coming days, it will be treacherous," Brown said of the coming risks from isolated hotspots that will remain inside the building, which he said was "completely full, from floor to ceiling and from wall to wall" with plastic.
The scene surrounding the facility, where the tractor-trailer was first found burning, is, unfortunately, no different in terms of open space, he said.
"The fire spread from the semi-trailer to other piles of plastics that were around the trailer," he said.
He said that this chaotic scene resulted in firefighters having limited access to the blaze because plastic and other semi-trailers blocked all of the routes leading to it.
"We're surrounding it in every little area that we can," he said. "Anywhere there's a place for us to get an apparatus in, we did, and we used our master streams to keep the fire under control."
A man who privately owns part of the recycling facility had been warned "several times" about the amount of plastic. He was also at one time issued an unsafe citation, said Brown.
"It's very frustrating for all of us," he said. "We knew it wasn't a matter of if, it was a matter of when this was going to happen."
Popular in the Community