 On November 2nd, 2012, in Richmond, Va., just 10 miles from St. John's Church where Patrick Henry famously declared, "Give me liberty or give me death," 25 student-athletes representing the University of Richmond's men's soccer team took the field -- possibly for the final time. Six weeks earlier, following a trustees meeting, the school announced unexpectedly that it was discontinuing the men's soccer program. This was to be their final match, a rivalry game against the 17th-ranked Rams of VCU. One of those young men who took the field that night, Oliver Murphy (a midfielder and sophomore journalism student), shares his account:
We were a 6-11 team playing in the most important game of our lives. We were playing for pride. For most of my teammates, it was the last time we would ever play in a college soccer game. Despite being only a sophomore, I too was playing in what I believed to be my final game that night. As a team, we promised each other that we would leave everything we had on the field. When Coach Cowlishaw stepped into the locker room, nothing needed to be said. We vowed to play for our alumni and ourselves; we vowed to play for Richmond Soccer. At that moment I finally understood why I was always told to "play every game like it's your last."
Why the university plans to euthanize its own program is still being vigorously debated as the final board of trustees vote approaches, on Thursday. According the university, it was a carefully weighed decision, the result of a year-long study that identified lacrosse as a better fit for the school's athletic department. The study itself has not been made public because the university says that some information contained in the report, such as GPAs, SAT scores and disciplinary records, are confidential and cannot be disclosed. Public statements made by President Edward L. Ayers suggest that university officials didn't take the decision lightly -- but that they decided to cut soccer in order to promote lacrosse from club to varsity, keep their desired ratio of student athletes to general student population, and remain compliant with Title IX.
Carry the Flag, a steering committee founded in recent months by alumni soccer supporters, disagree that soccer had to be sacrificed for other goals to be achieved. Carry the Flag, which aimed to further the cause of the men's soccer program and to lead the effort in helping the university provide the program with a new natural grass stadium on campus, had been meeting regularly with school administrators prior to the September 21st announcement. The group says it was blindsided by the school's decision to dissolve the program. And its members offer a much different account of the events that led to the university's decision.
According to Carry the Flag's leadership, the origins of the decision lie in the university's pursuit of financial investment for a new campus visitor center. The group claims that a notable Richmond alumnus who also serves as a member of the board of trustees, pledged a large donation to the project. This donation, according to Carry the Flag, was contingent upon lacrosse being elevated to full varsity status. They are disputing nearly every aspect of the university's decision: from the composition of the committee that recommended lacrosse as a more viable sport, to the use of Title IX as a guillotine rather than a growth initiative. They believe that the decision represents an unprecedented disconnect between a generation that never knew the game and one who embraces it. Perhaps most importantly, the group says it feels that the university has prioritized conditional financing over student welfare, not to mention the sport of soccer itself, which was for many years the jewel of the Richmond athletic department.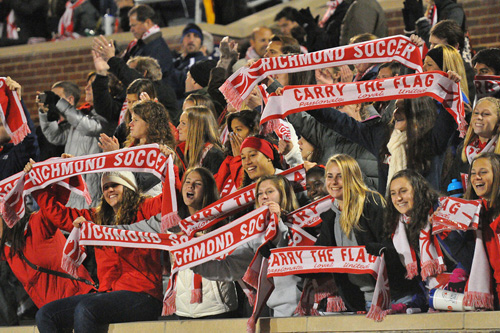 Photo courtesy of Andy Wiley
For Oliver, his teammates, Carry the Flag and the community that supports Richmond soccer, there is hope yet. The program still believes it has supporters on the board of trustees, and over the past few months more than $2.5 million dollars (to be used as an endowment to help finance the program going forward) has been raised. On Thursday, the university's trustees will meet in a boardroom on campus to vote on the program's future. Oliver's collegiate career hangs in the balance.
Between the acrimony and bureaucratic secrecy, it is virtually impossible to decipher the truth as to why the university decided to cut the program. Was it special interests within the university's board of trustees, or merely an unfortunate byproduct of sound business practices?
The truth is, these questions matter less and less as days go on. The time for finger pointing has come to an end. The only thing that should be of concern to the university, its alumni and the Richmond community, is Oliver, his teammates and the heartache they must feel. Those 25 young men made the decision to dedicate some of the best years of their lives to the Richmond soccer program, and now many of them are left standing alone, wondering what to do next. That, above all else, is a tragedy.
My last college soccer game didn't end in a fairy tale. As the final whistle blew, I fell to the ground in exhaustion and disappointment. We tied 3-3 in double overtime. Instantly I felt as if I let down our alumni and shamed our program. I broke into tears. Soon, a good friend and recent soccer alum lifted me off the ground. He hugged me. He told me he was proud of me and he was proud of Richmond soccer. I looked behind him and the entire crowd was giving our team a standing ovation. We had made them proud, too.

But our fight isn't over. We have some hope left. Our alumni and other generous supporters of our program are still fighting and my teammates and I cannot thank them enough for that. This group of guys are more than just a team -- we are brothers -- and we will be forever intact. Each of us will thrive, soccer or no soccer. But don't get me wrong; we still want to play, we have so much more to give.

Our futures will be decided on Thursday.
This post is co-authored by Oliver Murphy, a sophomore soccer player and journalism student at the University of Richmond. On Thursday, December 6, the university's board of trustees will meet to determine the future of the men's soccer program.
Calling all HuffPost superfans!
Sign up for membership to become a founding member and help shape HuffPost's next chapter