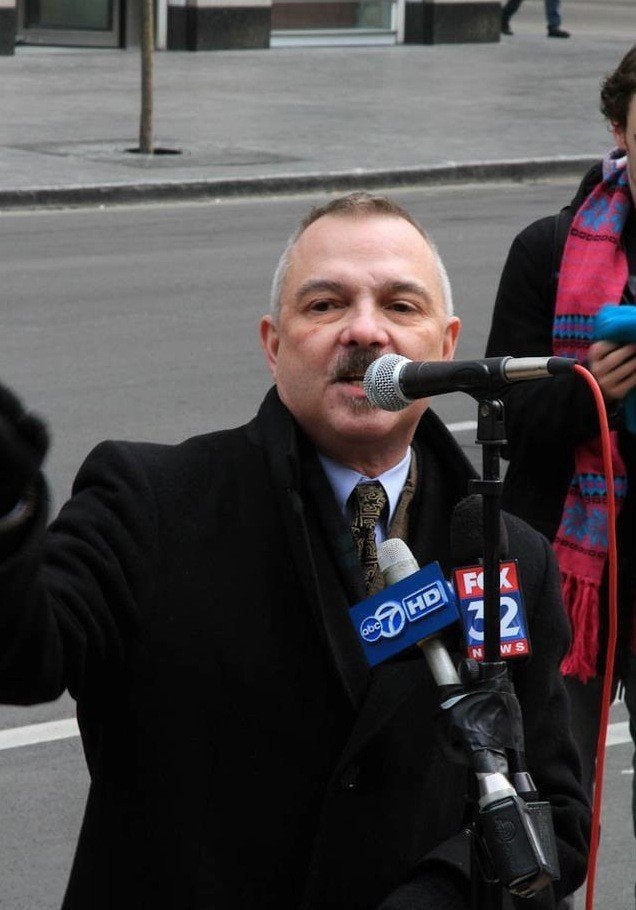 With a vote on same-sex marriage legislation anticipated for Valentine's Day in the Illinois State Senate, marriage equality advocate Rick Garcia has been spending more than his fair share of time at the state's capitol instead of his Chicago home.
On the heels of powerful Democrat Illinois Senate President John Cullerton saying last week that he is confident the bill will soon advance, Garcia -- who has been one of Illinois' leading LGBT activists for going on three decades -- says the "iron is hot" for marriage equality in the land of Lincoln. The measure will be considered in a committee vote Tuesday.
"I've been told it's not a matter of if, it's a matter of when it's going to be done," Garcia, who was instrumental in the effort to pass the state's civil union bill into law, said Monday. "Throughout the political spectrum, people [in Springfield] know marriage equality is going to happen."
The latest participant in our ongoing My Chicago interview series, Garcia recently spoke with HuffPost about the city he has called home since 1986.
What is your age? What is your occupation? 52. I am an advocate for lesbian, gay and transgender people. I am the Senior Policy Advisor at The Civil Rights Agenda.
Where in the city do you live and how long have you lived there? I have lived in Edgewater for about ten years.
What was your first job in Chicago? I came to Chicago to work for Mayor Harold Washington. I worked in his lakefront campaign office.
Which Chicago "celebrity" -- living or dead, real or fictional -- would you have over for dinner? What would you talk about? I would love to have my late friend Jon Henri Damski who was a columnist for Gay Life, Gay Chicago Magazine, Windy City Times and Outlines over for dinner and we would talk about everything. I miss him so much. He was a brilliant thinker, great strategist and always had the pulse of our community -- the real people.
What are your go-to spots when you have visitors in town? So many, depending on who is visiting. Chinatown with my nieces, Halsted Street with my sister, Lincoln Park Zoo and the Arboretum.
If you had to have your last Chicago meal for some tragic reason, where and what would it be? A toss up between Yoshi's and Sabatino's. I adore the Japanese breakfast at Yoshi's and I always get the Rich's Special at Sapatino's -- a little bit of everything.
Cubs or Sox? I don't follow football, but I do like the Sox colors.
Wicker Park, 1993 or Wicker Park, 2013? I loved Wicker Park in 1993 and I like it today.
Chicago-style hot dog, Chicago-style pizza or Chicago-style politics? Chicago-style politics! -- rough, tumble, take no prisoners, be in it to win it. The best! A Chicago-style hot dog is perfection, but Chicago-style pizza I would not eat with your mouth. Give me St. Louis-style pizza -- crispy cracker like crust and provel cheese -- or New York-style absolute perfection. (Oops, I just ignored my advice to new Chicagoans!)
What advice would you give to a new Chicago transplant? I would give the advice that my wonderful friend and mentor Kit Duffy gave me: "Do not talk about how this or that was done in New York or DC (places I lived) or any other place. You are now a Chicagoan. Chicagoans don't take well to outsiders. Act like a Chicagoan." Learn Chicago, love Chicago, be Chicago and Chicago will love you.
What do you miss the most when you're not in Chicago? I spend an enormous amount of time away from Chicago. I miss the vibrancy of the city, I miss our restaurants, I miss our neighborhoods. Just last week on the way back from Springfield, as I approached the city, I looked up and saw the Chicago skyline. It stirred my heart and I was so thrilled and comforted that I was home.
If you could change just one thing about our fair city what would it be? The murder rate in our city is a scandal and it is disheartening. We are a great city but something needs to be done about the killings.
Describe Chicago in one word. Home.
In 1951's "Chicago: City on the Make," Nelson Algren wrote: "Once you've come to be a part of this particular patch, you'll never love another. Like loving a woman with a broken nose, you may well find lovelier lovelies. But never a lovely so real." Through My Chicago, HuffPost is discussing what, to this day, makes the patch we call home so lovely and so broken with some of the city's most compelling characters.
Related
Popular in the Community