ALEXANDRIA, Va. ― Rick Gates, once a top aide to President Donald Trump's former campaign chairman Paul Manafort, admitted Tuesday to a wide variety of crimes, including embezzling money from Manafort to fund an extramarital affair about a decade ago.
Gates is the star witness for prosecutors in the case against Manafort, who is currently on trial for money laundering and fraud charges stemming from his work for pro-Russian political forces in Ukraine. Gates is cooperating with the team of special counsel Robert Mueller.
The 'Secret Life Of Rick Gates'
On Gates' second day of testimony, Manafort attorney Kevin Downing confronted the witness about the "secret life of Rick Gates." Gates admitted to "another relationship" and that he maintained a flat in London and took the woman on trips around Europe. He said the affair took place about 10 years ago.
Gates, who admitted to a staggering amount of criminal activity on the stand, testified that he was "living beyond my means" and engaged in financial crimes to fund his lifestyle. The father of four from Richmond made a salary of $240,000 from Manafort's company, but also took home bonus money and inflated expense reports to the tune of hundreds of thousands of dollars.
Pressed by Downing, Gates at first tried to avoid saying that he embezzled money from Manafort. When Downing used the word "embezzled," Gates would instead say he took "unauthorized" reimbursements. He eventually relented.
"It was embezzlement from Mr. Manafort," Gates testified.
Gates' credibility is a key issue for the defense.
Manafort's lawyers are trying to make a case that jurors simply can't believe the testimony of an admitted liar and criminal.
"Have they confronted you with so many lies that you can't remember all of it?" Downing asked at one point.
But many of the crimes Gates said he committed on Manafort's behalf were documented, meaning that jurors won't have to rely solely on Gates' word.
"I'm here to tell the truth," Gates told jurors. "Mr. Manafort had the same path. I'm here ... I am trying to change."
Much of his testimony on Tuesday morning detailed the various schemes he engaged in for Manafort. Gates said he was working on Manafort's orders when he used overseas accounts to pay for Manafort's personal expenses, including luxury clothing, landscaping and audio-visual costs.
Gates also created fake invoices to send to an overseas bank, he said, because the bank needed the invoices to list their lobbying business as the client rather than Manafort himself, even though the expenses were for Manafort personally.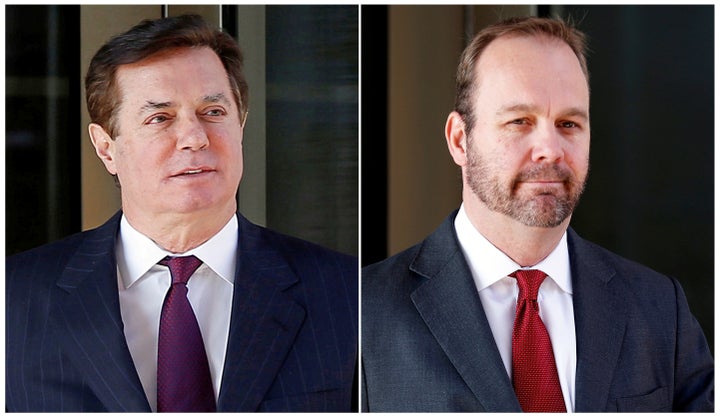 Gates testified Tuesday that Manafort's business dried up when the pro-Russia political party they were working for in Ukraine lost power in 2014.
"The income streams were more difficult to come by," he said of that time.
According to Gates, he worked with Manafort on ways to "reduce his overall tax liability," including by falsifying loans that were actually income.
When Manafort received an estimate on how much he had owed in taxes, he wrote, "Not happy. I just saw this. WTF," according to an email read by Gates.
A Key Witness
Both Gates and Manafort were indicted as part of Mueller's investigation into Trump's campaign. Gates has been a key witness since pleading guilty earlier this year and agreeing to cooperate with Mueller's team to reduce his prison time. Under his plea deal, prosecutors agreed they won't oppose Gates' lawyer's request that he be sentenced to probation, though his ultimate sentence will be up to a federal judge in Washington, D.C.
Senior U.S. District Judge T. S. Ellis III allowed some questions about Gates' affair. But he appears to have severely curtailed questions about the special counsel's conversations with Gates regarding the latter's involvement with the Trump campaign.
When Downing posed a question about what Gates had said about the campaign, the prosecution objected. Both teams conferred with the judge at the bench, and when court returned from recess, Downing moved on to another topic.
Gates did, however, testify that he worked for the Trump Inauguration Committee, and said it was possible that he'd submitted personal expenses for reimbursement there as well. Nothing specifically came to mind. "Inaugural expenses were reviewed very closely," he said.
Trump's name didn't come up during testimony, but Gates did refer to joining "one of the presidential campaigns" in March 2015. Gates said Manafort was under tremendous financial pressure and had been paying Gates' salary out of his personal savings and investments because their business dealings in Ukraine had dried up.
Manafort was applying for bank loans at the time, and Gates testified that he helped falsify documents to secure a loan from a bank. Gates testified that Manafort was fully informed about what Gates was doing.
Lydia O'Connor contributed reporting.
Clarification: A previous version of this story reflected reports during the hearing that Gates denied embezzling money from Manafort's company to finance an extramarital affair. In fact, while Gates first tried to avoid using the word embezzlement on the stand, he eventually admitted to it.