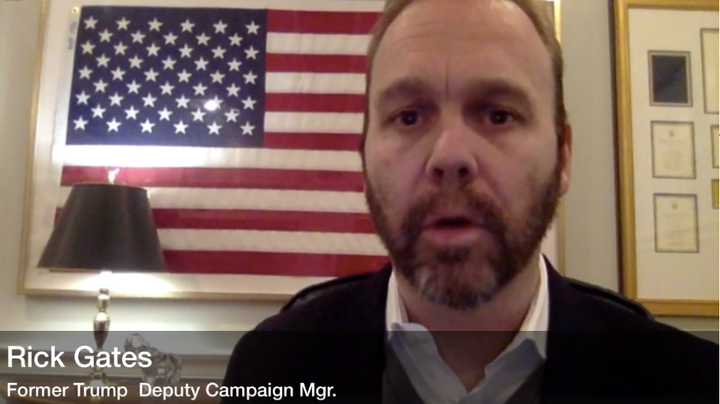 WASHINGTON ― A Republican lobbyist who hosted a sparsely attended fundraiser Tuesday for a former Trump campaign aide facing several felony charges called for President Donald Trump to fire special counsel Robert Mueller.
Jack Burkman, an eccentric Republican lobbyist who claimed to have formed "an independent commission" to investigate conspiracies surrounding the murder of former Democratic National Committee employee Seth Rich, hosted a fundraiser to help Rick Gates with his legal fees at a hotel in Arlington, Virginia, on Tuesday night. Speaking before roughly a dozen attendees ― including the reporters there to cover the spectacle ― Burkman said that Gates was "a victim of a very unfair prosecution" along with Gates' co-defendant Paul Manafort and Mike Flynn, who recently struck a plea deal with Mueller's team.
"I don't like what Bob Mueller's doing. I think Mr. Gates and Mr. Manafort and Mr. Flynn have been unfairly targeted, and I see Mueller as a desperate guy, an increasingly desperate prosecutor." Burkman made no mention of George Papadopoulos, a fourth Trump associate targeted by Mueller's team. Papadopoulos pleaded guilty to lying to the FBI and, like Flynn, is cooperating with Mueller's investigation.
"I think politically he has nothing to lose by firing Bob Mueller. I don't think the Republican Congress would do anything drastic, I don't think conservatives would permit it," Burkman said. "What is there for the president to lose? I don't see much of anything."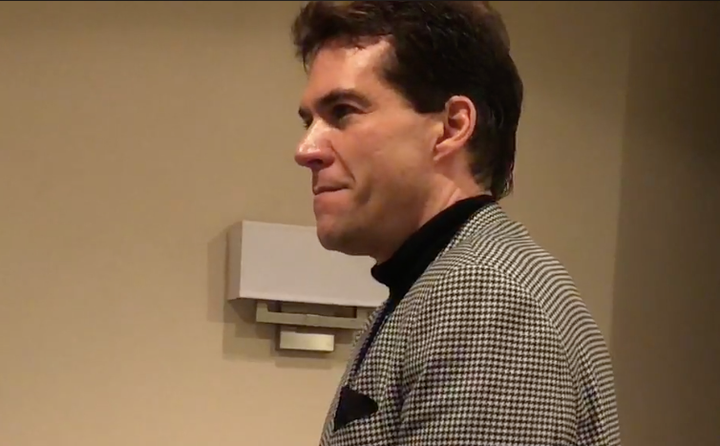 Gates, who is still on house arrest and recently sought permission from the judge to attend his kid's Christmas concert, filmed a video for the event.
"Because of people like you, we will have the resources to fight," Gates said in the video, sitting in front of an American flag presumably inside his home in Richmond, Virginia. "Thank you especially to Jack Burkman for hosting the fundraiser, for believing in my cause and ensuring supporters across the United States hear our message and stand with us. Jack, thank you for your work, your commitment and your dedication."
In a news release before the event, Burkman claimed the event would raise "significant funds" for the Defending American Rights Legal Fund that will benefit Gates. At the event, he said he expected checks would flow in over the coming days and weeks.
"This is kind of a kickoff event," Burkman said. "By the first of the year, hopefully we'll have a nice sum for him." Burkman said he made a donation Tuesday but declined to say how much he'd donated. He said his relationship with Gates was "relatively new."
Aligning himself with Burkman seems like a bit of a strange choice for Gates. But it may offer a hint about the extent of the monetary woes. While his co-defendant Manafort has significant financial resources to rely upon, Gates isn't quite as wealthy and is facing mounting legal fees. Burkman speculated his legal bill could total $1 million or more.
"It's a David and Goliath thing," Burkman said. "It's very difficult."
One attendee asked Burkman if he was going to accept money from Russia, prompting laughter in the room.
"Hey, man, nothing international," Burkman said. "Nothing international."
CORRECTION: A photo caption in a previous version of this story mistakenly indicated that Rick Gates has reached a plea deal in the special counsel's investigation.
Ryan Reilly is HuffPost's senior justice reporter, covering criminal justice, federal law enforcement and legal affairs. Have a tip? Reach him at ryan.reilly@huffpost.com or on Signal at 202-527-9261.
Popular in the Community