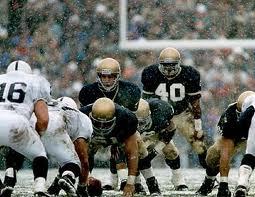 Thousands watched and cheered as this blessedly brilliant Quarterback from Indiana placed himself in a standout position, at Notre Dame and in the NFL for many years. Instant gratification, received, time and time again when he executed his toss to target, with perfect precision. The crowd of fans went wild when the ball was commandeered from Rick Mirer to its rightful receiver. Rick's glory was public, for many years. When the fans watched their hero, push the repeat on hiking the scoreboard points in their favor, they expressed their laudation, loudly. The sponsors, the paychecks, the feedback, the story, the glory, the special treatment, all megaphone amplified in this winner's life. Loud high fives. Imagine, what would it feel like to have your prowess result in divine loyal reverence? This player was coached to achieve and stayed committed to realistic perfection. And it worked. Then it was time to pass the ball to another hero. "You play until your body has had enough", shares Rick over the phone a few weeks back.
This QB has been busy transferring his brain and brawn from the huddle to new fields since retiring in 2004. Not one to take too much bench time, Rick passions have folded into co founding a family, with wife Stephanie and co founding award winning, Mirror wine, in Saint Helena, Cali, with Rob Lawson, which contributes funds to the Mirer Family Foundation. In its 20th year, the MFF provides support for youth education and health programs.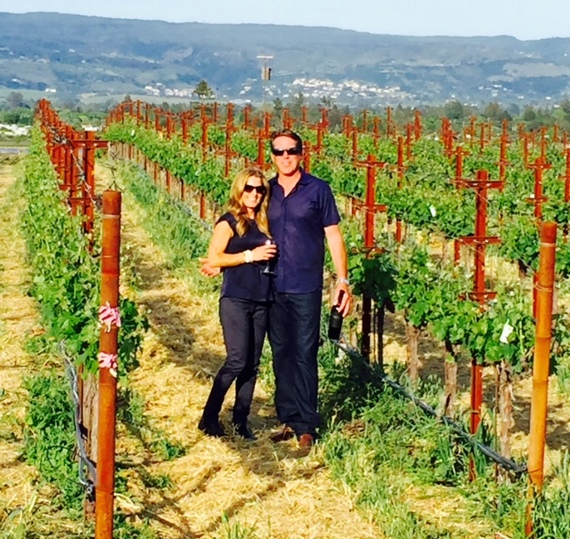 " I want my boys to have a good example of a good man making good choices. You know, kids can sense real people and bluffers. Ego can get in the way and we can be spoiled easily. I don't want to be a statistic." Sheepishly, Rick does admit that it is a little hard to go back to SWA zone boarding when one has had the luxury of private plane transportation.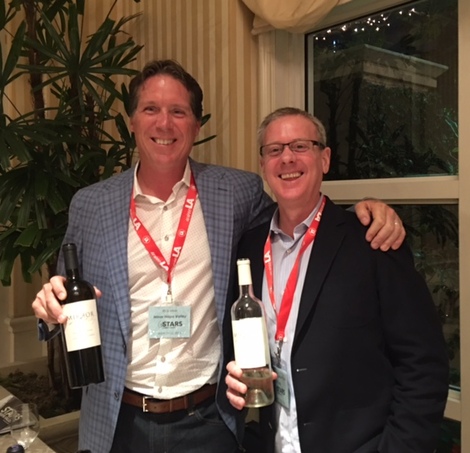 "We are surviving (and thriving) in a slower quieter lane. Long range is important and I want my kids to appreciate things. I drive my kids around a lot, you know how that goes, our family calendar is The calendar." Rick coaches his kids to be and do their best as young men, as athletes, as students. Realistic perfection and humble high fives drive this family team.
Now, for Rick it's the sweet moments of: "quiet acknowledgement, knowing I did right by a stranger that needed a gift", that touches this hero down. Quiet, sans audience, acknowledgement feels good, real good to this game changer. "Our Foundation helps where it can, as much as we can." One summer evening, Rick had a quiet moment and felt inspired to watched the Notre Dame graduation. Katie Washington, valedictorian, shared that the Mirer Family Foundation scholarship she was offered is what catapulted her to success. The opportunity the scholarship offered her, that her family could not, altered her course. This is true success, in Rick's new playbook. Humanity feedback. This Fund matters and it is quite significantly changing the lives of promising youth. "Our scholarship fund is open, little to do with sports, all are welcome to apply." Generous visionaries, the Mirer Family values the gift of education and quietly receives the accolades when the students find their way to successful futures with realistic perfection.
Rick is content. He is happy. "Happy people require little ego feedback. It feels good to impact others' lives. That is what counts when we are truly content. Yes, we all do want kudos for our efforts. That is not a bad thing. We want our impact to matter, even if it is quietly acknowledged," Kevin Ashworth, M.A. LPC, licensed mental health therapist, and co-founder of NW Anxiety Institute explained to me when I sought his expertise on the matter of ego and feedback. "What a waste it would be if we don't connect the dots for others. We all have connections and networks to make this a better place, to help others' lives thrive. Man it feels good to be a part of a solution," Rick's parting lift inspiration when our interview had it's last catch of the day.
Thank you, Rick, for choosing to transcend your realistic perfection goal posts from the turf-striped field of your football fame past to your new Foundation future end zones. With hushed high fives you are changing lives.
http://mirerfamilyfoundation.org
http://www.mirrorwine.com
http://www.nwanxiety.com/kevin-ashworth-ma-lpc.html
http://www.lifeinfulltilt.com

Related
Popular in the Community