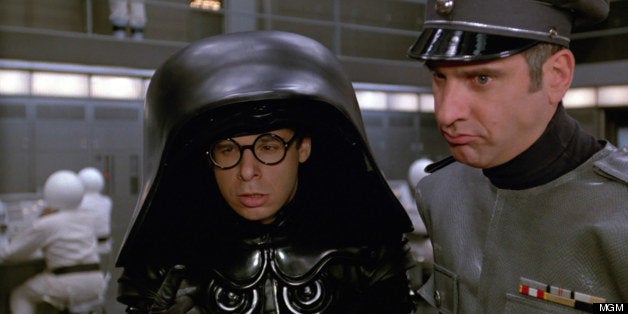 The skinny on Rick Moranis: He hasn't appeared onscreen as an actor since "Big Bully" in 1996, and his last feature credit is as a voice actor in the 2003 animated film "Brother Bear." Just don't call him retired.
"I got a call three or four years ago from an associate of Dan Aykroyd's," Moranis said in an interview with Heeb Magazine. "Some sort of producer. And he said, 'Listen, I gotta ask you something, because the Internet says you're retired' -- which is one of my favorites, by the way. [...] I just love when the Internet is wrong. It's the only thing that will save journalism."
That call was about "Ghostbusters 3," which may or may not happen, and will probably be discussed from now until the official end of journalism. The more interesting part of Moranis' interview with Heeb, however, deals with another sequel: "Spaceballs 2."
The 1987 Mel Brooks comedy "Spaceballs," a spoof on "Star Wars" and other science-fiction classics, starred Moranis as Dark Helmet, a comical version of Darth Vader. Brooks' film was a cult hit -- especially after its release -- and, it turns out, that a sequel was discussed. It just didn't happen because of money:
I wasn't privy to what the budget was or anything, but the deal he presented me, what he wanted me to do, was not workable. It was two or three years later. He wanted me to ... it's better if I don't get into the particulars of it. Because it is so specific, it's counter-productive to talk about it. But I was unable to make a deal, and it would have been something I would have wanted to do. But that ship has sailed.
Brooks had referenced a "Spaceballs" sequel as far back as 2004. In an interview with Playbill (via Dark Horizons), Brooks stated that "Spaceballs 2" would come out in either 2005 or 2006.
"The first one was the best experience I've had making a movie since 'Blazing Saddles,'" Brooks said. Alas.
PHOTO GALLERY
Celebrity News & Photos
Calling all HuffPost superfans!
Sign up for membership to become a founding member and help shape HuffPost's next chapter