"I'm a musician. I want to play music and I want to write songs." -- Rick Nielsen
For over 40 years, Cheap Trick has been perpetually touring the world bringing a catalog of catchy songs and ripping guitar licks in tow. And when folks talk about guitar players with energy and intensity, their lead guitarist Rick Nielsen is the personification of those words. He plays a different guitar for each song in the set list, crisscrosses the stage to entertain the crowd as only he can, and watch out: he is notorious for flicking endless guitar picks into the audience. In this recent interview we discussed the guitars, the career, and the recent Rock & Roll Hall of Fame nomination.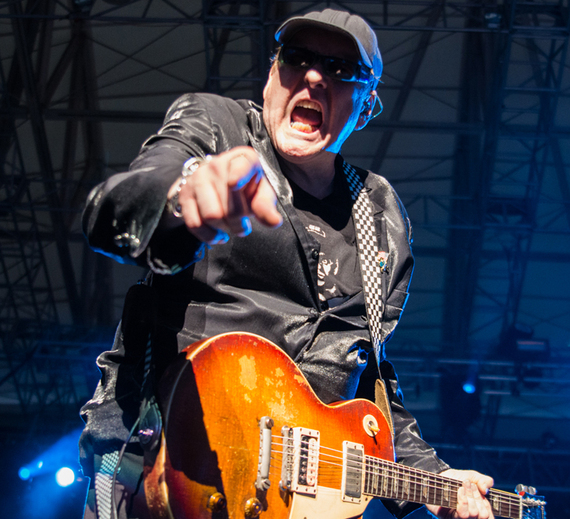 Photo courtesy Leslii Stevens - studio23hudson.com
Rick, you have been called fun, wacky, goofy, energetic, and eccentric. Did you set out to create a specific look or brand for yourself that would set you apart from other musicians, or is this just you being you?
RN: Growing up, I never wanted to be anyone else. I never tried to emulate The Beatles, and I never really wanted to be like The Rolling Stones. I never really felt that I had the look or the demeanor of veteran musicians. I was not one of the guys that wanted to start off with a bang and put a cucumber down his pants. I was always the wise guy class clown throughout my childhood. It wasn't that I tried to be that, but when someone would say to me, hey Rick, we got to go left here -- I'd immediately think, go right. Not because I wanted to, it's just how I'm wired.
Was the guitar the first instrument you picked up as a child?
RN: No, not really. My parents were both opera singers and they also were both heavily into religious and church music. My father was in a quartet and played secular music. It wasn't pop music and it wasn't religious music -- it was somewhere in between. I was around music, but the first instrument I took up was the drums.
You seem to have amassed a plethora of guitars over your career. Do you know how many you've had at your highest point?
RN: Well, I've owned around two thousand or so instruments. Even right now, I have over four or five hundred guitars. I've traded them, given them away, smashed them, lost them, sold them -- so through the years, the exact number I really don't know.
Didn't you also have a touring exhibition of guitars and music memorabilia at one time?
RN: About two years ago, in Rockford, Illinois there was a show called Rick's Picks. It was at the Burpee Museum of Natural History. We had about 5,000 square feet of room to show off a bunch of my stuff, curated by me. We had thousands of people visit it. It was on display for about eight months. And it was a tenth of my collection throughout my whole career. It was pretty flattering to me. I've actually had my guitars on display at other museums over the years. I think I've probably had one of my guitars on display at every Hard Rock Café in the world. Some of them are now at the Grammy museum out in Los Angeles.
For playability, which guitar in your arsenal would be your go-to guitar if you could only have just one?
RN: Well, I never did just have one except when I got my first one, and that was like a hundred years ago. There isn't really one. Hamer had made guitars for me in the early '70s, and I was always partial to the Gibson Les Paul, and I also like the Fender Esquires and Telecasters. I've had almost every brand there is.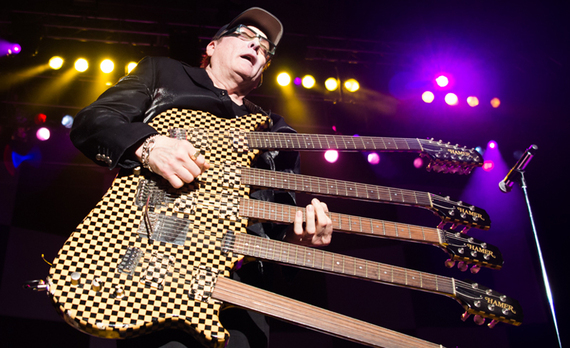 Photo courtesy Leslii Stevens - studio23hudson.com
Can you talk to me about the evolution of the 5-Neck guitar?
RN: It was back in the day when a lot of people were playing double-necks. I already had one that looked like me that was called Uncle Dick. If you look at the Guitar Player Magazine from 1979, I'm on the cover with three guitars stacked on top of each other. Those guitars started to get all beat up. I thought maybe I could design a guitar that spins. So I was going to have a 6-neck guitar built that spun around like a roulette wheel. And right about that time, I saw Billy Gibbons of ZZ Top with a guitar that spun around, and now people will think that I was trying to copy him, which was not the case. So I said, let's do something more conservative -- how about a 5-neck? So, I had that made through Hamer. Then after that I had another checkerboard one made, then I had a 38-string guitar made -- and they're all difficult to play.

Rick Nielsen's "Uncle Dick" custom guitar
In the '70s, Cheap Trick put out a few albums but it wasn't until you went to Japan when all hell broke loose. What was that feeling like?
RN: I thought it was the greatest place on earth. For some reason they liked our stuff, and liked us. I had been banging around since junior high and high school; so, here I am approaching thirty years old. We had a following in Illinois, in bars, but then we started getting fan mail after opening for Queen in 1977. Their road manager ended up being our road manager for a while. So the shows we did with them went over quite well, and there were a lot of Japanese press there to see Queen, but they liked our band, so they started to ask us questions. Then they asked me to write a story about being on tour with Queen. So I wrote about two pages for one of their news outlets. About a month after that, we started to get big fan mail from Japan. We started seeing Japanese comic books with caricatures of us in them. Later that year we went on tour with KISS for a few months. Once again, the Japanese press were there to see KISS, but they liked us. Then our records were released in '77, and they went to number one in Japan. We had some airplay in the United States, but over there it was great. Then we got an offer to go play in Japan. We went there and played two shows at Budokan in Tokyo and some other shows and it was pandemonium. It was like the scenes you saw in Life Magazine or on TV when The Beatles got mobbed. It was crazy because we had gone from being on the road sleeping four to a room because we didn't have a lot of money, to this. Then our live album came out and it became an instant hit. It may be the biggest selling album import ever. Then they released it in the United States, and here we are today.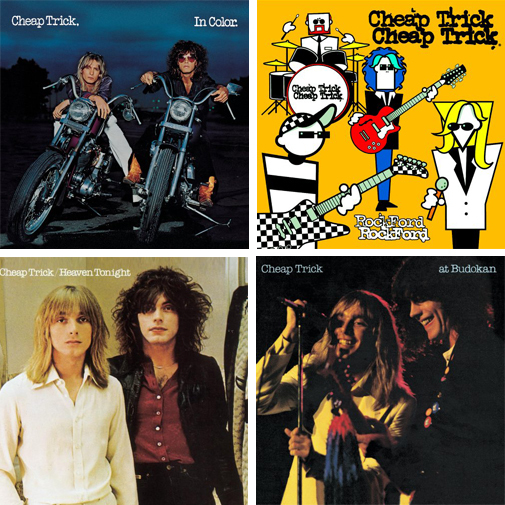 Well, speaking of Live at Budokan and Cheap Trick albums in general, you and Bun E. always ended up on the flip side of the album cover. Was that done on purpose?
RN: But of course. They put the pretty guy on the back cover with me. If you have more stuff on one side, then the picture will be smaller. They thought if we put two guys on the front, and two on that back, that would be cool, and the picture would be bigger. It wasn't so deliberate, but it kind of was at the same time.
Are there specific songs in the bands set list that you never get tired of playing?
RN: Probably not... I don't know... No. There's a certain core of what we always do. Last year we did about 200 shows, and when we were in England and Ireland, there were five to seven shows where we played over a hundred different songs in the sets.
In the digital age of MP3s, streaming music services like Spotify, and instant downloads, music sales, marketing and promotion is dramatically different today than it was when Cheap Trick started out. Have you noticed if it's helping to pull in a newer generation of fans?
RN: I never got into the aspect of who or why or this survey says... or what this chart does. It's kind of out of our control. I've always just worried about making good records and playing live. I didn't want to micro-manage what we do, or why it's done, or what the record company people think. I'm a musician. I want to play music and I want to write songs. Today, we are still playing shows all over the place. We see people of all ages. We did a show recently in Staten Island and one of our biggest fans came. It was her two hundredth show. She was at our first show at Budokan in 1978. It was amazing! So we have people like her that show up, and then we have a lot of kids come with their parents, so it's more diverse now, age wise, than it used to be.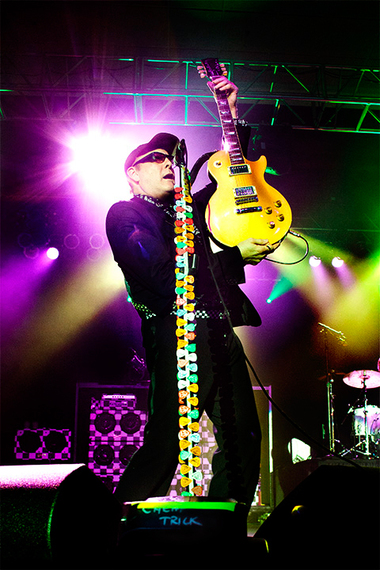 Photo courtesy Paris Visone - parisvisone.com
So Cheap Trick is on the 2016 ballot for the Rock & Roll Hall of Fame. Do you think it's time?
RN: It's not up to me... Yeah, it's time... Or, maybe a later time... I don't know. Sure, it would be great. I can't vote for myself. It's not up to us. We've played a lot of shows. Actually, we've played at the Rock & Roll Hall of Fame twice.
Do you believe in a farewell tour?
RN: What, like The Who, or KISS? We never broke up. We're too dumb to quit is my famous quote. I suppose a farewell tour means something, but we're still making music. We just made two new records. One is going to be released in the spring (2016), and they other a bit later, and the music doesn't sound like we've been around for forty plus years -- it sounds cool! You know, we almost had a farewell when we played up in Canada a few years ago when they stage collapsed on top of us -- so that was almost our farewell tour show.
And if you think they should be in the Rock & Roll Hall of Fame, you can vote for them here: http://rockhall.com
Popular in the Community