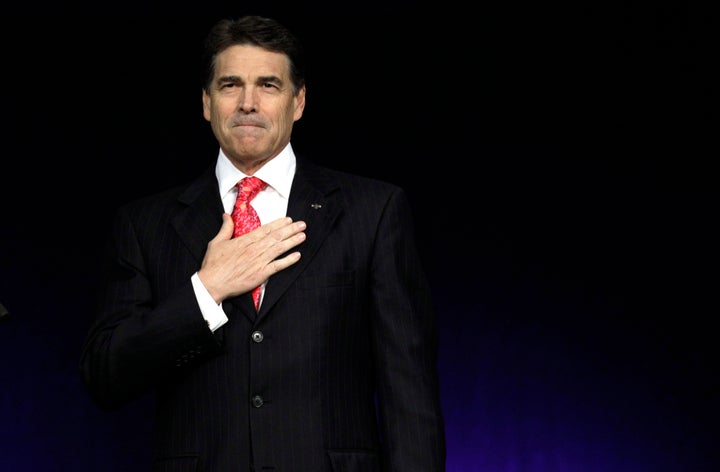 WOLFEBORO, N.H. – A top adviser to Texas Gov. Rick Perry was cagey about reports that Perry will make his intentions to run for president clear at a Saturday conference in South Carolina, but an organizer of the event said he expects an announcement about the governor's political future.
Dave Carney, Perry's long-time political guru, did not deny the reports, but instead argued that they were contradictory in claiming Perry might announce a candidacy Saturday, but also might not -- which Carney said was a misstatement of what was reported. Nonetheless, Carney, in an interview near his summer home on Lake Winnipesaukee, insisted that Perry has still not decided for sure whether to run. And sources close to the Perry camp said they did not think the governor had in fact made up his mind.
But Erick Erickson, the conservative blogger who is hosting the Charleston conference, at which Perry will speak on Saturday, told HuffPost: "I do believe [Perry] will make a statement regarding his intentions."
Perry will travel to New Hampshire on Saturday after his speech in South Carolina, and to Iowa next week. It seems clear that he intends to overshadow the Ames Straw Poll on Saturday, from which he was excluded by the Iowa Republican Party, and that he wants to steal the thunder from the contest winner, whether that is Rep. Michele Bachmann (R-Minn.), former Minnesota Gov. Tim Pawlenty, or Rep. Ron Paul (R-Texas).
Carney appears to be working hard to position Perry for a successful launch, and his comments blurred the line between bluster and disclosure. In what he said was an example of the personnel and money waiting on the sidelines in the GOP primary, he told HuffPost that five members of former Massachusetts Gov. Mitt Romney's national finance committee attended one of the recent dinners in Austin hosted by Perry. But Carney did not provide names, and the Romney campaign laughed off Carney's comment.
Carney did name one big-dollar fundraiser currently with Pawlenty who he said also attended a recent dinner with Perry: Gregory Slayton, a venture capitalist from Silicon Valley who is an adjunct professor at Dartmouth, and who is reported to have raised $200,000 for Bush in 2004. Slayton did not respond to a request for comment.
As Perry nears his decision point, Carney gave some revealing insights into the psychology that would drive his candidacy. In past election cycles, Perry's advisers would be equipping him with answers to the top dozen or so potential attacks on him and his record as he prepared to jump into the fray.
Not this year. Carney said he believes this election is different. Voters, he said, are so anxious about the economy and angry about the nation's debt that little else matters to them.
In the primary, he said, conservatives have one overwhelming focus: getting rid of President Obama. They want someone who can "lay the wood" to the president most persuasively and dynamically.
As for the general election, it was clear from Carney's words and demeanor that he believes the small, but symbolic mishaps that have traditionally sapped candidates of momentum and strength in the past -- John McCain's temper, George W. Bush's DUI, Sarah Palin's reading habits, George H.W. Bush's befuddlement at a grocery store scanner and many others -- are no longer potent. Perry called it the "old playbook" of "gotcha" stories.
The new playbook, he said, "hasn't been written yet."
"In a micro-election, all those attacks may or may not work," Carney said. But 2012, he said, will be a "macro-election." That doesn't mean, he said, that a Perry campaign would completely ignore lines of attack they deem extraneous. But it will obviously take a lot for them to do so.
Other candidates have followed this playbook already. Rep. Michele Bachmann eventually responded to stories about her husband Marcus' involvement with his Christian counseling clinic advising gay men to practice heterosexuality. But for weeks she allowed the story to linger and build momentum in the press, in part, perhaps, because such inflammatory criticism often energizes conservative support for a candidate and helps him or her raise money.
One common critique of Perry's record in Texas is that while the Longhorn State has created more than a third of all the new jobs in the U.S. since 2009, many of the jobs in Texas are low-wage. It has become an oft-repeated storyline: Perry is the beneficiary of a state rich in natural resources such as oil, and what good he has done is offset by the fact that many jobs don't pay much as well as by problems under the hood, such as crumbling social services, continued high rates of unemployment and an education budget that has been slashed by the governor.
"I hope we have 10 of those stories a day," Carney said. "They want to belittle working people? I'll take that every day of the week."
He acknowledged that the state has problems, but said that in a time of economic hardship and continued uncertainty, only one thing will matter to a nation hungry for jobs: there are more of them in Texas than just about anywhere else. Perry and his supporters argue it's because the state has kept taxes low, has limited regulation and has implemented new rules requiring that losers of lawsuits have to pay legal fees for the opposing party.
And if the lower levels of taxation have required cuts to education or social services, that could also still redound to Perry's benefit, at least in a primary election. Many conservatives and some independents think more money is not the answer to fixing schools, and that too many Americans are receiving government assistance. How an issue like this plays out in the general election could be a determining factor -- if Perry becomes the nominee -- as to whether or not he would defeat President Obama.
Some Republicans have even speculated that in trying to distinguish himself from the last Texas governor to become president -- George W. Bush -- Perry has positioned himself in unspoken opposition to Bush's compassionate conservatism, which was responsible for such programs as No Child Left Behind, aid to Africa for HIV/AIDS and malaria relief and other government programs. Conservatives would view a rejection of compassionate conservatism as proof that Perry will do the things necessary to reduce the size of government, no matter how unpopular they might be with the press or with the left.
"We need to stop apologizing for wanting to protect an individual's right to build a business. We need to stop apologizing about stemming the tide of entitlement mindset that's out there," Perry said to raucous applause in a June speech to the Republican Leadership Conference in New Orleans.
"Our party cannot be all things to all people. It can't be," Perry said in that speech. "And our loudest opponents on the left are never going to like us, so let's stop trying to curry favor with them."
Popular in the Community