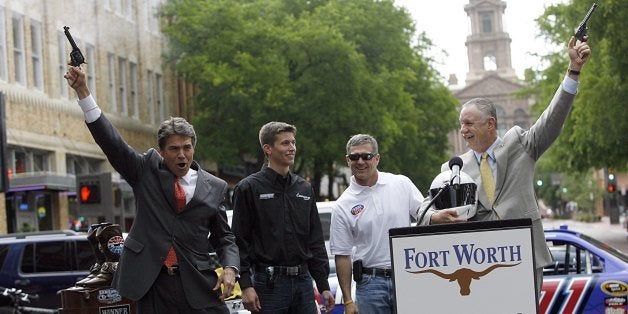 WASHINGTON -- Texas Gov. Rick Perry held his hand out straight, tilted his hand fingers downward at a 45 degree angle, and then raised them level again. "This, versus this," he said, explaining why he no longer wears cowboy boots.
"This is better," he said, his hand parallel with the ground to illustrate the flat-soled shoes he now wears.
Seated at a large hotel table at a lunch with reporters hosted by the Christian Science Monitor, the 64-year-old governor, who relishes his state's cowboy culture and attitude, was discussing how back surgery forced him to take off the iconic footwear for good.
The change dates back to Perry's doomed run for president in 2012. Most can remember Perry's major "oops" moment, one of the most painfully awkward gaffes in modern political history. Less noticed was his occasional looniness. A speech in New Hampshire in late October 2011 raised plenty of eyebrows, and it eventually came out that Perry was taking painkillers for chronic and brutal pain related to a back operation in July.
Perry is finishing his third term as governor, after deciding not to seek a fourth (Texas has no term limits for governor). And he is making it very clear that another run for president in 2016 is on the table. At the Monitor lunch, he was asked whether pain is still an issue, given the major role it played in the 2012 campaign.
Perry said he has only minor back pain from time to time now, and that getting rid of the boots and switching his exercise regimen have been key to avoiding pain since his surgery in 2011.
"I quit running, and I replaced that with a whole lot of core exercises," Perry said. "I do a lot of sit-ups, pull-ups, crunches and planks, and ride a bicycle for about 45 minutes a day."
"Indoor bicycle. Safer," he added, perhaps thinking of the many cuts and bruises that the previous Texas governor, George W. Bush, has suffered while mountain biking after he too gave up running.
"I'm healthy," Perry said Thursday. "I've had a number of scans of my back. It was a very successful surgery."
The prospect of another Perry candidacy is not taken all that seriously by most political observers. Even in Texas, U.S. Sen. Ted Cruz crushed Perry in a straw poll at the state GOP convention earlier this month. Perry tread lightly around mentions of Cruz, saying only that straw polls are snapshots, and that he doesn't pay much attention to polls and popularity contests during "in-between periods."
But from where Perry sits, there is a certain logic to exploring another run. He has done it before, and that experience has significant value. But more importantly, a second candidacy would give the Texan a chance to put his best foot forward. On his first go round -- so the Perry camp logic might go -- he botched it, he was injured, and he's better than that.
"Anyone who watched that campaign knows it was a very humbling time for me. But that's not necessarily bad. I judge people on how do you react after a failure," he told CNN's Jake Tapper earlier this year.
And even if he does not win the GOP primary in 2016, a chance to prove he's more than his 2012 blooper reel might be well worth the trouble of running.
One challenge for Perry, like any second- or third-tier candidate, is whether he can raise any money. Given his access to deep-pocketed Texas donors and his eye-catching 2012 hauls, a legitimate campaign does not seem out of reach.
And if the Republican presidential field continues to be as unsettled as it is now, that may encourage Perry to dream big, of a serious run for the nomination and redemption on a national stage.
Then again, as the New York Times Magazine's Mark Leibovich wrote this week, keeping the 2016 chatter alive "can only enhance his stature as a candidate for one of those, say, very well paying executive, consulting or board positions that would allow him to visit some very nice places in California and maybe even relocate there."
Calling all HuffPost superfans!
Sign up for membership to become a founding member and help shape HuffPost's next chapter
BEFORE YOU GO
PHOTO GALLERY
How Many Fingers Is Rick Perry Holding Up?