A new, slickly produced campaign ad from Texas governor and GOP presidential candidate Rick Perry appears to run afoul with the rules with its use of an official White House photograph, Juli Weiner of Vanity Fair reports.
The web-only spot, released Monday morning, launches a harsh attack at rival presidential contender Mitt Romney. The clip links the former Massachusetts Governor to President Barack Obama for his overhaul of the Bay State's health care system while in office.
In one cut from the video, Obama is seen looking at his reflection in the mirror, before, with a thunder clap, Mitt Romney's face replaces the president's alongside the text "Nice Try." The Perry campaign suggests Romney's not a true "conservative."
The shot, which looks like it has taken a cue from a horror film, appears to highlight an official White House picture taken by photographer Pete Souza without following the administration's rules for using the image.
The caption on the photo indicates that it was originally taken backstage at the U.S. Capitol on Inauguration Day in 2009, as then-President-elect Barack Obama was about to walk out to take the oath of office.
According to the terms of use as stated on the White House Flickr feed:
This official White House photograph is being made available only for publication by news organizations and/or for personal use printing by the subject(s) of the photograph. The photograph may not be manipulated in any way and may not be used in commercial or political materials, advertisements, emails, products, promotions that in any way suggests approval or endorsement of the President, the First Family, or the White House.
ABC News reports that Perry's latest ad comes as the Texas governor's campaign prepares to unleash a $20 million advertising assault on Romney in the months leading up to the election season's early primary contests.
Below, the photo in question as it appears on the White House Flickr stream. Scroll down for a screenshot of how the image appears in the ad from Perry's campaign.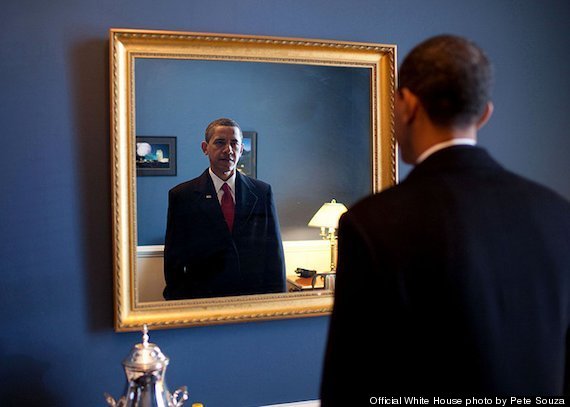 Here's a screenshot from the Perry campaign ad.

Popular in the Community