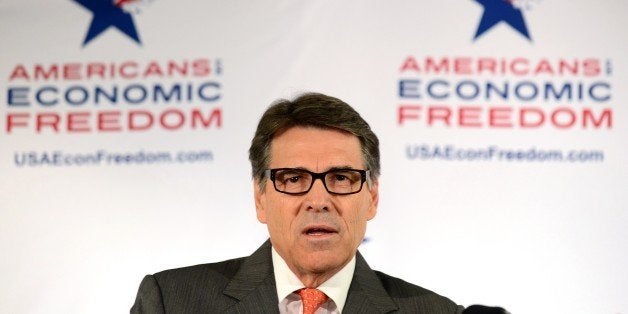 Texas Gov. Rick Perry (R) will appear in ads criticizing the dysfunction in Washington, D.C. and praising the work of conservative governors, Politico reports.
The conservative group Americans for Economic Freedom plans to run television and radio ads featuring Perry's criticism as lawmakers in D.C. continue to negotiate over the government shutdown and looming default.
"Washington needs to change, but the president keeps playing politics," Perry says in the ad, according to Politico. "Conservative leadership is putting people back to work, and families are building their futures. We need more of that and less of Washington."
Perry has appeared in controversial ads before, most recently in a campaign to lure other states' businesses to Texas. Those ads -- which have run in states like Missouri, Maryland and Illinois -- have been brushed off by other governors, with California Gov. Jerry Brown (D) calling a Perry ad that ran in his state "barely a fart."
Perry also stirred controversy with an ad during the 2012 presidential election, in which he claimed President Barack Obama waged a "war on religion" after signing legislation allowing gays to serve in the military.
BEFORE YOU GO
PHOTO GALLERY
How Many Fingers Is Rick Perry Holding Up?