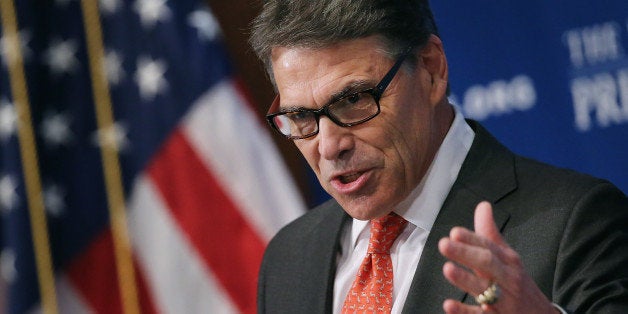 WASHINGTON -- Rick Perry stepped up to the lectern and paused. The former Texas governor scanned the room, a Thursday luncheon at the National Press Club, and proceeded to delve into a particularly gruesome chapter of his state's history.
"Ninety-nine years ago -- on May 15, 1916 -- at a courthouse in Waco, Texas, a mentally disabled 17-year-old boy named Jesse Washington was convicted of raping and murdering the wife of his employer," Perry said, as a pall of silence fell upon the room. "He pled guilty and was sentenced to death. But Jesse died no ordinary death. Because he was black."
Speaking slowly but emphatically to a predominantly white audience, Perry recounted the horrific lynching outside the McLennan County Courthouse, where 15,000 people gathered to watch Washington be tortured, mutilated, castrated and burned alive. The incident, he said, was an "episode in our history that we cannot ignore. It is an episode we have an obligation to transcend."
Perry's speech, centered on lifting people out of poverty, took a remarkably different approach for a man known for his blunt conservatism. When he last ran for the Republican presidential nomination, in 2011, Perry bet it all on a strategy that stressed the primacy of the states over the federal government. Indeed, Perry was the candidate for the 10th Amendment -- he even wrote a book about it.
This time around, however, in the wake of racial unrest in Missouri, New York, and most recently South Carolina, Perry is seeking to bolster his appeal with black voters, whom he said on Thursday had been failed by Democratic policies.
"So why is it that even today," Perry asked, "so many black families feel left behind? Why is it that a quarter of African-Americans live below the poverty line, even after the impact of federal programs like food stamps and housing subsidies?"
"Democrats have long had the opportunity to govern in African-American communities," he continued. "It is time to help black families hold them accountable for the results."
Perry touted his tenure as governor of Texas, during which he presided over a jobs boom, arguing that cities like Houston and Dallas -- not Detroit or San Francisco -- are where black families are most able to thrive due to fewer regulations and lower taxes and costs of living. While politicians often rail about income inequality, Perry said, "there's a lot less talk about the inequality that arises from the high cost of everyday life."
The states' rights champion then did something unexpected. He launched into a rhetorical critique of his party, and himself, for neglecting minority voters by valuing the 10th Amendment above the equal protections of the 14th.
"Too often, we Republicans -- myself included -- have emphasized our message on the 10th Amendment but not our message on the 14th -– an amendment, it bears reminding, that was one of the first great contributions of the Republican Party to American life, second only to the abolition of slavery," Perry said.
"For too long, we Republicans have been content to lose the black vote because we found we didn't need it to win," he added. "But when we gave up trying to win the support of African-Americans, we lost our moral legitimacy as the party of Lincoln, as the party of equal opportunity for all. It's time for us once again to reclaim our heritage as the only party in our country founded on the principle of freedom for African-Americans."
Perry's affirmation of the protections of the 14th Amendment did not lead him, however, to reverse his position on voter ID laws that critics say disenfranchise elderly and minority voters. In a Q&A after his speech, Perry said it was important that states "protect that precious right of voting and make sure it is not fraudulently used."
On the issue of the Confederate flag, another hot-button topic on which public opinion has rapidly shifted following a massacre in a historically black church in Charleston, South Carolina, Perry again deferred to the states. When asked for his thoughts on whether South Carolina ought to take down a Confederate battle flag flying outside its state capitol, he said it was a question for the state's residents. He quickly pivoted to discussing efforts to ban the flag from license plates in Texas while he was governor.
Nor did Perry weigh in on efforts in Texas to resist the recent Supreme Court decision affirming marriage equality to gay and lesbian couples. Asked whether he agreed with Texas Attorney General Ken Paxton, who said that judges can deny same-sex marriage licenses, Perry said that he agreed with the conservative bloc on the Supreme Court and that the matter ought to be left up to the states.
In a statement after Perry's speech, the Democratic National Committee said the former governor had lost "legitimacy" on the topic of racial justice because he opted against raising the minimum wage and expanding Medicaid to hundreds of thousands of Texans under the Affordable Care Act.
Perry is not the first Republican running for president to preach a more inclusive message. Sen. Rand Paul (R-Ky.) has been doing so -- with a libertarian theme -- for months. But it is notable that even a red-state conservative like Perry has come around to the argument that his party must do more to appeal to minorities if it is to stand a chance of taking back the White House.
"If we do these five things –- if we create jobs, incentivize work, keep nonviolent drug offenders out of prison, reform our schools and reduce the cost of living -– we will have done more for African-Americans than the last three Democratic administrations combined," Perry said.

Before You Go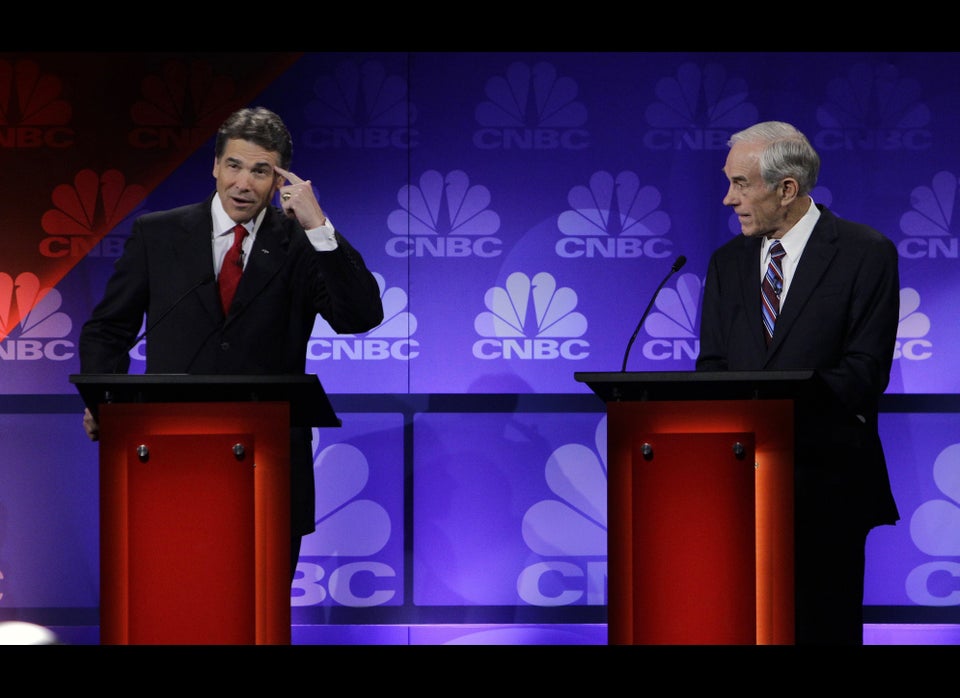 Rick Perry's Gaffes
Popular in the Community