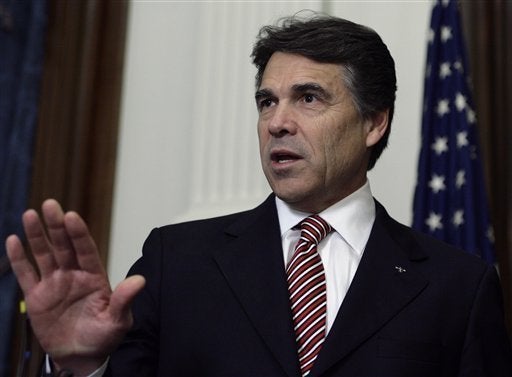 UPDATE 4/27: The Dallas Morning News has a long report on a similar theme: despite his anti-Washington rhetoric, Gov. Rick Perry has raised major amounts of campaign cash -- $2.7 million to be exact -- from Washington political groups and lobbyists.
[T]he governor's financial support from the Beltway undercuts efforts to distance himself from the nation's capital by painting himself as the candidate of Texas-style government and Hutchison as the candidate of Washington, which recently landed Perry in the national spotlight amid talk of Texas secession. [...]

Hutchison campaign manager Rick Wiley said it's more evidence that Perry likes to bash Washington but has no problem taking its money - except for $555 million in federal unemployment money, which the governor says has strings attached.
Go read the full report, which digs deep into Perry's fundraising.
Less than two weeks after raising the prospect of seceding from the union, Texas Gov. Rick Perry is calling on the federal government to come to his state's aid in the midst of the swine flu outbreak.
Gov. Rick Perry today in a precautionary measure requested the Centers for Disease Control and Prevention (CDC) provide 37,430 courses of antiviral medications from the Strategic National Stockpile to Texas to prevent the spread of swine flu. [...]

"As a precautionary measure, I have requested that medication be on hand in Texas to help curb the spread of swine flu by helping those with both confirmed and suspected cases of this swine flu virus, as well as healthcare providers who may have come in contact with these patients," said Gov. Rick Perry. "We will continue to work with our local, state and federal health officials to ensure public safety is protected."
"There's a lot of different scenarios," Perry said. "We've got a great union. There's absolutely no reason to dissolve it. But if Washington continues to thumb their nose at the American people, you know, who knows what might come out of that. But Texas is a very unique place, and we're a pretty independent lot to boot."

He said when Texas entered the union in 1845 it was with the understanding it could pull out. However, according to the Texas State Library and Archives Commission, Texas negotiated the power to divide into four additional states at some point if it wanted to but not the right to secede.
Popular in the Community