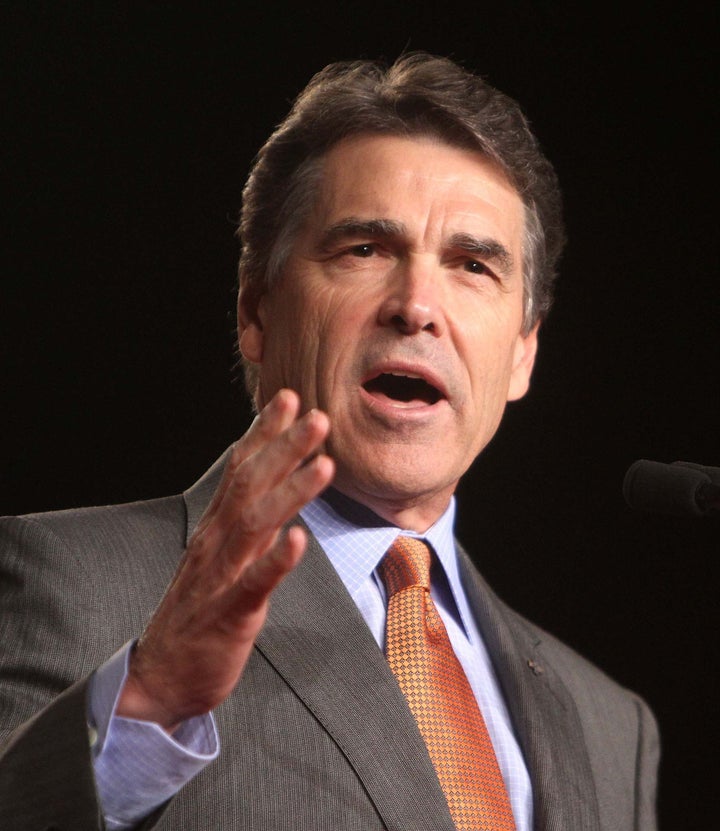 WASHINGTON -- Maria Fernanda Cabello, a 20-year-old junior at Texas A&M University, moved to Texas from Mexico when she was 12 years old. She and her family came into the country on tourist visas that later expired, and she is now undocumented. Cabello graduated fifth in her class in high school and is now studying political science, with plans to go to law school when she graduates in 2013.
After that, she isn't sure what she'll do. The governor of her state, GOP presidential candidate Rick Perry, helped her go to college by signing a law in 2001 to provide in-state tuition to some undocumented students. But he is not helping her, or any other undocumented immigrants, with much else. Because Perry does not support the federal DREAM Act -- which would give students like Cabello a path to legal status-- his supposedly "soft on immigration" stances do not extend to helping undocumented young people work in the United States. Even after the state pays to educate them.
"That's what's a little upsetting about Rick Perry," Cabello said. "We're all very thankful that he signed the in-state tuition into law, but at the same time he says he does not support the federal DREAM Act. So we're kind of in limbo."
Perry is being criticized by both sides for his immigration policies, which are more centrist than most of the Republican field but still far to the right of Democrats. From the left, critics point out that most of his policies are tough on undocumented immigration, with attempts to crack down on community policing strategies that help undocumented immigrants. From the right, candidates attack him for being soft on immigration, arguing his in-state tuition bill is a magnet for undocumented immigration.
Other candidates have hit Perry hard for signing the in-state tuition law, which allows anyone who attended at least three years of high school in Texas to get in-state tuition, provided they sign an affidavit saying they will apply for legal status as soon as they can. But beyond that law, his positions on immigration, for the most part, mirror those of other Republican presidential candidates.
"Perry is no moderate on immigration," said Frank Sharry, executive director of pro-immigration reform group America's Voice. "He's not as extreme as the rest of the Republican field, but he's no moderate. He always says 'secure the border first' before we can talk about more reform. 'Secure the border' in Republican speak means comprehensive immigration reform -- never."
Texas was the first state to give in-state tuition, in a relatively non-controversial vote in 2001 (only four members of the legislature dissented). Twelve states followed over the next decade: California, Utah, New York, Washington, Oklahoma, Illinois, Kansas, New Mexico, Nebraska, Wisconsin, Maryland and Connecticut.
The laws are far from "amnesty," or blanket legalization for undocumented immigrants -- they don't even help students toward legal status. In fact, Perry opposes bills that would allow undocumented immigrants to gain legal status, such as comprehensive immigration reform or the federal DREAM Act, which would allow some undocumented young people to get work authorization and green cards in exchange for going to college or joining the military.
Perry repeatedly defended his law in recent weeks, taking jabs from fellow Republican candidates who call it an incentive for more immigrants to move to the United States. Perry says it was important to help undocumented young people get an education so they could contribute back to the state.
"Are we going to kick these young people over to the curb and say you can't have access because the fact of the matter is that there is no way they can pay the out of state tuition?" he said at a town hall appearance on Saturday. "And are we going to have them on the government dole over here, where they're not educated, or are we going to have them in our institutions of higher learning, paying in-state tuition, pursuing citizenship?"
Most arguments for the federal DREAM Act mirror the remarks Perry has made in defense of his in-state tuition law. Proponents of each argue the young people were brought into the United States by their parents and have been educated in public K-12 schools. The state invested their education up to this point, so the federal DREAM Act, and Perry's law, are about allowing them to work and contribute in turn to the country. President Barack Obama made a similar argument for the federal DREAM Act in a round-table talk with Latino news outlets.
But students who benefit from the in-state tuition, though grateful for the law, say it does not really allow them to work in many professional settings. Since Perry does not support the federal DREAM Act, his arguments for the in-state tuition law don't match reality, they say. The students get an education, but they can't use it.
"It's a love and hate relationship with Rick Perry. ... Rick Perry has made the state a better place but he needs to take a step forward and put the kids to work, because they're ready to work" said Stephanie Canelas, a 20-year-old Texas A&M student. "They're more than willing to serve."
Canelas, a college sophomore, has lived in Texas since moving to the United States from Honduras 11 years ago. Like Cabello, she and her family came in on tourist visas, then overstayed them.
She is one of an estimated one percent of all Texas college students -- many of them undocumented -- to benefit from Perry's in-state tuition law, according to the Texas Higher Education Coordinating Board. The law also benefits American citizens and legal residents who were born out of state. Since 2001, more than 35,000 students benefited from the law, receiving about $33.6 million in in-state tuition benefits and financial aid from fall 2004 to summer 2008.
But Texas financial aid is only partially funded by state taxes. The state has no individual income tax, only a sales tax, meaning the undocumented families pay into the system in the same way as others. Most state universities are supported by the Permanent University fund, which gets most of its money from oil drilled on state-owned land in western Texas. Tuition, in the end, funds only about a quarter of the universities' overall funding, with most coming from other revenue sources.
"Here in Texas we have a sales tax, so my parents and I have been paying into the system forever," Canelas said. "Now we get to benefit from it as well."
On other immigrant-related issues, Perry has proved to be far less moderate than his predecessor as governor, former President George W. Bush. While Bush pushed for comprehensive immigration reform at the national level, Perry helped to pass a bill requiring identification to vote and vetoed a bill to give undocumented immigrants driver's licenses.
Perry originally opposed Arizona's S.B. 1070 law, which requires police to ask for papers from those they arrest and suspect to be undocumented, saying he would not support such a law for Texas. But he supported a similar bill called S.B. 9 in Texas, which would have banned so-called "sanctuary cities" where officers are instructed not to ask about immigration status. The bill would have also required the use of Secure Communities, a controversial immigration enforcement program that turns over all fingerprints taken by local police to federal immigration authorities. It failed in the Texas state legislature.
"He was for in-state tuition, but the context was quite different," Sharry said. "George W. Bush had just gotten elected president, and Bush was famous for being a true moderate on immigration. In-state tuition at that time was viewed as kind of a stepping stone to broader reform, and Perry was seen as part of that Texas tradition."
"He may have been a moderate in 2001, but in 2011 he's not," he added.
Still, Perry is likely to continue to be attacked by Republicans for the in-state tuition law, which Republicans say takes spots away from Americans in favor of undocumented students. Cabello said that assertion is absolutely false.
"I don't think I'm taking anybody's spot because I worked very hard to get here," she said. "I didn't get accepted to A&M because I'm undocumented -- they're status-blind. All they saw was my application and all of the things I had achieved. I feel like I deserve to be here. I earned my spot."
Now, students who benefited from the law just want a chance to use their education going forward. Karla Resendiz, 25, went to the University of Texas at Austin with in-state tuition under the Perry law. She graduated in 2010 with a degree in pharmacy, which she cannot use because she is undocumented. Resendiz was a National Merit Scholar, meaning her preliminary SAT scores were in the top 96th percent of test-takers, and she graduated in the top five percent of her high school class.
"It's a shame that immigrants, and immigration in general, is getting used as a political pawn when there are real people behind these arguments," Resendiz said. "There are students who have a lot of potential, and until people stop using it as talking points and start looking the people behind this law, it's going to be really hard to move forward."
See where other candidates stand on immigration issues:
Calling all HuffPost superfans!
Sign up for membership to become a founding member and help shape HuffPost's next chapter