AUSTIN, Texas, July 3 (Reuters) - Texas Governor Rick Perry and a key U.S. lawmaker renewed Republican calls on Thursday for National Guard troops to be sent to the U.S.-Mexico border to help stem a surge of Central American nationals entering the United States illegally.
Perry addressed members of the U.S. House of Representatives Committee on Homeland Security at a field hearing at McAllen, Texas, in the Rio Grande Valley, the region hardest hit by the thousands of children and families who have streamed to the border in recent months.
He said Texas expects to spend an extra $1.3 million a week through the end of the year to beef up law-enforcement efforts to deal with the crisis, on top of $500 million that he said Texas has spent since 2005 to help secure the border.
"The rapid influx of illegal immigrants has strained border resources that were already insufficient to the task at hand," said Perry, who is considered a possible 2016 Republican presidential contender.
More than 52,000 unaccompanied minors from Guatemala, El Salvador and Honduras have been caught trying to sneak over the U.S.-Mexico border since October, double the number from the same period the year before. Thousands more have been apprehended with parents or other adults.
U.S. immigration officials say the humanitarian crisis is being driven by a mix of extreme poverty, gangs and drug violence in Central America, as well as rumors perpetuated by human smugglers that children who reach the U.S. border will be allowed to stay.
Detention and processing facilities in Texas have been inundated, leading U.S. immigration authorities to begin sending some of the immigrants to overflow sites elsewhere in the Southwest to help screen and manage the surge.
Perry called for deploying 1,000 Texas National Guard troops to assist with immigration enforcement while more U.S. Border Patrol agents are trained.
The chairman of the House Homeland Security Committee, Michael McCaul, a Texas Republican, also urged President Barack Obama to immediately dispatch National Guard forces "to free up Border Patrol agents so they can perform their primary mission, and that is securing the border."
Democrats have previously balked at similar Republican demands, saying merely putting more boots on the ground would be of little use. Critics say few of the migrants seek to avoid capture and instead arrive ready to surrender to border agents.
White House spokesman Josh Earnest shrugged off criticism from Perry that the Obama administration has done too little to deter illegal immigration.
He suggested that Perry instead lobby his party to support enactment of a sweeping immigration overhaul bill that has stalled in the Republican-controlled House after it was approved last year by the Democratic-led Senate. (Additional reporting and writing by Steve Gorman in Los Angeles; Also contributing to this report were Steve Holland in Washington and Marty Graham in San Diego; Editing by Leslie Adler and Sandra Maler)

Before You Go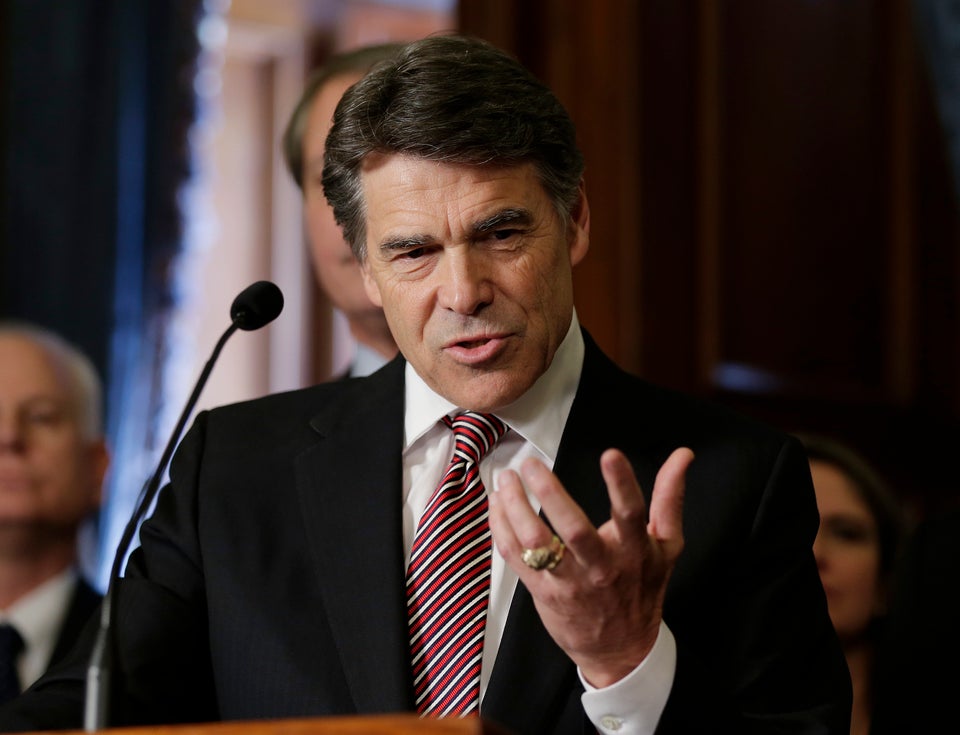 How Many Fingers Is Rick Perry Holding Up?
Popular in the Community