Texas Gov. Rick Perry (R) continued to speak out against a potential change in the Boy Scouts of America's anti-gay policy, urging the group not to be swayed by "pop culture" and "flavor of the month" sentiments that he suggested were changing opinions in favor of a more inclusive environment.
"The fact is, this is a private organization. Their values and principles have worked for a century now, and for pop culture to come in and try to tear that up because it just happens to be the flavor of the month, so to speak, and to tear apart one of the great organizations that have served millions of young men ... that is just not appropriate," Perry said during a discussion on the Family Research Council's "Stand With Scouts Sunday," first reported by Right Wing Watch.
Perry then encouraged anti-gay forces to keep up the fight against changing the Boy Scouts' policy by exhibiting "principled leadership." Perry argued that Civil War-era Texas Gov. Sam Houston did the same thing in 1861, when Houston resisted calls for secession over the issue of slavery.
"[Houston] made a powerful decision that cost him his governorship. He was against slavery, and he stood up and very passionately said 'Texas does not need to leave the union over this issue of slavery," Perry claimed. "But that's the type of principled leadership, that's the type of courage that I hope people across the country [will show] on this issue of scouts and keeping the Boy Scouts the organization that it is today."
In his history lesson, Perry neglects to mention that Houston owned slaves himself and opposed abolitionist moves throughout his political career. However, Houston strongly supported the Union, and believed that the emerging Confederacy would ultimately lose the impending war.
Perry's comments come as the Boy Scouts of America leaders are set to meet this month to vote on ratifying a resolution that would end a long-standing ban on openly gay members. Perry, an Eagle Scout, has been a reliable and vocal opponent of moves in that direction, and has even authored a book on why it is vital for the group to continue prohibiting gays from joining its ranks.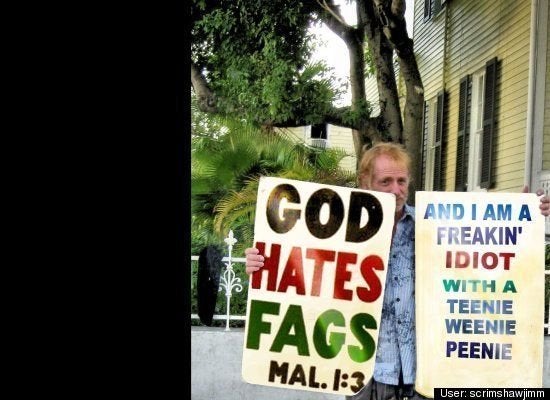 Anti-Gay Protesters Getting Owned
Popular in the Community