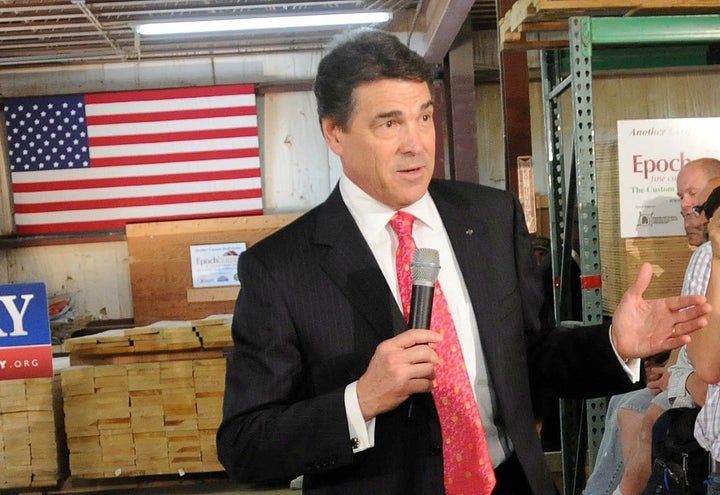 During a stop in Rock Hill, South Carolina over the weekend, Republican presidential candidate Rick Perry connected the civil rights movement to a fight being waged by Republicans for lower taxes.
"Listen, America's gone a long way from the standpoint of civil rights and thank God we have," said the Texas governor. "We've gone from a country that made great strides in issues of civil rights, I think we all can be proud of that. And as we go forward, America needs to be about freedom. It needs to be about freedom from overtaxation, freedom from over-litigation, freedom from over-regulation. And Americans, regardless of what their cultural or ethnic background is, they need to know that they can come to America and you got a chance to have any dream come true because the economic climate is gonna be improved."
The remarks came in response to a question from a reporter asking the Texas governor to weigh in on the significance of Rock Hill to the country's civil rights history. The reporter noted, "This year we celebrated the 50th anniversary of the Friendship Nine sit-in."
The AP has more on what Perry had to say during his time in the Palmetto State:
Perry's primary pitch from the beginning has been getting more people back to work and blaming Obama for job loss.

"The answer is we're going to cut the taxes, we're going lower the regulations, we're going to get the lawyers out of our business and we're going to get America back working again," Perry said.
...
Perry didn't leave South Carolina empty-handed. His campaign raised money at a private event Friday in Greenville. And he left the state with key endorsements.

Longtime state legislator David Wilkins, who played a big role in George W. Bush's White House races, signed onto Perry's bid. And Harvey Peeler, majority leader in the state Senate, jumped aboard, too.
Heading back to Texas for the first time since declaring his candidacy for president of the United States, Perry reportedly encouraged Texans to push back against criticism of the Lone Star State.
According to the AP, Perry said, "When the liberal pundits start trashing Texas ... I want you all to stand up and say that dog won't hunt."
Below, video of Perry's remarks on the civil rights movement via American Bridge 21st Century, a progressive research and communications organization.
Popular in the Community