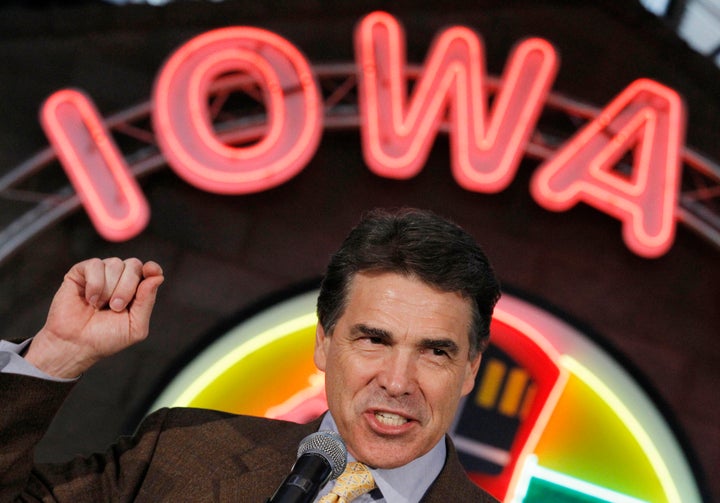 "Have you had sex with Rick Perry?"
I mean, let me think about it. But while I'm recollecting, head on over to Salon's War Room, where Justin Elliott has the details of an ad running in the Austin Chronicle which asks the same question, adding, "Are you a stripper, an escort, or just a 'young hottie' impressed by an arrogant, entitled governor of Texas? Contact CASH, and we will help you publicize your direct dealings with a Christian-buzzwords-spouting, 'family values' hypocrite and fraud."
The ad is the work of Robert Morrow, the man behind CASH -- the Committee Against Sexual Hypocrisy. Morrow is the only man behind the Committee Against Sexual Hypocrisy, actually. Add another person and it becomes a Super Committee Against Sexual Hypocrisy, and then the whole thing falls apart in partisan gridlock.
Morrow tells Elliot that "he knows strippers in Austin who have stories about Perry, but none of them are willing to come forward to the press." So he's hoping to shake the tree and get someone who'll put their name to some claims.
In addition, CASH is trolling for leads that might confirm another longstanding Perry rumor -- that he's had sexual experiences with men. "Note to gay people," reads the ad, "If you know the truth about Rick, please QUIT covering for him." As Elliott notes, these rumors, though persistent, have never panned out for reporters. That said, Morrow claims that a reporter from the National Enquirer has been "dispatched to Austin." You might recall the success the Enquirer had during the 2008 election cycle.
The running of Morrow's ad coincides with another case of Perry's potential "sexual hypocrisy," reports of which have recently started to pop up all over the web. First reported on by Sarah Jones at PoliticusUSA, the second matter relates to an investment Perry made in 1995 in a company called Movie Gallery. Movie Gallery no longer exists -- they filed for bankruptcy in February of 2010. But in its heyday, the company grew to become the second largest movie rental company in the United States. Movie Gallery acquired video rental chain Hollywood Video in 2005, and, for a time, was Blockbuster's chief competitor.
Movie Gallery did brisk trade in the rental of videocassettes, DVDs, and video games. But it wasn't the sale of these wares that Forbes' -- reporting around the time of the Hollywood Video acquisition -- called "the dirty little secret of [their] success":
Unlike Blockbuster and Hollywood, Movie Gallery is the last of the big chains to rent out X-rated videos (at least in stores bearing its name). When asked, the company claims porn rentals make up barely 5% of revenues. But outside critics say they're much higher, as porn flicks are significantly more profitable than family movies since they have a longer rental life span. They've tried to gum up the takeover but so far to little avail.
It was the Hollywood acquisition that attracted the attention of the American Family Association, who -- concerned that Movie Gallery would bring porn to Hollywood Video's shelves -- launched a boycott campaign against Movie Gallery that persisted with furor right up until the company finally went out of business. Of course, the American Family Association is also known for sponsoring "The Response," Rick Perry's pre-campaign kick-off prayer rally in Houston, Texas.
Back in 1995, there was nothing nonsensical about making an investment in a company like Movie Gallery. Frankly, the fact that they were a porn distributor made the investment all the smarter, since at the time, spankware wasn't widely available for free, on the Internet.
As reported in Forbes, Movie Gallery possesses a winning business model, which has allowed it to acquire the much-larger franchise Hollywood Video. Forbes reports that pornography increases Movie Gallery's profits enough to lowball the prices on regular, non-pornographic rentals. Pornography is a unique product that many stores are reluctant to sell. Movie Gallery's practices have forced small, locally owned rental chains out of business.

Zealously boycotted by the conservative, two-million-strong American Family Association (AFA), Movie Gallery faces two lawsuits because of its allegedly illegal business practices. Smaller competing video stores claim that Movie Gallery illegally distributes porn across state lines. Movie Gallery's Interim Chief Financial Officer, Thomas D. Johnson, Jr., described these lawsuits as "frivolous."

Coincidentally, Rick Perry used similar language when signing the tort-reform bill that limited the liability—thereby increasing profits -- of companies like Movie Gallery. Perry said the bill would "remov[e] the incentive for trial lawyers to file frivolous lawsuits." Continuing Perry said, "we will save thousands of jobs, generate millions in new revenue to the state;" only some of those jobs come at the price of young girl's physical and psychological health.

The AFA has undertaken a nationwide campaign -- advertising in USA Today and Washington Post -- urging government officials to investigate Movie Gallery. Many local authorities -- like the U.S. Attorney in the Northern District of Texas -- are allegedly dragging their feet. With Gov. Perry owning stock in Movie Gallery, his financial interests contravene the success of any such investigation.
Lisa Derrick reports that an "AFA press person" professed that they "had no idea" that Perry had connections with Movie Gallery. Bob Vander Plaats, who authored the Family Leader's "Marriage Vow" pledge, which incorporates a strenuous opposition to pornography (and which Perry has not signed, by all accounts), has welcomed Perry into the race without objection. It's possible that the leading lights of the Christian right simply have no knowledge of Perry's connection to pornography. It's also possible that they do, and everyone is just being collossal hypocrites.
So, once again, "Have you had sex with Rick Perry?" If the answer is yes, then this is going to be a pretty interesting time in your life, I imagine!
[Would you like to follow me on Twitter? Because why not? Also, please send tips to tv@huffingtonpost.com -- learn more about our media monitoring project here.]
Support HuffPost
The Stakes Have Never Been Higher
Popular in the Community