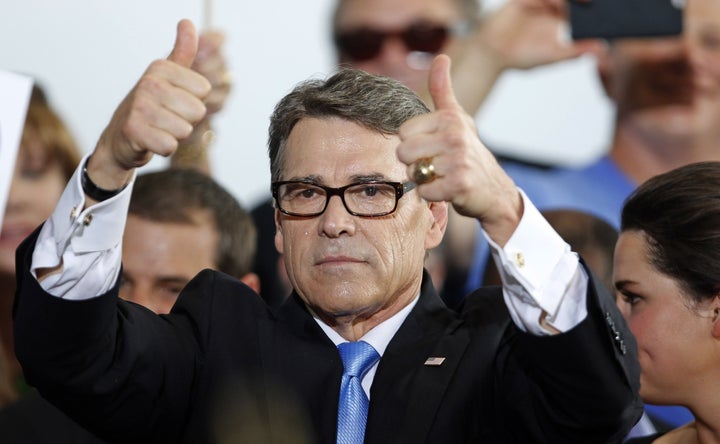 A Texas court of appeals has tossed out one of the criminal charges against Republican presidential candidate Rick Perry, which arose from a 2013 veto he made as governor.
According to the Austin American-Statesman, the court determined the "coercion of a public servant" count against Perry violated his right to freedom of speech under the First Amendment. The court allowed an "abuse of official capacity" count to continue. 
"The only remaining count we believe to be a misdemeanor, and the only issue is whether the governor's veto – or any veto in the absence of bribery – can ever be illegal," lawyer Tony Buzbee said in a statement. "The appeals court made clear that this case was questionable. The remaining charge is hanging by a thread, and we are confident that once it is put before the court, it will be dismissed on its face."
The case concerns a line-item veto Perry made in 2013, which cut $7.5 million from the state's public integrity unit. Perry reportedly threatened to veto the funding unless Travis County District Attorney Rosemary Lehmberg, a Democrat whose office oversees the unit, resigned because of a DWI conviction she received. When Lehmberg refused, Perry followed through and cut the funding.
An ethics complaint was subsequently filed against Perry and a grand jury indicted him on the two counts last year.
"I'm going to enter this courthouse with my head held high knowing the actions that I took were not only lawful and legal, but right," Perry said when he turned himself in for his mugshot in August 2014.
Perry left the governor's office after his third full term ended in January and announced his second bid for the White House last month.
REAL LIFE. REAL NEWS. REAL VOICES.
Help us tell more of the stories that matter from voices that too often remain unheard.