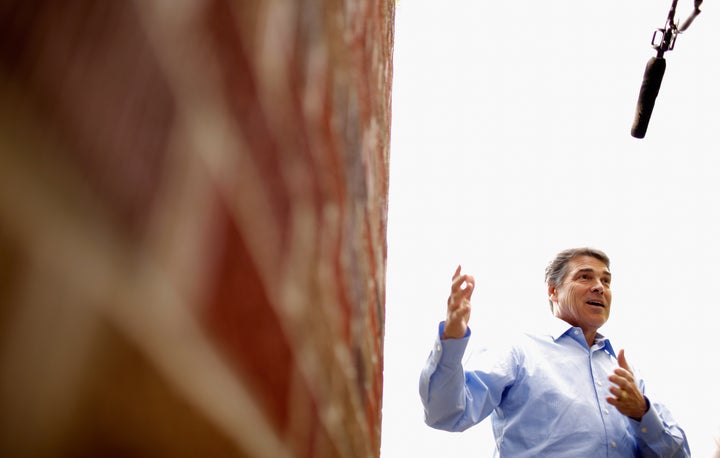 Newly-minted Republican presidential candidate Rick Perry raised the idea of turning to Predator drones to help secure the country's border with Mexico during a stop in New Hampshire over the weekend, the Boston Globe reports.
According to the local outlet:
Perry noted many unarmed aircraft are already flown in the area each day as practice for the Air Force pilots who will guide them overseas.
The Texas governor asked, "Why not be flying those missions and using that real-time information to help our law enforcement?" He added, "Because if we will commit to that, I will suggest to you that we will be able to drive the drug cartels away from that border."
It's not the first time Perry has floated the idea of incorporating Predator drones into efforts to secure the border. During an interview on Fox News last year, the Lone Star State Republican made the same suggestion. He said, "My question to this administration, how many Americans have to die on that border before you really understand we need boots on the ground, a law enforcement presence, National Guard troops, predator drones flying in the air, that technology that those pieces of equipment have to give real-time information to law enforcement, to the local police chiefs?"
Around the same time, Perry appeared to express a willingness to deploy U.S. troops across the border to bolster the fight being waged against Mexican drug cartels.
"I think we have to use every aspect of law enforcement that we have including the military," he said during an appearance on MSNBC. "I think we have the same situation as we had in Colombia. Obviously, Mexico has to approve any type of assistance that we can give them."
Below, video of what Perry had to say at the time.
UPDATE: Nathan Pippenger at The New Republic writes:
In fact, The New York Times reported on the use of unmanned aircraft at the border almost two years ago. And it's been over six months since DHS Secretary Napolitano gave a major speech announcing that Customs and Border Protection had Predators covering the entire southwest border, from the El Centro sector of California all the way to the Gulf of Mexico. She even gave the speech in El Paso! This shouldn't be news to the governor of a massive border state.
Popular in the Community