Texas Gov. Rick Perry (R) was quick to criticize the federal government for its initial response to Ebola. But now his administration is facing questions as to why two health care workers that had contact with a man who carried the virus from Liberia to Dallas were allowed to freely travel out of the state without any restriction.
Amber Vinson, the second nurse who contracted the deadly virus, took a commercial flight to Cleveland on Oct. 10 after being cleared for travel by the Centers for Disease Control and Prevention. Health officials in Texas declined her request for a private plane back to Dallas once she learned that her co-worker, Nina Pham, had tested positive for Ebola. Vinson flew back to Texas on Oct. 13 despite having a slight fever, and her family is now disputing CDC accounts that she had been told to avoid public travel.
A lab worker who handled Duncan's biological material at the Dallas hospital was also allowed to board a cruise ship without issue. The unidentified woman, who tested negative for the virus, was forced to spend much of the trip in isolation while the ship made its way back to Texas after being denied docking by the governments of Belize and Mexico.
As Texas politicians, including Perry and Sen. Ted Cruz (R), pointed fingers at the Obama administration amid growing public unease over the crisis, a key detail in the story had been missing: Texas public health officials already had authority to impose quarantine restrictions on persons suspected of having contagious diseases such as Ebola, regardless of CDC recommendations.
"Had the state used its public health powers more robustly, health care workers who treated Duncan might not have been circulating in public, and much of the ensuing panic could have been stilled," the Texas Tribune wrote on Wednesday.
Perhaps cognizant of this fact, Perry in early October announced the creation of a task force focused on improving the state's response to potential outbreaks of infectious diseases. One of the recommendations called for legislation that would expand the state's power to enforce quarantines. Under current law, per the Tribune, state officials could only enforce a quarantine order via law enforcement after a person explicitly violated the order by leaving the designated premises.
Perry also came under fire from Democrats for failing to cancel a scheduled trip to Europe, where he hoped to burnish his foreign policy credentials ahead of a possible presidential campaign. The governor was forced to return to Texas after Vinson became the second person to test positive for the deadly virus.
The governor hasn't cleared his administration of total wrongdoing, however. On Friday, Perry admitted that mistakes were made across the board, and he said it was "indefensible" that Vinson was allowed to board a plane.
"We must admit, along the way, we have seen ample opportunity for improvement, from the CDC all the way to the hospital," he said.
Before You Go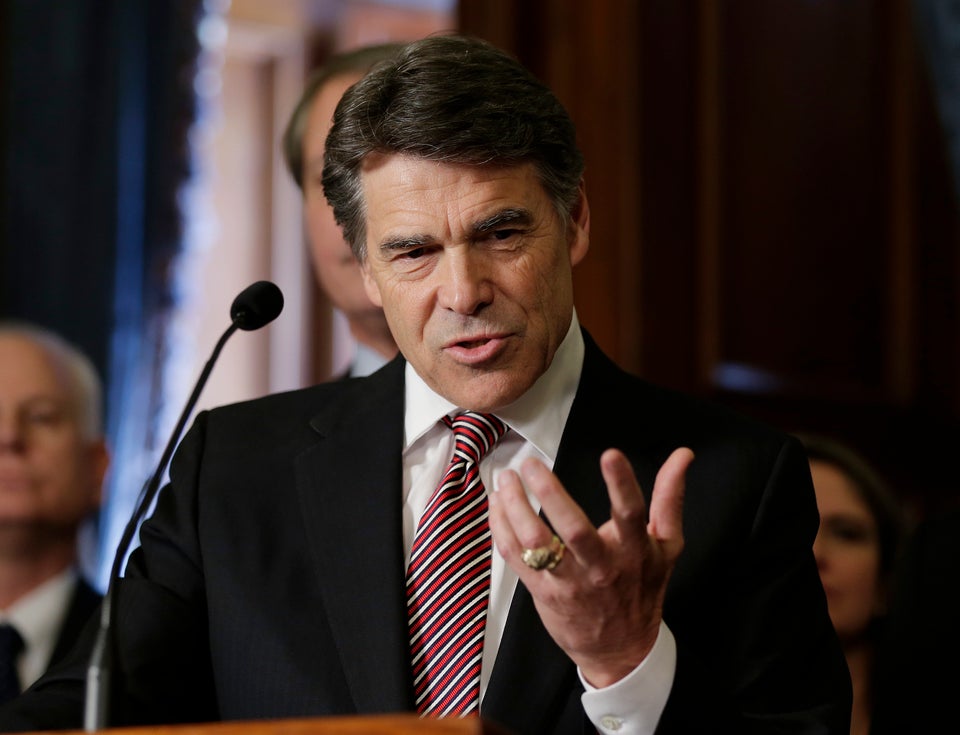 How Many Fingers Is Rick Perry Holding Up?
Popular in the Community