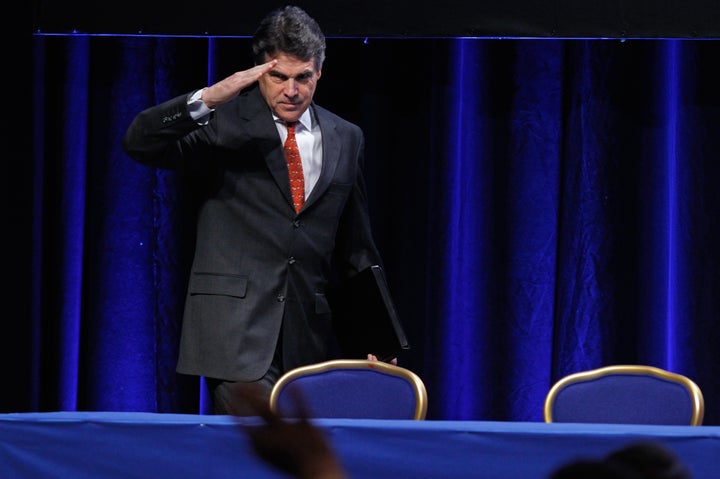 Texas Governor Rick Perry is expected to announce his candidacy for president of the United States next week, the Washington Post reports.
The presidential announcement would come on the heels of the widely-anticipated Ames Straw Poll -- a test of conservative strength and a table-setter for next year's Iowa caucuses -- set to take place next Saturday. HuffPost's Jon Ward reported last month that Perry was left off the straw poll ballot.
According to Politico, the Texas governor plans to make clear he's running for the Republican presidential nomination in a speech he's scheduled to deliver in South Carolina on Saturday.
The Austin Statesman reported over the weekend:
Leaders of Perry's fundraising operation sent information on how to raise money for a presidential campaign to potential bundlers — the people who will be tasked with raising hundreds of thousands or dollars, or more, from their friends and business associates.
"He has the potential to appeal to both the economic conservatives and social conservatives," Iowa Governor Terry Branstad (R) said of Perry, according to the Associated Press. "The economic conservatives are somewhat up for grabs. I really think it comes down to what does Perry do. I think there is the potential for him to change the race."
Portsmouth Patch reports that Perry is also expected to head to the key early primary state of New Hampshire this weekend.
As for Perry's chances in the Granite State, Portsmouth Patch's Marc Fortier reports:
Rick Perry faces a huge obstacle as he prepares to enter the presidential race on Saturday -- here in New Hampshire, nobody knows who he is.

Nobody may be a bit of an overstatement, but not too much of one. In the University of New Hampshire Survey Center's most recent poll of likely Republican Primary voters, Perry finished at 4 percent, behind Ron Paul and Rudy Giuliani (7 percent apiece) and just ahead of Tim Pawlenty and Sarah Palin (3 percent each).

"It's not as if we're seeing anything in our polls right now that's really calling for a Rick Perry candidacy," said Andy Smith, director of the UNH Survey Center.
Popular in the Community