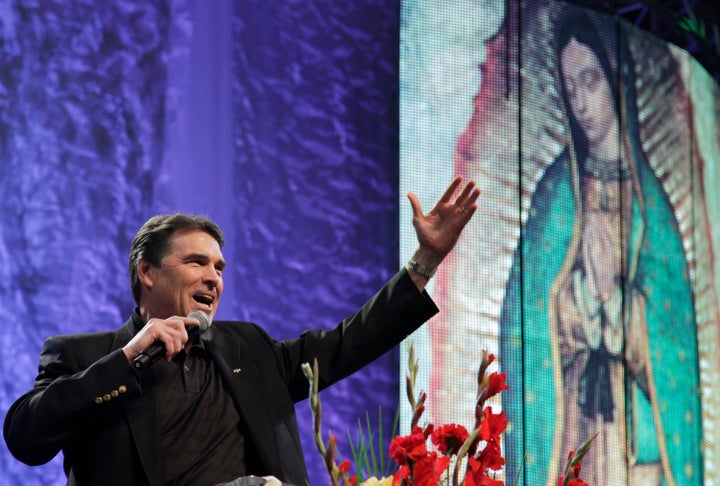 Texas Governor Rick Perry's camp is prepared to tackle what they say are unfounded rumors dating back to as early as 2004 about the Lone Star State Republican's personal life should he run for president and the allegations resurface, according to Politico.
Roughly seven years ago, Perry himself addressed the unsubstantiated buzz that he and his wife planned to divorce and that he was gay. He denied the rumors and told the Austin American-Statesman at the time that he was the victim of a "smear campaign" being conducted by his political enemies. The AP reported in March of 2004:
Perry said the rumors "are not correct in any shape, form or fashion. These are irresponsible. They're salacious. They're hurtful to my family."

...

"I don't think a rumor can just get to critical mass by itself," Perry said. "I think you have to have a well thought-out, organized effort to disseminate that kind of information and keep it going day after day after day after day."
The crusted-over rumors were in the ether among some attendees at a dinner hosted last week by the Manhattan County GOP, where Perry gave the keynote speech.

...

But Team Perry, asked about how it's prepared to handle them when they emerge if he runs, said it remains "false and misleading."
It remains to be seen whether Perry will jump into the race for the Republican presidential nomination in 2012. After previously denying he had any intention of entering the primary election contest, the Texas Governor recently signaled interest in pursuing a campaign for the White House.
The Wall Street Journal reported on Monday:
Aides to Texas Gov. Rick Perry said they are scrambling to determine the logistical challenges he would face in making a late entry to the fight for the Republican presidential nomination, the latest sign he is serious about joining the contest.

Among their considerations is whether Mr. Perry has enough time to raise sufficient cash, which generally requires personal contact with donors and fund-raisers. Aides also have made inquiries in Iowa to assess his chances there in the first-in-the-nation caucuses.
Perry addressed the crowd at the Southern Republican Leadership Conference last weekend, along with some big name Republicans who have already formally launched campaigns for president in 2012.
Perry did not tip his hand about 2012, but had this to say Friday about November's congressional elections: "It's going to take men and women going to Washington, D.C., and saying no."
According to the Associated Press, Perry said that Republican contenders should say to voters, "Elect me and I'm going to Washington, D.C, and will try to make it as inconsequential on your life as I can make it."
Popular in the Community