WASHINGTON -- Texas Gov. Rick Perry (R), the frontrunner in the GOP presidential primary, said that the Environmental Protection Agency's air pollution regulations are to blame for the loss of 500 energy-related jobs in Texas, calling the rules emblematic of President Obama's regulatory "red tape."
"The Obama Administration continues to put up road blocks for our nation's job creators by imposing burdensome regulations based on assumptions, not facts, that will result in job losses and increased energy costs with no definite environmental benefit," said Perry in a statement Monday. "Yet again, this administration is ignoring Texas' proven track record of cleaning our air while creating jobs, opting instead for more stifling red tape. As expected, the only results of this rule will be putting Texans out of work and creating hardships for them and their families, while putting the reliability of Texas' grid in jeopardy."
Perry is referring to the Environmental Protection Agency's Cross-State Air Pollution Rule (CSAPR), which is designed to help curb the air pollution that has come to mark the eastern United States. The new regulations scheduled to go into effect in 2012 will cut millions of tons of soot and smog emissions from power plants in 27 states at a cost of less than $1 billion per year to utility companies.
Perry's announcement comes hours after Luminant, the largest power generator in Texas, announced it would be closing two of its coal-fired power units and laying off 500 workers to comply with the EPA's new regulations -- a move projected to cut the Dallas-based company's generating capacity by 1,200 megawatts. Luminant has also announced a lawsuit targeting the new regulation, which would force it to curb emissions of nitrogen oxide and sulfur dioxide at power plant smokestacks. The company aims to push back the deadline for compliance.
"We have spent the last two months identifying all possible options to meet the requirements of this new rule, and we are launching a significant investment program to reduce emissions across our facilities," Luminant CEO David Campbell said in a statement on Monday. "However, meeting this unrealistic deadline also forces us to take steps that will idle facilities and result in the loss of jobs."
The new regulations will improve air quality for an estimated 240 million Americans, preventing a projected 30,000 premature deaths and up to 15,000 nonfatal heart attacks, as well as hundreds of thousands of cases of asthma and other respiratory ailments.
EPA Assistant Administrator for Air and Radiation Gina McCarthy responded to Luminant's announcement in a statement on Monday.
The Cross State Air Pollution Rule will prevent tens of thousands of premature deaths and thousands of asthma attacks by ensuring Americans do not have to breathe pollution emitted by facilities in other states.

Prior to announcing this important rule, EPA did extensive outreach to industry to ensure there were an array of compliance options, and in recent weeks, we have continued to work specifically with Luminant, making the Administrator, Deputy Administrator and EPA technical staff available to assess their needs and continue to ensure they have options to meet these important new standards – including exploring additional flexibility for the company and encouraging more reliance on technologies the company has already installed. As recently as yesterday EPA offered to share additional information that shows the potential for a no-shut down, no-layoff solution for statewide compliance. It is unfortunate that company leadership rushed to a decision that needlessly puts their workers' jobs at risk.

This administration agreed with the previous administration's 2005 decision that these facilities threatened the health of Americans living downwind, and this action by Luminant represents an abrupt change of direction. Since the Bush Administration, these facilities have made business decisions to comply with a rule that is very similar to what we announced in July - staying within pollution limits without needing to make serious investments in pollution controls at several facilities.
Today, rather than continuing their previous efforts at complying with important health safeguards, and despite EPA's repeated pledges to work with them in finding an agreeable path to cutting pollution, they made the choice to lay off workers and idle facilities.

It is not EPA's role to tell private corporations which business decisions to make, but we firmly believe that there are better
alternatives for Luminant. We remain committed to working with them, and sharing additional information, to find ways forward that protect health and save the jobs of Luminant's workers.
Perry's finger-pointing comes amid growing hostility toward EPA regulations, with Republican presidential pledging to cut the agency's federal funding and strip it of the tools to address emissions. GOP presidential candidates are further expected to cite Luminant as an example of the sort of job-killing regulatory regime they've had to fight back against since Obama took office, as well as a means of discrediting Obamas' approach to job creation.
It won't be the first time the EPA has come under attack from GOP hopefuls. HuffPost has compiled a slideshow highlighting presidential candidates' positions on the EPA -- who would you vote for?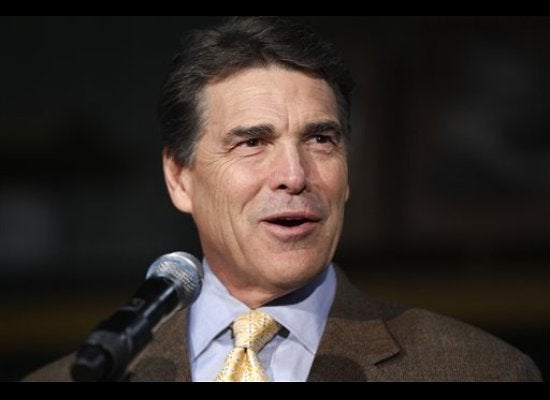 2012 GOP Candidates On The EPA
Popular in the Community