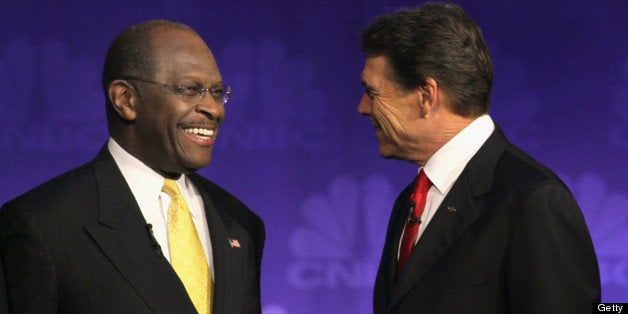 Most people remember Texas Gov. Rick Perry's most famous debate mishap: that time when he could not come up with a third government agency to scuttle as The Fate Of The Perry Candidacy Hung In The Balance.
But Dan Balz's new book, Collision 2012 -- which describes a bunch of "collisions" that happened in "2012" at length -- adds a bit of fun backstory to Perrydämmerung. Apparently, one thing that might have been pawing at the back of Perry's mind during that fateful GOP primary encounter was a failed attempt at a bro-down that transpired a short while before Perry took the stage. Balz writes:
Perry said he had no recollection of a debate prep room in turmoil. In fact, he said he felt as well prepared for that debate as any other he did. Before going onstage the night of the debate, he took his customary trip to the restroom. He saw Herman Cain standing just behind him. The Michigan debate came shortly after Politico reported that two women had accused Cain of inappropriate behavior when he was the head of the National Restaurant Association. The Cain campaign accused one of Perry's new advisors of leaking the story, a charge that was denied by Perry's campaign. Perry recounted to me later what happened next. "He looks over at me and he's always got that big smile on his face and I said, 'Herman, how you doing, you big stud?' That's a term of endearment that I would use. Then he kind of had a funny look on his face and I was like, 'God, I bet he thinks I'm making some kind of derogatory remark at him because of what's happened here in the last week.' I walked out of there and I came in and told that story [to his own advisors] and everybody was laughing."
And hey, you know, this is something that happens to a lot of us. Stuff is tense between you and somebody else, and you try to defuse the tension with a few kind words, and then your brain dials up the one thing you can say that actually just underscores the tension and turns it all into an awkward encounter. We've all been there.
Perry continues to tell the story to Balz:
"I walked onto that stage probably as kind of confident and loose as I had been -- and then had that little brain fart."
And that's where our paths diverge from Perry's rather substantially, I would imagine.
Balz relates Team Perry's reaction to watching the candidate's "oops" moment unfold.
"It's like people describe earthquakes," said Nelson Warfield, who was in the Perry green room with the others, "The first shake and people go, 'Oh, shit, it's an earthquake.' But real bad earthquakes keep going. So it just kept going. He just couldn't get out of it, and the 'oops' put a little cherry on top. Honestly, it's sort of like a collision."
"Hmmm, 'twas like a 'collision,' you say?" thought Dan Balz, suddenly having an idea.
Calling all HuffPost superfans!
Sign up for membership to become a founding member and help shape HuffPost's next chapter
BEFORE YOU GO
PHOTO GALLERY
Painfully Awkard Debate Moments