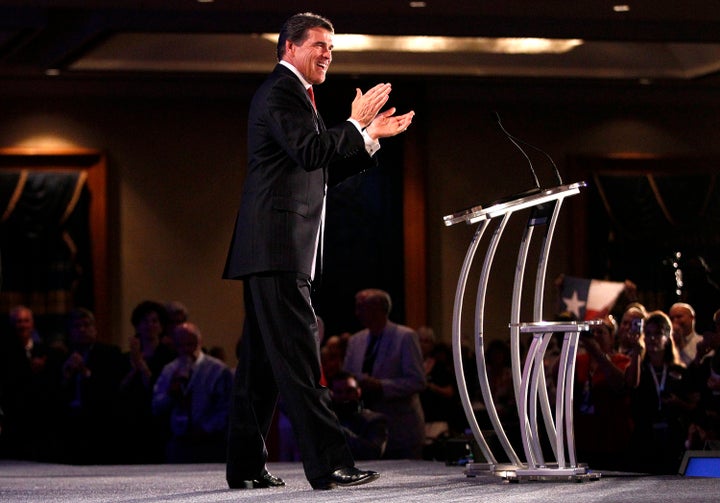 WASHINGTON – Texas Gov. Rick Perry's presidential campaign-in-waiting in Iowa is shifting away from a push to make a splash at the upcoming straw poll in Ames, following a ruling by the state party that it will not be allowed to purchase space on the grounds of the Aug. 13 event.
"We don't have a physical site," Craig Schoenfeld, executive director of Americans for Rick Perry's Iowa branch, told The Huffington Post. "At the end of the day I don't even know that we're around Ames … I'd say it's 50/50 if we're even around."
Schoenfeld, who on Monday morning told Real Clear Politics that his group would be purchasing space on the Iowa State campus, told HuffPost that the state party informed him Monday evening that "that was not going to be permissible," even though the location under discussion was "out in a corner parking lot."
A spokesman for the Iowa GOP confirmed the decision to HuffPost.
Americans for Rick Perry is a 527 fundraising group, so it is forbidden by federal election law from coordinating with Perry until he is an official candidate. Iowa GOP spokesman Casey Mills said that after the June 23 meeting, where they auctioned off centrally located straw poll spaces, "there was not an opportunity for campaigns or advocacy groups advocating for one candidate" to buy spots.
Schoenfeld said one alternative recommended to them was a spot "maybe within the line of sight" -- a nearby soccer field on the campus is an option -- but added that "at this point we haven't done anything more about contacting" the university to obtain permission for such an arrangement.
The decision has changed the Perry group's calculus about how it will approach the straw poll, which is a key early test of momentum and organization for the Republican presidential primary candidates. The Iowa GOP will finalize the straw poll ballot on Saturday, and Perry's name could end up on it. But Schoenfeld said he is already diverting resources away from the event.
"Without a candidate and without a campaign, without being able to have a physical presence, a site to actually disseminate information, it makes it difficult -- if not impossible -- to really do too much," he said. "So the resources you could expend there could be better used to carry your message around the state … getting boots on the ground and actually talking to people."
Americans for Rick Perry was launched by California political consultant Bob Schuman, and Schoenfeld said that the group had originally viewed the straw poll "as an opportunity to generate some enthusiasm."
"As they researched and started talking to state party officials -- because we're not a campaign or a vendor -- what they thought might be possible a month ago might not be possible," Schoenfeld said.
It is unclear whether Perry has any plans to show up at the straw poll, even though he would not be able to speak from the stage. His top adviser, New Hampshire consultant David Carney, has said that Perry's scheduled appearance in South Carolina that same day would not preclude the governor from making an appearance in Ames.
Schoenfeld, who was Newt Gingrich's (R-Ga.) Iowa campaign director until he quit the former House Speaker's presidential campaign, said he and the other staffers working for Americans for Rick Perry are focusing their efforts on "going out and meeting activists" at county GOP central committee meetings, county fairs and Tea Party meetings.
"We're optimistic that [Perry] will sometime soon join the fray," Schoenfeld said.
The news of the Perry group's setback will likely adjust expectations for other Republican candidates and how they will approach the straw poll. If Perry's group does not have an active presence in Ames, that will lessen the chances that his name will show up near the top of the list. That would help former Minnesota Gov. Tim Pawlenty, who badly needs to finish at least second in the voting to show that he is still a viable candidate.

Pawlenty faces stiff competition from Rep. Michele Bachmann (R-Minn.) and Rep. Ron Paul (R-Texas). Bachmann has captured the imaginations of many grassroots conservatives, while Paul's supporters are intensely committed and organized.

A misspelling of Craig Schoenfeld's last name has been corrected.
Support HuffPost
The Stakes Have Never Been Higher
Popular in the Community