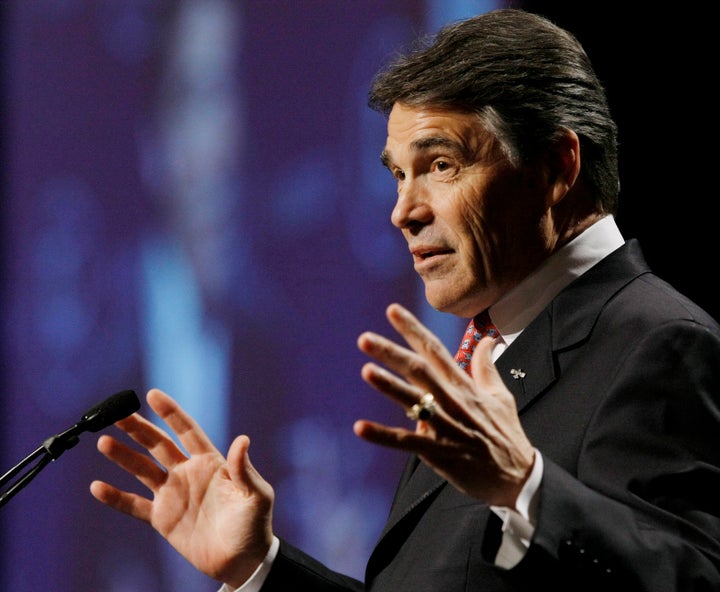 WASHINGTON - Texas Gov. Rick Perry looks increasingly likely to run for president, numerous Republican party insiders said Thursday, but it is unlikely that any decision will be announced this month.
Perry's top adviser, Dave Carney, is having little trouble recruiting staff and political operatives to run a national campaign. And The Huffington Post is aware of at least one significant fundraiser for former Minnesota Gov. Tim Pawlenty who is close to jumping ship to join Perry.
In addition, former Florida Gov. Jeb Bush, the younger brother of former President George W. Bush and an influential voice in the GOP in his own right, had favorable words for Perry.
"I don't know if he is running but he could be a formidable candidate if he does," Jeb Bush told HuffPost. "The Texas economic story is a powerful one and Governor Perry has worked hard to make Texas an attractive state for job creation."
Bush's comments are of note given the simmering feud between some in the George W. Bush and Perry camps.
A remaining question is whether Perry would decide to announce something before the Ames Straw Poll in Iowa on Aug. 13, or after it. Certainly there is no incentive for him to declare anything in July. He is already running second or third in most polls and will continue to get free publicity and increased name recognition by dangling the prospect of a run, without the financial and political costs that will immediately be incurred if and when he launches a formal campaign.
Carney told HuffPost that "there has been no movement and no decisions about anything have been made."
And one adviser to another Republican candidate said that Perry's toying with a run appeared to be "Barbouresque," comparing him to Mississippi Gov. Haley Barbour, whose preparations for a run at the GOP nomination took him right up to the edge of announcing his candidacy before he decided against it.
"I think, just like Haley, he wants to do it. But there are enough significant hurdles that you have to get over," said the GOP candidate's adviser, listing Perry's ability to raise the necessary money, some of the positions he has taken in Texas, and questions about his ability to stay on message as his top vulnerabilities.
"Historically speaking Rick Perry has not been a disciplined, focused person," he said.
Ari Fleischer, a former White House press secretary under Bush, paused for several moments when asked what he thought of Perry.
"I like him as an individual. I don't know where he is on anything foreign policy, and that's important to me. The biggest issue for Perry is, 'Is America ready for another Texan?'" Fleischer said in an interview, in a nod to the problems that many Americans had with Bush's style of leadership.
"I say that with the deepest respect for the Texan I worked for. It pains me to say that. But it's a legitimate issue," Fleischer said.
Perry's charisma and energy are thought by his backers to more than compensate for any lack of focus, and those who want to see him run believe he would quickly become the top rival to current frontrunner Mitt Romney, the former Massachusetts governor.
There are different schools of thought about whether Perry would overtake Rep. Michele Bachmann (R-Minn), the Tea Party firebrand who has shot to the front of the pack in the last two weeks and is currently the top alternative to Romney among declared candidates. Romney is viewed as a savvy and experienced yet very vulnerable top candidate.
Some believe that Perry would completely overtake Bachmann and replace her, in much the same way that she has supplanted former Godfathers Pizza CEO Herman Cain as the favorite choice of most grassroots conservative voters. Others think Perry and Bachmann might split the vote in places like Iowa, which could benefit someone like Pawlenty, who has been limping of late and badly needs to finish in the top two in the Ames Straw poll to avoid taking on more water.
Andrew Hemingway, a Tea Party leader in New Hampshire, said that while he is a big fan of Bachmann, it is Perry's experience as an executive running a state government that makes the governor more attractive.
"This primary has been custom made for him. It's just a suit he's got to step into," Hemingway said.

Calling all HuffPost superfans!
Sign up for membership to become a founding member and help shape HuffPost's next chapter