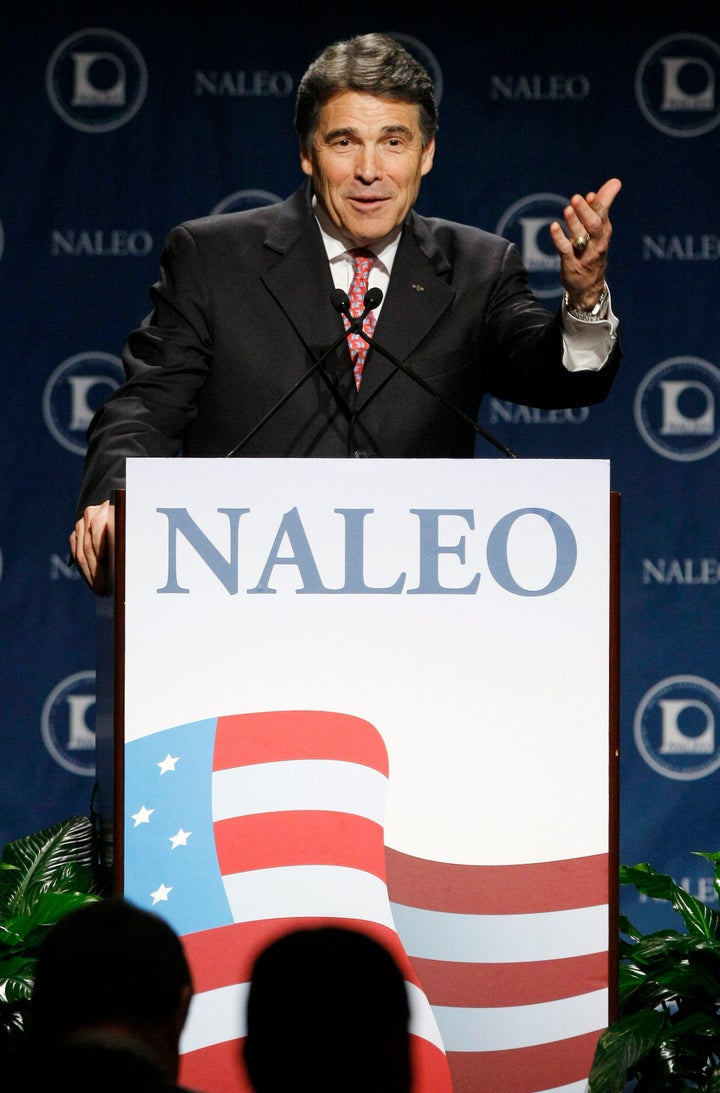 SAN ANTONIO -- Gov. Rick Perry received a tepid response when he addressed the National Association of Latino Elected and Appointed Officials on Thursday, joking about the pronunciation of a Hispanic appointee's last name and frequently staring blankly at the audience when they failed to respond to his conservative applause lines.
Reuters reports that the Lone Star State governor arrived at the event only to be greeted by noisy protesters outside.
In his defense, Hispanic politicians had earlier spoken passionately against his policies, deriding them as hurtful to Hispanics. Perry chose to ignore those topics and instead touted his appointments of the first Hispanic women to serve as secretary of state and to both of the state's highest courts.
But a joke about how perfect it was to appoint Jose Cuevas to the Texas Alcoholic Beverage Commission because his name sounds like Jose Cuervo -- a brand of tequila -- fell flat. Perry struggled to regain his confidence as he described Texas as a land of opportunity.
"You have a role model you can look up to, someone who proves that any obstacle can be overcome," Perry said. "That is especially true for a Hispanic child in Texas."
Perry is considering a run for president and has made an effort in recent months to attend national Hispanic events, such as the convention that opened Thursday in San Antonio. But there was no mention of any national aspirations during his speech here, which focused on Texas' low taxes, limited regulations and restrictions on lawsuits.
"We do what we can to maintain an economic climate that attracts businesses and industries looking to expand, that need to relocate," he said.
Democratic Mayor Julian Castro derided the latest legislative session and Perry's emergency bills, as "the most anti-Latino agenda we've seen in more than a generation, without shame."
The state's longest-serving governor has tried to walk a fine line between appealing to Texas' growing Hispanic population - now 48 percent - and rightwing groups that have demanded tougher stances on immigration and voter identification laws. Perry declared bills requiring a photo ID to vote and mandating that local police to enforce federal immigration laws as emergency items for the Legislature.
Both measures have provoked angry reactions from Hispanic groups. Police chiefs and sheriffs overwhelmingly objected to the immigration enforcement measure. Hispanic groups say both laws will lead to greater voter intimidation and racial profiling against Hispanics.
The politicians and public policy professionals were unimpressed with his stock-speech touting the state's business-friendly climate. Perry often stopped for applause and heard only the clink of forks on plates as he stared out at the crowd, a stark contrast to the jubilant reception he's received at recent Republican events. Many in the audience had never heard of him before.
The organization released a study Thursday predicting that 12.2 million Latinos will cast a ballot in the 2012 presidential election, representing a 26 percent increase from 2008. Latinos will account for 8.7 percent of the national electorate, the group's study predicted.
"Latinos will continue to reshape the nation's political map, and the Latino electorate will play a decisive role in Election 2012," said Arturo Vargas, the executive director of the group's educational fund. The predictions are extrapolations based on trends in past voter turnout and new census results.
Latino voters would represent at least 20 percent of the electorate in California, New Mexico and Texas, and more than 10 percent in Arizona, Florida, New Jersey and New York, the study found.
"This electorate has shown it cannot be taken for granted by either party," Vargas said. "Campaigns must enhance their strategies to reach all Latino voters, both native-born and naturalized."
Popular in the Community