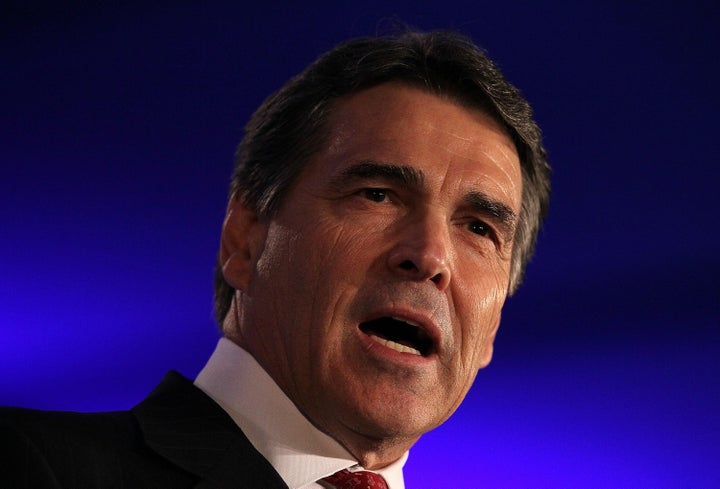 Every four years it seems anti-choice presidential candidates tell voters that overturning Roe v. Wade simply means returning the question of legal abortion to the states.
We can assume that some candidates will repeat this mantra if asked about abortion in the primary season -- including Saturday's debate in Ames, Iowa.
Texas Gov. Rick Perry (R), who has yet to formalize his candidacy, already injected this concept into the debate.
After making claims about "states' rights," Perry then reversed course and pledged to support a federal constitutional ban on abortion, which would outlaw abortion and ban many common forms of contraception.
Salon.com pointed out that how politicians like Perry invite charges of hypocrisy when they speak so glowingly of so-called "states' rights" while at the same time they also vow to use the powers of the federal government to further erode women's freedom and privacy.
As in 2008, when then-candidate Sen. John McCain (R - Ariz.) used the "return-to-the-states" argument, it's important for voters to consider two key facts:
First, in order for the issue of choice to go to the states, Roe would have to be overturned. (This is not a tiny detail considering it's been the law of the land and guaranteed women's access to safe, legal abortion for nearly 40 years.)
Second, the reversal of Roe would clear the way for an anti-choice Congress (currently, there are 245 anti-choice members of the House) to ban abortion and thus override any state laws guaranteeing a woman's right to choose. The current situation in Congress only reinforces the importance of the presidency to protecting choice. We recently published an updated publication, The Powers of the President, that outlines the breadth of influence the president has over reproductive-health policy.
Focusing specifically on the states issue, here is a question for anyone (a candidate or lawmaker) who makes this claim: In which states should the right to privacy exist and in which states should politicians have control over personal, private decisions?
If Roe were overturned today, and Congress lacked the votes to enact a nationwide ban, women's access to legal abortion could be in jeopardy in nearly half of the states. Based on analysis of current state laws and the hostile legislative landscape, here is how it could happen:
States with near-total abortion bans:
Fifteen states have currently unconstitutional and unenforceable near-total bans on abortion already on the books, either from before Roe (13 states), or in the case of 2 states (LA and UT), from the early 1990s when they seized on a close vote in the Supreme Court to try to overturn Roe. Bans in the following states may become enforceable if Roe falls: AL, AZ, AR, CO, DE, LA, MA, MI, MS, NM, OK, UT, VT, WV, and WI.
States with "trigger" bans:
Two of these states, ND and SD, are not in the first group of 15. Thus, the number of states under threat goes from 15 to 17.
States with fully anti-choice governors and legislatures:
Fifteen states have anti-choice legislatures and governors and would likely outlaw abortion if Roe falls: AL, AZ, GA, ID, LA, MI, MS, NE, ND, OH, OK, SD, TX, UT, and WI.
Five of these states, GA, ID, NE, OH, and TX, are not in the two previous categories.
So, in total, there are 22 states where choice is at risk if Roe is overturned. That's 44 percent of the states.
For voters who value freedom and privacy, it's important to note the consequences women would face if any of these candidates moved into the White House.

Related
Popular in the Community