At its worst, the presidential campaign trail is a dispiriting place for any reporter.
The hours are long, access to the candidates can be limited, and stressed-out staffers occasionally yell things at you like, "Kiss my ass. This is a holy site for the Polish people!"
The most stirring stump speeches, after you've heard them four or five times in a single day, tend to sound somewhere between glib and soul-crushing.
The truth of the matter, however, is that the opportunity to travel around the country on someone else's dime, chronicling the process of selecting the next leader of the free world, is not something to complain about. It can be a whole lot of fun, and even in the midst of the longest travel delay or the most intestinally unsound gas station meal, the experience for journalists doesn't come close to matching the hardships that the candidates endure.
They're the ones who have to be "on" every moment, as the media obsess over trivialities like not tipping at Chipotle and their preferred style of microphone. There are all those inane questions that the candidates have to answer ad nauseam and the many cold calls they have to make to near-strangers, in order to beg for money.
And when things go south in any campaign, the candidate is the one who suffers the embarrassment that comes with falling short in front of an audience of millions.
No one knows this better than former Texas Gov. Rick Perry (R), whose disastrous 2012 White House run hit its nadir one memorable November night on a debate stage in Michigan, when a four-letter cry of rhetorical surrender -- "oops" -- slipped meekly from his lips and took its place in the annals of campaign trail infamy.
After ending his 14-year tenure in Austin earlier this year, Perry is now gearing up for a second shot at the presidency. Though he is not yet officially in the race, all signs are pointing to "go," as the 65-year-old Republican maintains a busy schedule with plenty of travel time to the early voting states.
Few doubt that Perry would be a factor in the GOP primary. His record of spearheading economic growth in Texas remains impressive, his retail politicking skills are among the strongest in the field, and he'll presumably benefit from having done it all once before.
Still, Perry begins the 2016 campaign as an underdog, rather than the frontrunner he was going into the 2012 contest. It's going to be even harder for him to rise to the top of a much stronger GOP field than the one that he failed to surmount four years ago. And that raises the question: Why would Perry put himself through the presidential gantlet again after completing a three-decade-long political career that has set him up nicely for doing just about anything else post-governorship?
I wanted to get a deeper sense of what is driving Perry to re-enter the fray, in spite of all the obstacles in front of him. I also hoped to learn more about the man who has in some ways been reduced to caricature.
So with two camera crews in tow, I hit the trail with Perry for a full day during a recent campaign-style swing through New Hampshire. Watch the video above.
This was a state where Perry earned a grand total of 1,764 votes in the 2012 first-in-the-nation primary. Nowhere on the early-state presidential calendar will the odds be more stacked against him next year. A more optimistic way to put it is that he has only one way to go in New Hampshire: up.
What I discovered in a running conversation that came with nearly unfettered access was a man who is equal parts charming, guileless and humbled, yet entirely unbowed by his 2012 failure.
On this particular day in April, his stump speech was at times unfocused, the crowds that greeted him small and lethargic -- and yet it didn't take much to see that he is already far better prepared than he was when he parachuted into the last race, seemingly on a whim, in August 2011.
When I asked him whether it was harder now that he doesn't have all the bells and whistles of a high-flying campaign to keep him energized, Perry's response was quick.
"You know, I find this to be a lot more efficient," he said. "And more real."
Rick Perry is the kind of politician who speaks with his entire body and is just as animated when talking to a crowd of 15 as he is in front of 1,500 -- a trait that stands to benefit him in New Hampshire, where retail politicking is the name of the game. And he seems to be physically prepared this go-around, which wasn't the case in 2011 when he was fresh off back surgery.
Though it was positively civilized by the standards of the 16- and 17-hour marathons he's likely to face as an official candidate, our 12-hour day together in New Hampshire was jam-packed nonetheless. From the moment he left his room at 9 a.m. until the very last encounter at 9 p.m., when he ran into an unexpected guest in the hotel lobby in Manchester, Perry brimmed with energy and enthusiasm.
Whether that campaign trail vigor will translate to votes remains an open question, but Perry is putting himself in position to seize whatever opportunities may come his way.
Watch the video above for the first installment of a new Huffington Post series: '16 And President.
Support HuffPost
The Stakes Have Never Been Higher
Before You Go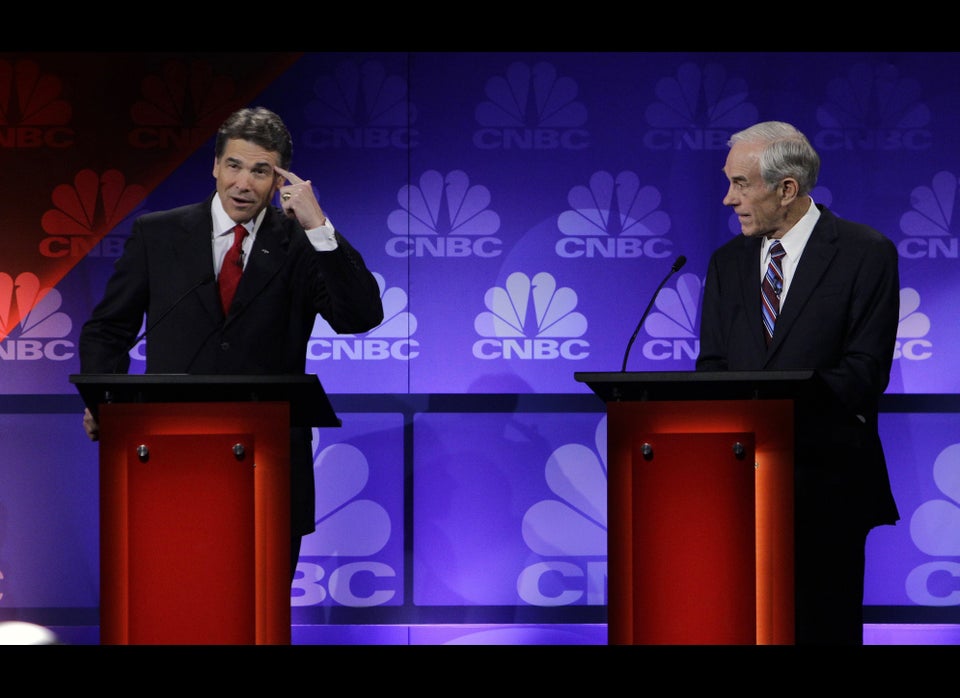 Rick Perry's Gaffes
Popular in the Community