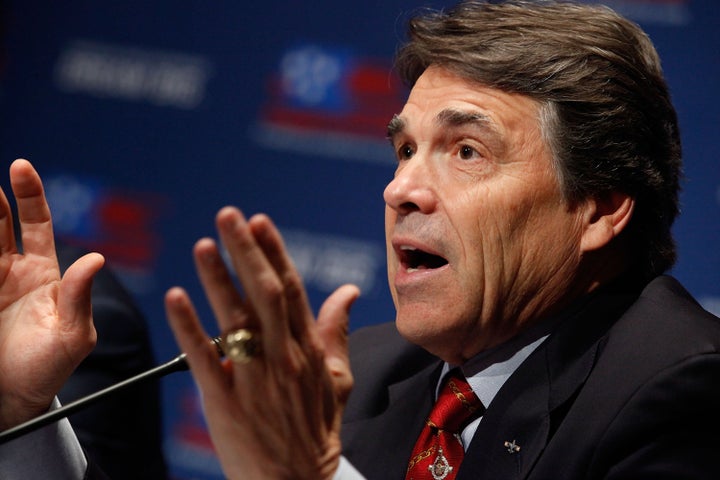 SAN ANTONIO (Reuters) - Texas Governor Rick Perry criticized the Obama administration on Thursday for not responding to a request for a disaster aid for the parched state, where wildfires have scorched nearly 2 million acres.
"You have to ask, 'Why are you taking care of Alabama and other states?' I know our letter didn't get lost in the mail," Perry, a Republican and frequent critic of the federal government, said after addressing a Texas emergency management conference.
President Barack Obama declared a state of emergency for Alabama, where storms -- including a tornado that ravaged Tuscaloosa on Wednesday -- killed nearly 200 people this week.
The White House said Obama will visit the state on Friday.
"There is a point in time where you say, 'Hey, what's going on here?'" Perry said.
Perry had requested a federal declaration of emergency for Texas as the wildfires began to rage across the large state. The request has not been answered, although several federal agencies are supplying firefighters.
"They watch TV, they know what's going on here, they can recognize that there is going to be a request for assistance, a request for help," Perry said.
Two volunteer firefighters have died battling the Texas wildfires, which have destroyed more than 900 buildings.
A federal major disaster declaration could reimburse Texas and local governments 75 percent of the cost of their response. Local departments and the Texas Forest Service have spent more than $60 million since September 1 responding to wildfires, state forest service spokeswoman Linda Moon said.
"Governor Perry's request is currently under review, and will continue our close coordination with the state as they work to protect their residents and communities," FEMA spokeswoman Rachel Racusen said.
She said Texas has already received 22 grants to help pay fire management expenses this fire season, including 16 in April alone.
In the past, Perry has charged that the Obama administration is punishing Texas. The Republican governor has been an outspoken opponent of the federal health reform law, and the state is suing the U.S. Environmental Protection Agency over a proposal to end Texas' independent air quality permitting program for factories and refineries.
Obama took a shot at Perry in an interview last week with the Dallas/Fort Worth TV station WFAA.
"Governor Perry helped balance his budget with about $6 billion worth of federal help - which he happily took - and then started blaming the members of Congress who had offered that help," Obama said, referring to 2009 federal stimulus funds.
(Additional reporting by Elliott Blackburn and JoAnne Allen in Washington; Editing by Corrie MacLaggan and Jerry Norton)
Support HuffPost
The Stakes Have Never Been Higher
Popular in the Community