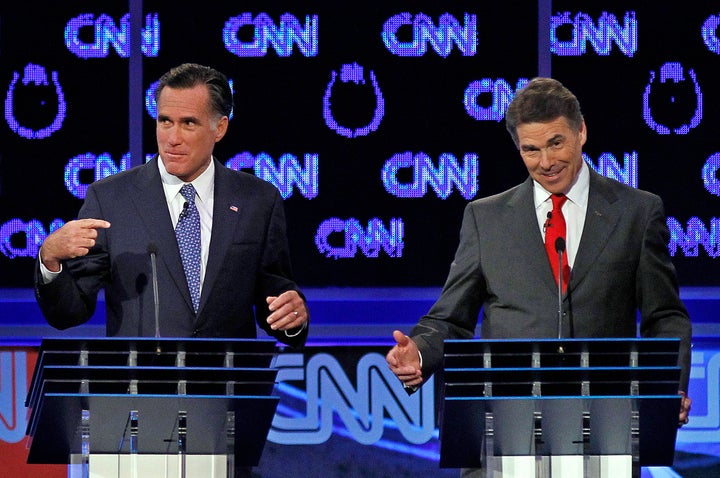 Texas Gov. Rick Perry was operating under the influence of painkillers during Republican presidential debates earlier this election cycle, a new e-book by Mike Allen and Evan Thomas claims.
It "became an open secret that he was using painkillers in sufficient dosages to keep him standing through the two-hour debates," according to "Inside the Circus," which was released on Tuesday.
The Daily Caller first relayed the book's report of an incident, presumably prompted by pain medication, in which the "manager of a rival campaign" supposedly witnessed Perry belting out the lyrics to "I've Been Working on the Railroad" during a trip to the bathroom before an October debate.
"Wondering who was making all the noise, the campaign manager turned his head and saw, to his surprise, the governor of Texas," the book states. "Perry came down the row of about twenty urinals and stood companionably close by."
The authors continue: "Nonplussed, the campaign manager made a hasty exit; as the bathroom door closed, he could hear Perry still merrily singing away: "I-I-I've been working on the ra-a-i-i-l-road, all-l-l the live-long day."
Though Perry's camp has denied what they've called the "irresponsible, unsourced and unfounded 'reporting'" in the e-book, the governor's medical history over that period is well-documented. He underwent spinal surgery in the summer of 2011 to correct what his aides had characterized as chronic back problems. His treatment for the ailment included experimental stem cell therapy.
While Perry had downplayed the size and scope of the injury and subsequent medical procedures, some had speculated that his apparent discomfort on the debate stage, both in physical demeanor and mental clarity, may have been consequences of his back problems.
Questions about Perry's mental state arose quickly after a particularly unusual speech in the fall, during which he appeared to ramble and slur over certain passages. Organizers of the event and spokespeople for the Perry campaign denied suggestions that he may have been drunk while speaking.
The most devastating moment of the campaign was yet to come, however, when Perry proved unable to recall the three agencies he planned to cut as president at a debate in November.
Below, a look back at Rick Perry's gaffes: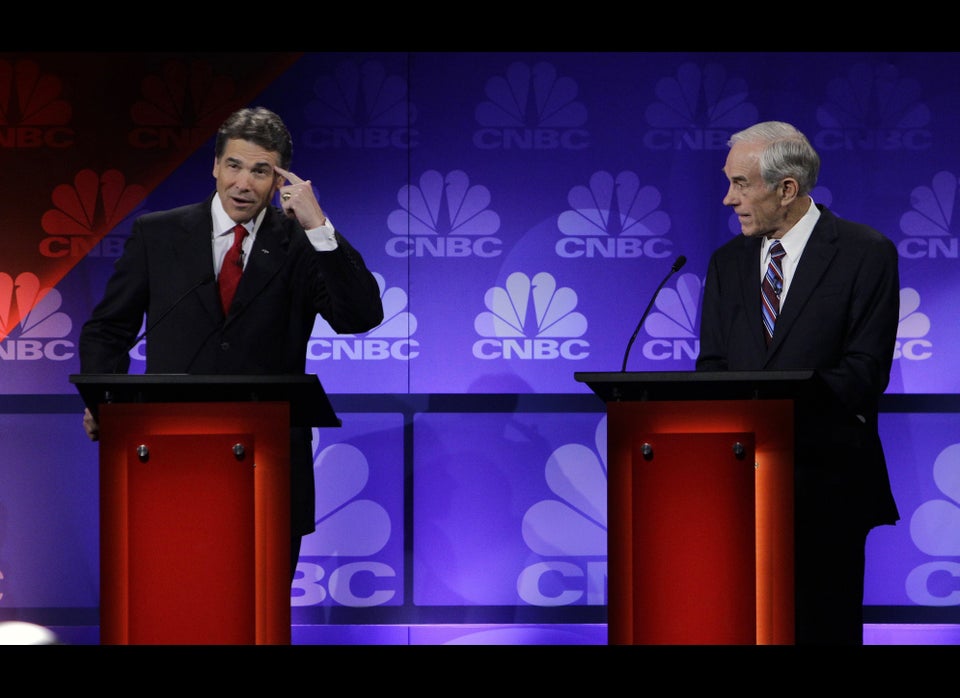 Rick Perry's Gaffes
Support HuffPost
The Stakes Have Never Been Higher
Popular in the Community