NEW YORK ― Energy Secretary Rick Perry supports remaining in the Paris climate agreement, but wants the United States to renegotiate its terms, he said Tuesday.
That puts him on one side of a schism forming within President Donald Trump's White House over how to handle the historic 195-country deal to slash emissions of greenhouse gases that cause global warming. Secretary of State Rex Tillerson, first daughter Ivanka Trump and her husband, senior adviser Jared Kushner, support remaining in the agreement; chief strategist Steve Bannon and Environmental Protection Agency chief Scott Pruitt ― two of the more radical, far-right voices in the White House ― want Trump to fulfill his campaign promise to exit the agreement.
Perry, in a Tuesday morning speech at the Bloomberg New Energy Finance conference, tempered his view. He touted decreasing emissions last year in the U.S. and China ― the world's top polluters ― and criticized European countries, such as Germany, for not doing enough to shrink their own carbon footprint.
"There's a lot of cheerleading the Paris accord and keeping the United States involved in that," Perry said. "But the two countries that are making the real impact on emissions are the U.S. and China. So, I'm looking over at my friends in Germany and France going, 'What are you all doing?'"
It's true that German emissions rose by 0.7 percent last year, driven largely by an increase in vehicles on the road and the continued use of coal to generate about 40 percent of the country's electricity. The numbers stand in stark contrast to Germany's hard-line policy supporting renewable energy, which now produces 30 percent of its electricity. The country plans to shutter all its nuclear power plants by 2022 as part of its energiewende, or energy transition, policy.
"You have Germany, for instance, who has made the decision to go away from coal, to get out of the nuclear business, to double down, to hear them tell it, on renewables," Perry said. "But the fact is their emissions have gone up because they're using more coal, and they're using coal that is not clean technology."
"My point is, don't sign an agreement and then expect us to stay in an agreement if you're not going to really participate and be part of it," he added. "The United States has taken actions to affect in a positive way. I'm not going to tell the president of the United States, 'Let's just walk away from the Paris accord,' but we probably need to renegotiate it and they need to get serious about it."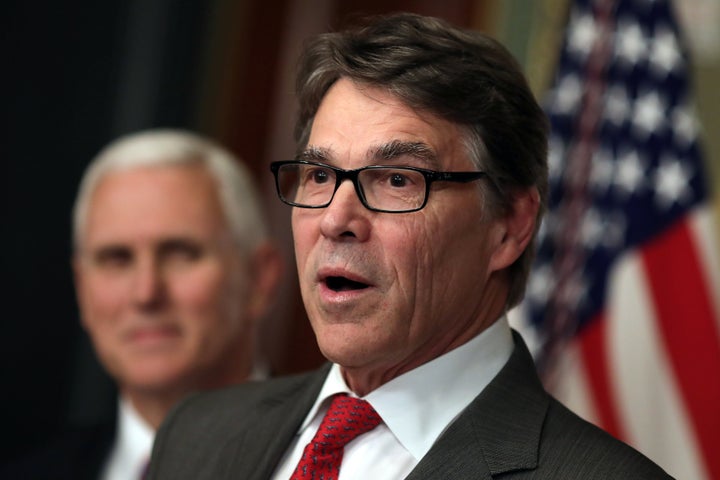 Speaking in the heart of liberal-leaning Manhattan at one of the clean energy industry's most popular events, Perry repeatedly assailed opponents and critics of the new president, who will complete his first 100 days on Saturday. At one point, the cowboy boot-clad secretary said he would hold his tongue on why Texas trumps New York, so as not to offend his host, Michael Bloomberg, the Bloomberg LP CEO and former New York mayor.
Taking aim at German Chancellor Angela Merkel's government in particular is on-message for the Trump administration. Merkel's support for refugees and global trade contrasts with Trump, whose bombastic style and abrupt policy reversals put him at loggerheads with her soft-spoken and technocratic approach to leadership. Merkel reportedly had to explain the "fundamentals" of European trade to Trump 11 times. During a White House visit, Trump refused to shake hands with the chancellor, who enjoyed a close relationship with former President Barack Obama. After Trump's surprise victory in November, Merkel was dubbed the "leader of the free world" because of the new U.S. president's cozy ties and lip service to autocratic dictators.
Perry criticized the Obama administration for favoring renewable energy, such as wind or solar power, over carbon-capture technology, a controversial technique of sequestering emissions from burning coal, gas and oil, and pumping them deep underground. The technology provides the basis of Trump's promise to bolster "clean coal," despite the fact that attempts to pull it off at power plants in the U.S. and Canada have so far failed.
It is not reasonable to rely exclusively on fossil fuels. It is not feasible to rely exclusively on renewables.

Energy Secretary Rick Perry
"Our predecessors led a war on coal," Perry said, referring to the suite of Obama-era policies to limit carbon emissions from new coal-fired plants.
He accused the previous administration of scuttling scientific research that offered politically inconvenient conclusions. It's unclear if he was referring to findings about the cost or viability of renewables, or about greenhouse gas emissions' role in causing global warming. Perry, who has publicly rejected the overwhelming scientific consensus that global warming is manmade, made no mention of climate change during his roughly 50-minute appearance on stage at the conference.
"We will not hijack science for pet causes while suppressing it when it doesn't fit a political agenda," Perry said. "The last eight years saw policymaking driven by a political agenda."
"Those days are over," he added.
During his speech, Perry announced that he signed an order authorizing the Golden Pass liquefied natural gas plant in southeast Texas to begin exporting to countries that don't have a free-trade agreement with the U.S. Construction of the new terminal, he said, would create 45,000 direct and indirect jobs over the next five years.
In a clear criticism of New York Gov. Andrew Cuomo (D), a close ally of defeated Democratic presidential nominee Hillary Clinton, Perry bashed unnamed Northeast governors who refuse to green-light natural gas pipelines and projects.
"Gas pipelines are a form of transportation that can drive the national economy and improve energy security," he said. "Part of the country here in the Northeast is being denied natural gas access to their homes because of political opposition. Consumers are going to decide with their wallet, their vote or their feet when they move somewhere else."
That isn't to say Perry rejected renewable energy outright. During his three terms as Texas governor, wind energy skyrocketed, transforming the oil-rich state into by far the largest wind producer in the country. With 11,592 turbines and 20,321 megawatts, Texas has three times the capacity of Iowa, the runner up.
Many economists argue that heavy government investment in renewables is needed to help the industry compete with fossil fuels, which have for over a century enjoyed generous subsidies and tax incentives, and that the societal cost of carbon emissions should be factored into energy markets. Disregarding that, Perry said the Trump administration's heavy emphasis on fossil fuels was more of a correction for its predecessor's support for renewables than a complete reversal of policies.
"No reasonable person can deny that the thumb and in some cases the whole hand has been put on the scale to favor certain political outcomes," he said. "It is not reasonable to rely exclusively on fossil fuels. It is not feasible to rely exclusively on renewables. We're working to find the right balance."
Calling all HuffPost superfans!
Sign up for membership to become a founding member and help shape HuffPost's next chapter
BEFORE YOU GO
PHOTO GALLERY
What You Can Do Right Now To Stop Donald Trump's Dangerous Climate Agenda