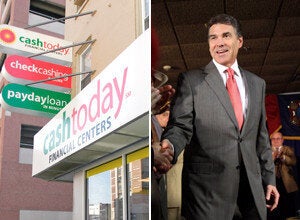 In his three months in the national spotlight, Texas Gov. Rick Perry has presented himself as a champion of government deregulation, an advocate of paring back rules and agencies that he says prevent Americans from improving their fortunes.
But back in his home state, Perry has proven a reliable ally to one powerful local industry that has successfully exploited weak regulations to improve its own fortunes at the expense of its customers, assert critics: the payday lending business. These businesses populate strip malls throughout urban and rural Texas, charging hefty fees that effectively mean interest rates reaching 1,100 percent annually for desperate consumers borrowing against their next paycheck to make ends meet.
Large corporations that operate payday lenders, many of them based in Texas, have been steady contributors to Perry's political campaigns over the last decade, donating upwards of $200,000, according to Texas campaign finance disclosure statements. In 2004, Perry appointed William J. White, a senior executive of one of the nation's largest payday lending corporations, Cash America International, to a seat on the Texas Finance Commission, which is tasked in part with protecting the state's consumers. Two years ago, the governor elevated White to the chairmanship of that body.
"Just the idea of appointing someone like that at all to that kind of regulatory body," said Andrew Wheat, research director at Texans for Public Justice, a non-partisan policy group that has tracked the political influence of the payday lending business and other Texas industries, "It sends a signal of, 'Why bother?' 'Why bother to try to turn to regulators?' "
White said he is only one out of 11 commissioners on the Finance Commission, and therefore has very little input on any potential decisions or regulations developed by the agency. He said there was "zero" conflict between his position at Cash America International and his position on the oversight body.
"This is frankly a tired, old sad song that a few people have been promoting, and there's no validity to it at all," White said when reached by The Huffington Post. "As a commissioner, I have no more to say about it than virtually anybody else. And all parties that are a part of this have every opportunity to give their input."
Perry declined requests for an interview, but a spokeswoman for the governor dismissed any link between the campaign donations from the payday lending industry and White's appointment, saying in an email that "the governor makes appointments based on an applicant's qualifications and willingness to serve." She added that Perry was required under Texas law to appoint one representative from the consumer finance industry, which includes payday lending, to the oversight body.
But far from appointing one industry delegate, Perry has stocked the panel with representatives from the banking and mortgage industries, and lawyers who have worked for large financial corporations, while not naming a single voice for ordinary consumers, say watchdog groups.
As a result, say consumer advocates, the industry has been left to its own devices, much to the detriment of some of the state's most vulnerable people.
"It's almost like giving crack to a crack addict," said Roger Tillman, an overnight security guard in Houston who ran up balances of nearly $4,000 to several payday lenders and has stopped making the payments. "Their whole goal is to make it as easy for you as possible, because the easier they make it, the further they can suck you in."
Under White's chairmanship, the Texas Finance Commission has declined to act on hundreds of complaints from consumers asserting that were misled about the onerous terms of payday loans, and then harassed by collections agents once they are unable to pay off the loan. All the while, they say, the industry offers fresh infusions of credit to keep them going.
"It's very telling that nothing moved on this issue for so long, despite a lot of documentation and problems," said Ann Baddour, a senior policy analyst with Texas Appleseed, a consumer advocacy group that has been pushing for payday loan reform for years. "The Finance Commission has the capacity to study issues, to raise issues, to bring them before the Legislature, and they have not used that power."
Texas has some of the most permissive laws in the country when it comes to allowing lenders to charge hefty fees. As many other states have sought to rein in abuses by payday loan brokers in recent years -- setting strict caps on interest rates -- Texas has remained a largely unregulated safe haven for such lenders.
Texas has fairly strict laws on the books setting interest rates for lenders. But a conspicuous loophole in the law has allowed payday-lending businesses in particular to evade those rules, and regulators have so far opted not to crack down.
This freewheeling atmosphere, coupled with the state's huge population -- 25 million -- has made Texas a magnet for payday lending operations. Four of the nation's largest payday lending companies -- ACE Cash Express, EZ Corp., First Cash Financial Services and Cash America International -- are based in Texas. And the state has more storefront payday lending branches than any other, according to a recent report from industry analyst Stephens Inc.
The four largest publicly traded payday loan and auto title loan companies collectively earn six of every 10 dollars in profit from customers in Texas, the former Texas House Speaker Tom Craddick, a Republican, testified earlier this year.
"Texas represents a fairly significant portion of the national payday companies' revenue," said Diane Standaert, legislative counsel at the Center for Responsible Lending, a consumer advocacy group. "So as other states do the right thing by limiting the cost of these products, it became that much more important to protect this stronghold."
As the industry portrays it, payday lending provides a crucial service, enabling people in need of cash to get their hands on it in time to pay their bills while they wait for paychecks.
"You're helping a consumer who has a credit need," said Rob Norcross, a spokesman for the Consumer Service Alliance of Texas, an industry trade group. "If a consumer can't get a loan anywhere else, and if they're looking at bouncing a check or overdrawing a credit card and incurring penalty fees, or missing a utility bill and incurring late fees, wouldn't helping them get a loan make sense under this provision?"
But according to many customers, the industry takes advantage of people's desperation, presenting options that only make sense compared to the alternative -- failure to keep up with bills.
Tillman had a steady job as an overnight security guard in Houston for more than six years. The pay wasn't ideal at $9.50 an hour, but he had come to rely on a steady stream of overtime shifts, providing him sufficient money for rent payments and basic utilities.
But when the financial crisis struck in 2008, his company drastically cut back on overtime, leaving him with barely enough to pay his rent each month. When his car broke down soon after, he needed a quick infusion of $500 to ensure he didn't lose the shifts he still had.
So he went to Marpast of Texas, a payday loan broker with a storefront operation near his southwest Houston apartment, and agreed to a loan with an effective annual rate of more than 400 percent.
Tillman said he was well aware of what he was doing, and well aware that it wasn't the best deal for him. But he had no choice: His credit was already bruised from previous late payments on other bills.
"The key is the desperation you're in," Tillman said. "You know you're going to have to face them in two weeks, or the landlord on Friday, and that's really the catch-22 you're caught in."
When the loan came due two weeks later, Tillman was far from being able to pay off the principal plus a fee of more than $100, so he was forced to extend the loan, tacking another $100-plus fee onto the original $500.
And so it continued for another three months, with each successive fee sending him deeper into a morass of debt. He thought he was whittling it down over time, but once Tillman did the math he realized he was never actually paying off any of the principal. The fees simply kept mounting every two weeks.
"It's really like a sensation of drowning," said Tillman, 62. "You know you're getting in over your head, and you just keep hoping that somewhere down the line you'll get enough overtime to kind of right the ship."
Eventually he had to take out more loans to cover the initial loan, a juggling act that made him more and more dependent on the lenders.
The cycle ultimately came to a halt when Tillman lost his job -- a scenario he called "a silent blessing." He called the Marpast store for three days straight, leaving a half-dozen messages about his predicament, but he got no calls back.
Tillman had set up an automatic payment through his checking account. Knowing it was a Wednesday and his account would be debited on Friday, he stopped payment on the account.
Then the calls started streaming in, and threats from the company that he would be charged with theft for withholding the payment. Since then, his life has been one of constant evasion from debt collectors.
Like Tillman's car repair bill, an unexpected expense drew Trinessa Sampson into the world of auto title and payday lending. When her duplex in Austin became infested with bedbugs this spring, she had to get $800 as fast as possible so that her four children could continue going to school.
So she took out an auto title loan at the Cash Store -- a note that is secured by signing over the title to a consumer's vehicle. Sampson read the contract carefully and realized that if she paid it off in six months, the $800 loan would amount to a series of bi-monthly payments totaling $2,000.
"I knew about the fee, I knew about it being a gazillion dollars, but I needed the money," Sampson recalled.
With four children to feed and a $10-an-hour job as a caretaker at a brain injury center, there is little room for unexpected surprises in Sampson's world.
Three months into the loan, she came up short one week, and informed the loan broker that she needed to delay the payment for three days. That wasn't an option, she was told.
The only choice was to refinance the loan, by paying higher fees every two weeks. Sampson wouldn't agree to that. "I'll see you Tuesday," she remembered saying.
She made the payment on Tuesday. The Cash Store deposited it. And there was no other mention of the late payment.
But then Sampson woke up a month later with no car in her driveway. The loan company had repossessed it without notice, requiring $700 to extract it from a lot.
That prompted a new round of high-cost loans that now total four: the auto title loan, two separate payday loans and a loan from her bank. She now likens the loans to other routine expenses that will never go away, like rent or electricity.
"Now I'm just trying to make it to my income tax refund, honestly," she said. "I'm literally just paying finance charges."
In Texas, as in much of lower-income America, these sorts are stories are easily found. Yet even as the state agency charged with protecting consumers has been inundated with such reports in recent years, it has hewed to the sidelines.
Consumer advocates assert this is a function of a concerted industry lobbying effort, one that has long had Gov. Perry in its sights. Perry has received the lion's share of the industry's campaign contributions in Texas races, taking in more than $120,000 during the 2009-2010 election cycle alone.
Compared to the record $39 million Perry raised for his governor's race in 2010 alone, that may be considered a small sum. But the impact of those targeted donations is manifest in the nature of the governor's appointments to regulatory bodies, say consumer advocates, who allege a pattern: Campaign contributions are the pathway to political appointments in Rick Perry's Texas.
The Texas Finance Commission, a relatively obscure regulatory agency in Texas' hierarchy, is no exception. According to the Texans for Public Justice report, Finance Commission appointees or their spouses donated nearly $480,000 to Perry's campaigns -- an average payout of more than $26,000 per appointee.
White, the Finance Commission chairman appointed by Perry, also works as vice president of government affairs for Cash America International, a pawn shop and payday lending corporation based in Fort Worth. He did not donate directly to Perry's campaign. But Cash America's political action committee donated more than $25,000 to the governor over the past decade, and White donated more than $4,000 to the corporate committee, according to an analysis of state campaign finance records by The Huffington Post.
White said there was no connection whatsoever between campaign donations and his appointment to the commission, pointing out that previous chairmen of the Finance Commission from the banking and savings industries could have been accused of the same conflicts.
White's appointment was not the only instance in which a contributor from an industry became head of the regulatory body that oversees that industry. In 2003, Perry appointed John Krugh to oversee the newly created Texas Residential Construction Commission, which was meant to help consumers handle disputes with homebuilders.
Krugh was the general counsel of Perry Homes LLC, one of the largest homebuilders in Texas, owned by Bob Perry (no relation to Rick Perry), one of the Gov. Perry's largest donors. Other appointees to the commission were in the construction business. Homeowners soon cried foul over an arduous and confusing process to lodge complaints and mediate disputes. Last year, amid such complaints, the state legislature phased out the agency.
State law dictates that a certain makeup of the Texas Finance Commission come from industry groups, but six of the 11 seats are intended to represent the public. Perry has chosen no representatives from consumer groups, even though the Finance Commission's stated goal is to "enhance the financial well-being of Texans." Instead, the "public" seats have mostly been doled out to lawyers or consultants who do work with the financial services industry, including one attorney whose firm has done work with EZ Corp., a payday and pawn shop corporation based in Austin.
As consumer groups in Texas have sounded the alarm about exorbitant fees being charged by payday lenders, the Finance Commission has been largely silent in recent years. When confronted with complaints during public meetings, members of the Finance Commission have said they are powerless to do anything unless the Legislature acts.
Yet even as the Legislature made its first unsuccessful push to reform payday and auto title lending in 2009, potentially giving the Finance Commission more power to regulate, commission members did not comment at any of legislative hearings called to consider the change.
White said that it has not been the Finance Commission's role to get involved with payday lenders, because the law up until earlier this year has left the industry totally unregulated. Any action had to come from the Legislature, he said, in order to prompt the Finance Commission to get involved.
"If it doesn't come under the regulatory purview of the Texas Finance Commission, then we really have no business taking our time on it," White said. "With the economy as it is, with the challenges we have, we've got a pretty full boat."
For nearly a century, the state was long known for having some of the strictest laws on usury in the country. Texas' constitution has a provision that caps interest rates at 10 percent, part of an attempt to attract settlers in the late 1800s by providing a haven from higher interest rates and strict punishment for unpaid debts in other parts of the country.
But over the years there have been a series of carve-outs and exceptions to these strict rules. In the late 1990s, then-Texas Attorney General John Cornyn -- now a Senator -- filed suit against three payday lenders that he claimed were deceiving consumers and charging excessive interest rates. The legislature then imposed interest rate caps.
For payday loans, those caps were still quite liberal, allowing them to collect annual interest of about 135 percent for average two-week loans. But still the industry protested that the caps limited its opportunities. Over the years, payday and auto title lenders shifted to different approaches to evade the caps -- first, partnering with out-of-state banks to import more lucrative interest rates. When the FDIC cracked down on that model in 2005, lenders found another loophole in Texas state law.
By taking out licenses to become "credit service organizations" – companies that are supposed to counsel consumers on repairing their credit -- payday lenders have been able to charge hefty fees that do not run afoul of state usury laws.
In other words, a statute originally designed to protect consumers from excessive fees and interest has instead provided lenders effective carte blanche to extract unlimited fees from consumers.
Using the loophole, payday lenders have claimed they are simply "brokers" for third-party banks or loan brokers that charge rates below the constitutional 10 percent cap. The payday and auto title lenders then tack hefty "broker's fees" on top of the low-interest loans.
"The interest is regulated; the fees are the problem," said Bee Moorhead, executive director of Texas Impact, a non-profit grassroots religious organization that has been active in pushing for more consumer protections. "Once that was set up, it's proven to be an intractable problem."
In 2004, Texas had fewer than 300 registered "credit service" businesses. By the end of last year, the number has swollen more than tenfold to 3,300, according to state data.
Norcross, the industry spokesman, said he understands criticisms about how the law is being used. But he said businesses are always coming up with new ways to market products within existing laws.
"People have good ideas, and they patent them and they trademark them," he said. "You don't have to go down to the state Capitol and pass a law saying 'You can do this type of business.' That's not the type of economy we have."
Consumer groups flooded the Texas Finance Commission with warnings of this problem as soon as payday lenders began using the loophole in 2005. But commissioners opted not to authorize a study or recommend changes to the legislature, according to meeting minutes.
In recent years, other heavily populated states, including California, Florida, Michigan and Maryland, have passed laws closing similar loopholes used by payday lenders. State lawmakers in Texas filed a flurry of bills this spring at the outset of the legislative session aimed at following suit. But the payday industry fought back, hiring more than 40 of the state's top lobbyists to chip away at the legislation. A report by Texans for Public Justice found that only 18 of the state's more than 180 legislators had not taken campaign contributions from the payday lending industry.
Rather than close this loophole, the Texas legislature opted to require greater disclosure of the fees confronted by customers.
"We just basically defined the loophole better, we didn't get rid of it," said Tim Morstad, the associate director of advocacy for Texas' branch of AARP.
In a quarterly earnings call last summer, chief executive of Cash America International Daniel Feehan essentially declared victory, praising the state legislature for adhering to the spirit that has governed Texas -- not too many rules and the continued opportunity to make money.
"Texas did pass two bills, which we supported, affecting our consumer loan business," Feehan said. "We do not expect these bills to adversely affect our customers or our business in Texas."