Jason Cherkis contributed reporting to this story.
WASHINGTON -- More than two decades ago, there was a bitter fight within Texas' agricultural community, one that pitted low-wage farm workers and their advocates against large growers and chemical companies. The dispute was over how much field workers should know about the often-dangerous pesticides they were handling.
And there are those in Texas who believe Gov. Rick Perry wouldn't now be a leading candidate for the Republican presidential nomination had he not taken up the cause of the growers and sprayers in this fight.
"This became how Perry rises in politics," claims Jim Harrington, director of the Texas Civil Rights Project, a public interest law group. "Perry is the weathervane, pure and simple. He saw where the money was and where the politics were drifting."
In the 1980's, agricultural workers in Texas didn't enjoy many of the workplace protections that were taken for granted in other industries. So in 1987, after Harrington's group had sued the state on behalf of farm workers, the Texas agriculture department developed a law called the Agricultural Hazards Communications Act, known colloquially as Right to Know.
In addition to requiring that field workers be trained on the dangers of pesticides, the law required farmers to maintain a list of the chemicals they used on their crops -- known as the "crop sheet" -- and to provide it to farm workers, along with a notice of their rights as workers. The law also stated that workers couldn't be forced to handle chemicals that came unlabeled, nor could they be fired or disciplined for filing a complaint against an employer with regards to Right to Know.
The crop sheet was important because Texas' heavily Latino farm workforce tends to migrate, handling different crops in different regions during different seasons. A detailed listing of chemicals used and their dangers could help workers pinpoint the cause of an illness. According to Vaughn Cox, who worked in the agriculture department in the late 80's, Right to Know was a sensible law designed specifically to help the farm worker and the doctors in the event of a pesticide-related emergency.
"If it says cabbage in South Texas is treated with these chemicals this time of year, then the doctor can say, 'Oh, they used this kind of chemical.' It could speed up the process of treating them," says Cox. "So many farm workers were being exposed to chemicals in unsafe ways. They had no training, no protective clothing or anything that common sense would say you should have."
Right to Know was one step in a string of farm worker protections advanced during the late 80's, according to Nora Linares-Moeller, who also worked in the agriculture department at the time.
"It was an incredibly nasty fight with the ranchers and growers," Linares-Moeller says. "It all had to do with the ability for farm workers to be safe in the field. They were literally being sprayed with pesticides."
Despite its relatively modest requirements, many growers and chemical companies weren't fans of Right to Know, which would bring more transparency to the effects of pesticides and potentially slow down production when farm workers raised concerns. The agriculture department had long borne a reputation for being laissez-faire on regulatory matters, and opponents of Right to Know argued that such new regulations were burdensome, costly, and paternalistic.
"The farm bureau and the chemical industry in particular, which is a very powerful lobby, went apoplectic and just fought the regulations tooth and nail," recalls Harrington. "They didn't want to have any accountability."
The state's then-agriculture commissioner, populist Democrat Jim Hightower, says he faced pushback from corporate interest groups and their allies in the state legislature as he tried to craft an enforcement program. The way Hightower remembers it, one of his fiercest opponents on the pesticide matter was Rick Perry.
As a state representative who was then a Democrat, Perry had already demonstrated what some considered an ambivalence toward farm workers' rights. In 1985, lawmakers and worker advocates had pushed a bill that would bring agricultural workers into the state's workers compensation system, after a state judge had deemed their exclusion a denial of equal protection under the law. Like the growers' lobby, Perry opposed the bill. It eventually passed.
That same year, Perry had supported an unsuccessful bill that would have stripped the agriculture commissioner of much of his regulatory power as it pertained to pesticides. That support had put him in the camp of trade groups representing farmers, cotton growers, cattlemen, and chemical producers.
"He was pretty much a preacher [for] the chemical lobby," says Hightower, an outspoken Perry critic. Perry's stance on the pesticide issue revealed "a willingness ... in fact, an eagerness" to shill for the industry, he says. Perry's campaign did not respond to requests for comment for this article.
Perry apparently had no more allegiance to his Democratic Party than he did to farm workers. In 1989, he declared himself a Republican in order to challenge Hightower for the agriculture commissioner seat, Perry's first crack at statewide office. ("I intend to vote the same convictions," Perry said of his political conversion. "The only difference is there will be an R beside my name.") None other than renowned Republican strategist and Texas political operative Karl Rove claimed at least partial credit for Perry's party switch.
"Perry had planned to retire from the legislature until his best friend, David Weeks, and I talked him into switching parties and running for the GOP nomination for agriculture commissioner," Rove wrote in his memoir, published in 2010.
With Rove's help, Perry won the election, bringing an end to Hightower's eight-year tenure as commissioner. According to Rove, "Perry swept rural counties because, as a rancher, he actually knew something about agriculture; he won the suburbs because of his marquee good looks and conservative values." Perry was the son of a cotton farmer and had majored in animal science at Texas A&M University.
Others argue that Perry's victory had less to do with his ranching knowledge or appearance than with the robust financial backing he received from corporate interests, many of whom wanted to see Hightower unseated. Indeed, campaign contribution records from the 1990 race, provided to The Huffington Post by the Texas State Library and Archives Commission, indicate that Perry routed Hightower in the weeks leading up to the election, his war chest bolstered by donations from farmers, ranchers, developers, and oil and gas executives.
But Gene Hall, current spokesman and longtime official at the Texas Farm Bureau, says the role that pesticide regulations played in Perry's support during the 1990 campaign has been overstated. "It would be inaccurate to say it was all about pesticides," says Hall, noting that Perry and the bureau didn't always agree on matters. He says Perry enjoyed wide support among the bureau because Hightower's vision of small, organic farms was "so clearly at odds with farmers and ranchers." "We were determined to defeat him," Hall says of Hightower. "I've heard some describe it as a holy war. He had to be beaten. We allied with Rick Perry."
"I think it would be unfair to say that Rick won that campaign because of pesticides," adds Ken Luce, who worked on Perry's campaign for agriculture commissioner. "There was a hugely dissatisfied electorate within the agriculture community ... Hightower and his people, they underestimated him."
Whatever the reason, the money poured in from deep-pocketed donors. In a one-month period just before voters headed to the polls, Perry raised $318,454.92, while Hightower's committee netted a mere $108,802.57, according to records. (Some Hightower aides were later indicted for allegedly using state money for political purposes.) Many of Perry's larger checks came courtesy of donors who owned large farms or had ties to groups like the Rio Grande Valley Sugar Growers.
On the expenditures side, Perry's camp made payments to a PAC affiliated with the Cattle Feeders Association, for money apparently spent on campaign events. They also made large advertising buys and sent at least $39,000 to Karl Rove & Co. for "printing" expenses, according to the disclosure forms. On the campaign trail, Perry flayed Hightower for his endorsement of Jesse Jackson in his 1988 presidential bid. Hightower also claims that Perry's camp also ran attack ads on Texas television.
It didn't take long after the election for department employees to realize that the agency was about to change under Perry, particularly with the work related to pesticide regulation, according to Vaughn Cox. It had been Cox's job to inform farmers about Right to Know and to "slap you on your hand" in cases of non-compliance, he says.
"Soon after the election results were clear, his local campaign manager made a visit to the local office where I was working," Cox recalls. "He explained in very clear terms that there were a list of folks that should be gone by the time the commissioner took office in January. Dang if my name wasn't at the top of the list. They made it clear to a pretty large segment of the workforce that they were no longer welcome. All Hightower people."
A few months after the election, Perry let 52 department employees go, including Dale Burnett, the head of pesticide enforcement and a career agriculture department employee, according an Austin American-Statesman article at the time.
Rebecca Flores, the former longtime head of the United Farm Workers union in Texas, says the enforcement of pesticide regulations changed with the personnel. Whereas the union had met routinely with Hightower to voice workers' concerns, she found it nearly impossible to get the ear of Perry or his staff. "He got rid of all the staff that was doing the educating and training," she says. "He didn't enforce one thing."
"Rick Perry is no friend of farm workers," she goes on. "He's an opportunistic parasite."
But Hall says that pesticide enforcement by no means disappeared under Perry, though as commissioner he seemed to have a lighter regulatory touch than his predecessor. "The rules were not then and not now lax," says Hall. Under Perry they were "not prohibitive, not onerous, which was the direction Hightower was moving in."
Within ten months of Perry taking office, the U.S. Environmental Protection Agency had to order the agriculture department to reduce its backlog of pesticide enforcement cases. The backlog had reached 300. The EPA attributed the problem to excessive vacancies in the area of enforcement, according to the American-Statesman. Perry's team partly blamed Hightower for the pileup of cases; Hightower attributed it to Perry firing knowledgeable officers and replacing them with what Hightower described as political appointees. The department had had a similar backlog under Hightower years earlier, the article noted.
By 1995, the farm workers union -- along with seven environmental organizations -- went so far as to ask the EPA to strip Perry of his pesticide regulation powers, citing a serious drop in enforcement. In a letter to the agency, the groups said that fines related to pesticide use had slid from $61,000 in 1989 under Hightower to $31,000 in 1994 under Perry, according to a Houston Chronicle story at the time. Though Perry dismissed the claims as "outrageous," he had carved out a reputation as a lax enforcer catering to growers rather than workers, with little political price to pay.
As the Chronicle story noted, "Perry's farmer-friendly agency is sailing through the Legislature with hardly a note of controversy."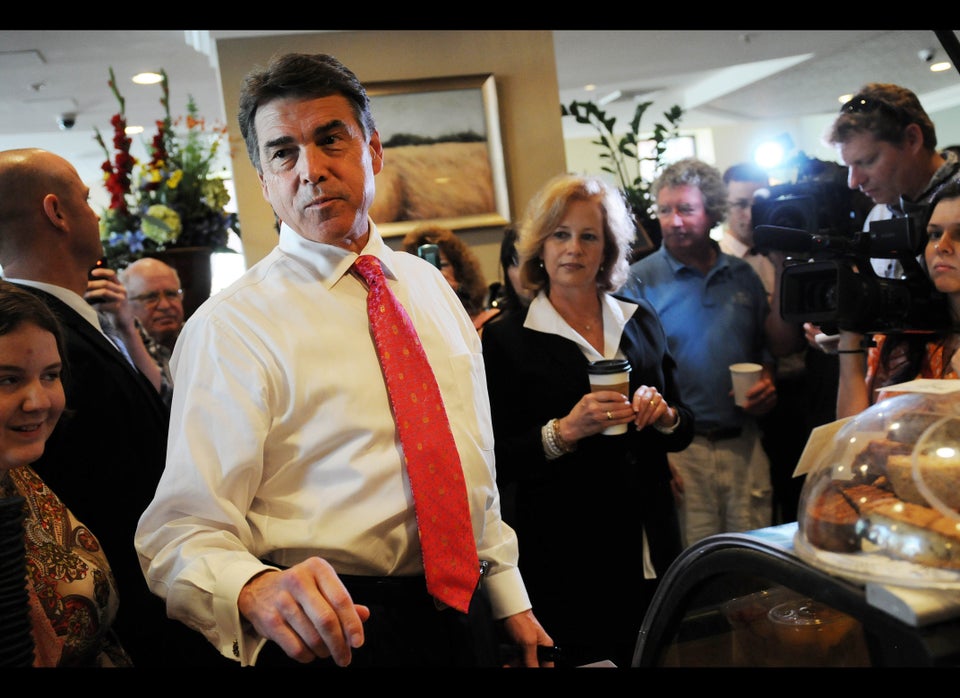 Rick Perry 2012
Popular in the Community