WASHINGTON -- Front-runner status has been fleeting in the Republican presidential contest so far, and Rick Perry's current hold on first place in public opinion polls may be similarly short-lived.
Since entering the race in mid-August, the Texas governor has led Mitt Romney and the rest of the Republican field in every national poll -- 17 in all. HuffPost Pollster's trend estimate chart, which combines results from all available public polls, currently gives Perry 27 percent of the Republican primary vote to 18 percent for Romney and all other candidates in single digits.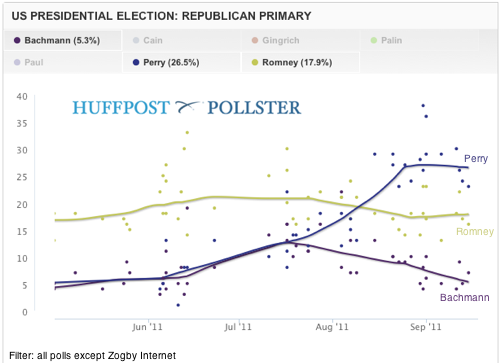 While the most recent polls have shown Perry running consistently ahead, there are good reasons to think his lead may fade.
First, much of that support is likely quite soft. Perry is still a relatively new face. According to Gallup, his name recognition has increased from 55 percent among Republicans in early July to 76 percent as of last week. And most polls have shown Perry's support at least doubling since the summer.
Typically, voters who shift their vote to a new candidate in a primary campaign will describe their support as soft. In the Politico/George Washington University poll conducted in late August, for example, 36 percent of Republicans said Perry was their first choice for president, but on a separate question just 22 percent said they would definitely vote for Perry.
Also, as political scientist and HuffPost Pollster co-founder Charles Franklin points out, Perry's lead in the national polls has narrowed in recent weeks, from roughly 10 to roughly five percentage points, since he started participating in televised debates.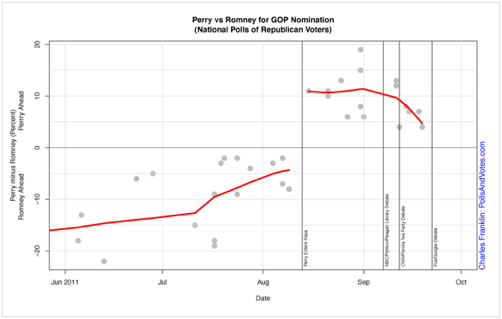 It will take very little -- a shift of roughly one Republican in twenty from Perry to Romney -- to eliminate Perry's current lead altogether.
Whatever the recent trend, keep in mind that support for Perry, which recent polls have put in a percentage range of the mid to upper 20s, is roughly the same as Rudy Giuliani's support at this point in 2007 and slightly less than Howard Dean received as a Democratic candidate just before the Iowa caucuses in 2004.
For Perry to win the Republican nomination, he will need to do more than maintain his current support. Barring a very unlikely brokered convention, he will need to win a majority of votes from Republican primary and caucus voters nationwide to gain the necessary majority of delegates.
Perry received good news on that front on Tuesday, when the latest USA Today/Gallup poll asked Republicans to choose between Perry and Romney. That survey gave Perry 49 percent of the vote to 39 percent for Romney and 11 percent undecided. Of course, Perry's support on that question is more than just soft, it is also hypothetical. Keep in mind that just 31 percent opted for Perry among the eight announced candidates, so roughly one in three who would in theory support Perry over Romney support another candidate as their first choice.
At best, Perry's support has leveled off in September, and his performance in Thursday night's Republican debate in Florida portends a likely decline, given the all-important "invisible primary" now under way among Republican party insiders, activists and donors. Political scientists who have studied past presidential nomination battles -- particularly Marty Cohen, David Karol, Hans Noel and John Zaller in their book "The Party Decides," argue that those insiders help to determine the ultimate nominee, in part because their opinions act as a cue that helps guide the choices of less attentive voters.
So looking at the most recent polls, Rick Perry remains the front-runner. But in a week or so, that snapshot of the primary may look very different.

Popular in the Community