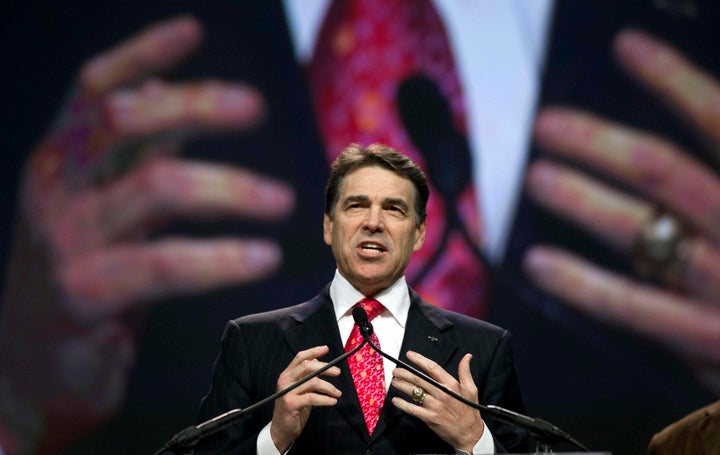 CHARLESTON, S.C. -- Texas Gov. Rick Perry (R) officially jumped into the 2012 presidential race on Saturday, framing a promise to prioritize job creation as a cornerstone of his campaign.
"It is time to get America working again," he said, according to prepared remarks given to reporters beforehand. "That's why, with the support of my family, and an unwavering belief in the goodness of America, I declare to you today my candidacy for president of the United States."
Perry blamed President Obama for S&P's recent downgrade of the United States' AAA credit rating, and promised he would restore the country's good standing.
"In reality, this is just the most recent downgrade," said Perry. "The fact is for nearly three years, President Obama has been downgrading American jobs, downgrading our standing in the world, downgrading our financial stability, downgrading confidence and downgrading the hope of a better future for our children."
Perry made his announcement at the RedState Gathering, a conference held by the conservative blog RedState.com with 400 registered attendees. Other speakers at the event include South Carolina Gov. Nikki Haley (R), Florida Gov. Rick Scott (R) and Rep. Rob Woodall (R-Ga.).
Perry spoke to an overflow crowd, with people having to stand or even watch from a separate room. While waiting to get into the event, the hallway was so crowded and stuffy that one attendee even fainted, according to an event organizer.
Texas has created more jobs in the last year than any other state, according to the Bureau of Labor Statistics. Often dubbed the "Texas Miracle," this feat has become a frequent talking point for Perry, and one that he again played up in his presidential announcement as testament to his focus on creating jobs.
"One in six work-eligible Americans cannot find a full-time job," said Perry. "That is not a recovery -- that is an economic disaster."
Still, Texas continues to struggle along with every other state. In June, Texas had an 8.2 percent unemployment rate, which is still significant though below the national average. Of all the jobs in Texas created last year, 37 percent paid at or below minimum wage -- and the state leads the nation in total minimum wage workers, according to a recent New York Times report.
RedState attendees were thrilled that Perry had decided to come to their gathering to make his announcement, even if they weren't all committed to supporting any specific candidate quite yet.
Gerri McDaniel, who is active in the Myrtle Beach Tea Party, called Perry's appearance "very exciting for South Carolina." She and her group have met with every candidate in the race so far, and she's planning to reserve judgment on the Texas governor until she meets with him as well.
"I've met with all the other candidates that are running," she said. "I really don't want to say anything until I meet him in person and hear some of the issues and what he's going to do for the country."
Charleston resident Milan Waters and his teenage son, Ben, were already on board with Perry. Ben said he backs Perry "110 percent."
"I love that he's a conservative Tea Party guy -- not wishy-washy," he said. "Mitt Romney had my vote until Rick Perry came out. The things that were lacking in Mitt Romney are made up in Gov. Perry ... You couldn't create a better candidate than Rick Perry."
"We wanted someone with experience, someone with credentials and someone with leadership, but we want a conservative," Waters added. "Conservative is number one, but we want the leadership. Romney -- he has the leadership, he's got some issues on the conservative [side] -- he's more moderate than I would like -- but Rick Perry fills those."
Perry could not participate as he was not a declared candidate in time for the event. But his decision to announce his candidacy on the same day as the straw poll threatened to cause some hurt feelings amongst voters in the important primary state. On Friday, Iowa Republican Party Chairman Matt Strawn insisted that Perry's decision was not a "diss to Iowa."
Perry is known as a strong conservative who is expected to be a top-tier candidate as he enters the field. He also recently sparked a controversy when he hosted a large prayer rally that raised questions about mixing the governor's office with a Christian event, the political nature of the event and the extreme views of some of the sponsors.
Calling all HuffPost superfans!
Sign up for membership to become a founding member and help shape HuffPost's next chapter