UPDATE (CORRECTION): As has been pointed out, Justin Bieber's "Baby" is clearly the most disliked YouTube video ever, with over 2 million dislikes. The wrong comparison was made between Black and Perry's videos because the original "Friday" (which was briefly the most disliked video) was taken down and reposted as a new video.
Currently, Perry's video has approximately 300,000 "dislikes," while Black's has a little over 253,000. However, at this point, while over 10 million people have viewed "Friday," only about 750,000 have viewed Perry's ad, meaning a stagering 40 percent of viewers have not only disapproved of the spot, but openly expressed their dislike online.
Needless to say, the Perry campaign isn't happy. Their previous ad "Faith" is also posted on YouTube, doesn't prominently display the "Likes" versus "Dislikes" count, and still has over 25,000 "dislikes."
The video itself has been so controversial, that Perry's own staff is divided over it. Sources close to the Perry campaign have told the Huffington Post that even top officials in the campaign were uncomfortable with the language of the ad. Nonetheless, it began running in Iowa on Wednesday.
The Perry campaign's newest ad, "Repeal," which touts Perry's promise to "repeal Obamacare," doesn't give YouTube viewers the option of to Like, Dislike or even post comments below the video, as pointed out by the Perry Presidential blog, maintained by the Houston Chronicle and Hearst Newspapers.
You can watch both Rebecca Black's "Friday" and Rick Perry's "Strong" videos (below). Scroll past the clips to view a screenshots (take at press time) confirming the "dislike" counts on Perry's ad vs. Black's music video.
Rebecca Black's "Friday":
Screenshots of the counts (In case a video comes down):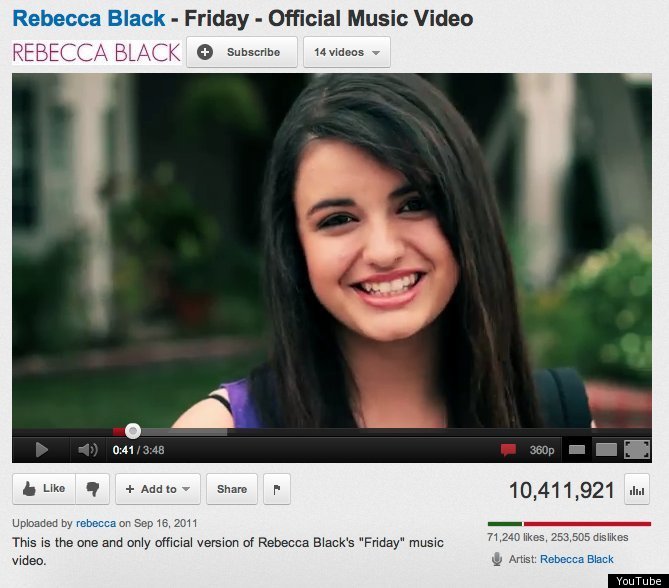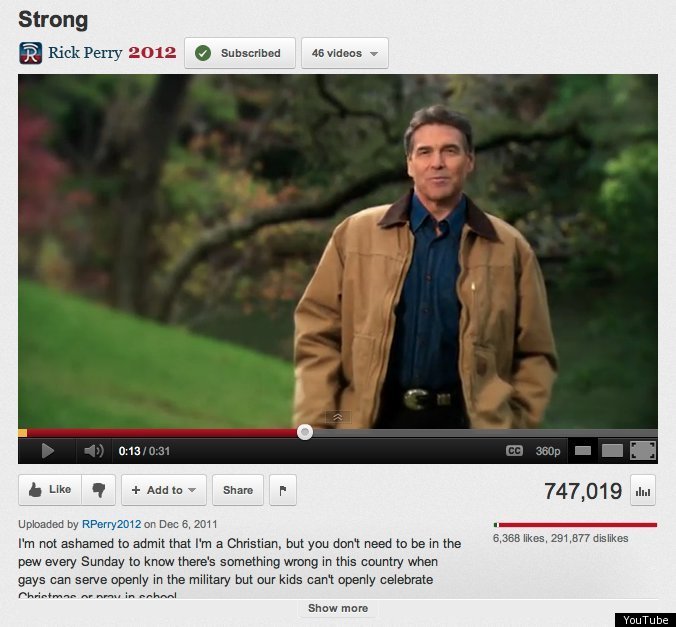 Related
Popular in the Community