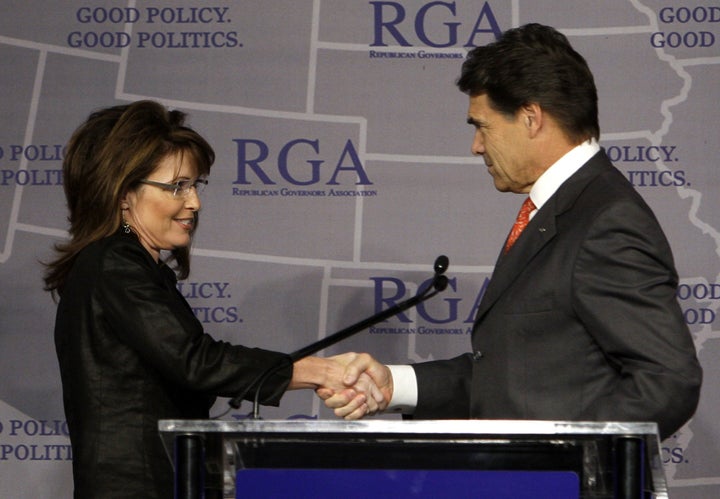 WASHINGTON -- Texas Gov. Rick Perry (R) and Sarah Palin may look nothing alike, but they increasingly have more and more in common with one another, with Perry following in the footsteps of the former Alaska governor in what could culminate in a campaign showdown in 2012.
Palin became famous for quitting her job as governor of Alaska in order to hit the speaking circuit and become a national conservative voice. She has a best-selling book, a pundit gig with Fox News and even a reality television show on TLC.
Perry has a good chance at beating Democrat Bill White for another four year term. According to an analysis by The Huffington Post's Pollster, the race leans Republican, with Perry leading in every poll. If he wins, he will become Texas's longest-serving governor.
But if he does succeed on Tuesday, his attention will immediately be turned away from Texas and onto national conservative causes. He has a book called Fed Up! coming out soon, which casts federal policies as a "legitimate threat to America's continued leadership in the free world."
According to the Associated Press, soon after the election, he will be launching a national book tour -- even though he insists it's about states' rights, not boosting his own profile.
While he stresses that he's not interested in running for president in 2012, he is also refusing to commit to serving a full term if he is re-elected as governor -- a scenario that immediately brings to mind Palin resigning before completing her term.
"I'm guaranteeing people that I'll get in there and do the best job I can for 'em as governor," Perry told reporters on Friday. "I just think it's always very premature to be making a statement about what you're going to be doing two, four, six or eight years from now -- I don't ever take anything off the table."
If Perry decides to run, he will be able to turn to Dave Carney, one of his chief campaign advisers who has been consulting him for more than a decade. Carney lives in the electorally important state of New Hampshire and commutes to Texas when needed.
James Henson, director of the Texas Politics Project and a lecturer in the government department at the University of Texas at Austin, believes that Perry's dismissal of higher office may simply be temporary.
"I don't think anybody should expect Rick Perry to announce any plans he has when he's concluding a campaign that was hinged on defining Washington, D.C., as toxic," said Henson, predicting that his supporters will draft him to come to Washington -- reluctantly -- to clean up the place.
Perry, of course, may not decide to run for president. Both he and Palin may decide to revel in making large sums of money as national conservative figures. But whatever happens, it's clear they will be watching each other closely.