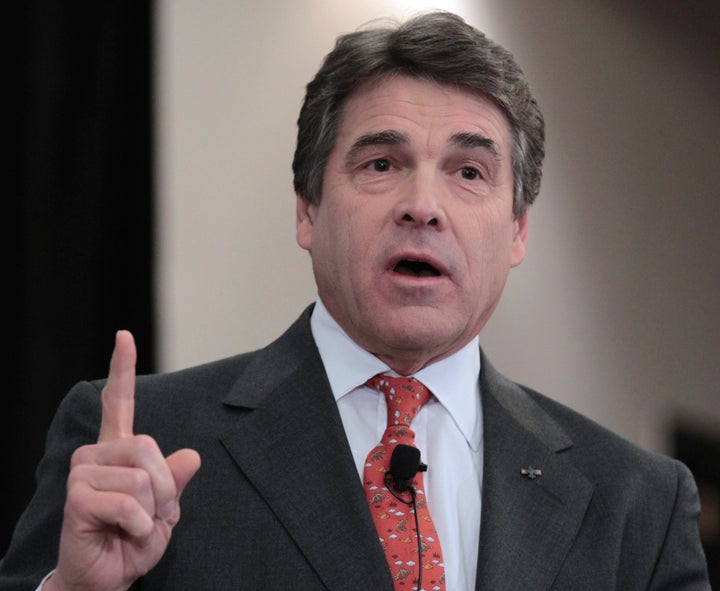 Republican Gov. Rick Perry signed a bill on Tuesday that would force Texas women to undergo an ultrasound, hear a detailed description of the fetus and then wait a full 24 hours before receiving abortion care.
Mandatory sonogram bills, which NARAL Pro-Choice America calls "one of the most dangerous anti-choice state trends in 2011," have been introduced in 14 states so far this year. Arizona, Louisiana and Texas have already enacted ultrasound laws, and Gov. Rick Scott (R-Fla.) is expected to sign a similar proposal in the coming week.
The Texas law -- which is one of the more most extreme sonogram proposals that has passed -- requires doctors to tell a woman the size of her fetus' limbs and organs, even if she does not want to know. The law also forces physicians to make an image of the fetus and the sound of its heartbeat available to a woman before she can undergo the abortion procedure.
Perry, who made the bill an emergency measure, said on Tuesday that the law will "ensure that every Texas woman seeking an abortion has all the facts about the life she is carrying and understands the devastating impact of such a life-changing decision."
But an attorney for the Center for Reproductive Rights said the legislation violates standard medical ethics and "treats women as too immature and incompetent" to make these decisions on their own.
"This law is extreme and patronizing to women in a variety of ways," Bebe Anderson, senior counsel for CRR, told HuffPost. "It hijacks the doctor-patient relationship, assumes what a woman must know to make a decision and forces doctors to say things to their patients that they otherwise shouldn't and wouldn't."
CRR is fighting against similar legislation in Oklahoma. The group was granted a preliminary injunction to block the law there, and Anderson says it is in the beginning stages of preparing a challenge to the Texas law.
"Informed consent is supposed to be about medical risk," she said. "Pregnant women are already aware that they're carrying a fetus."
Popular in the Community