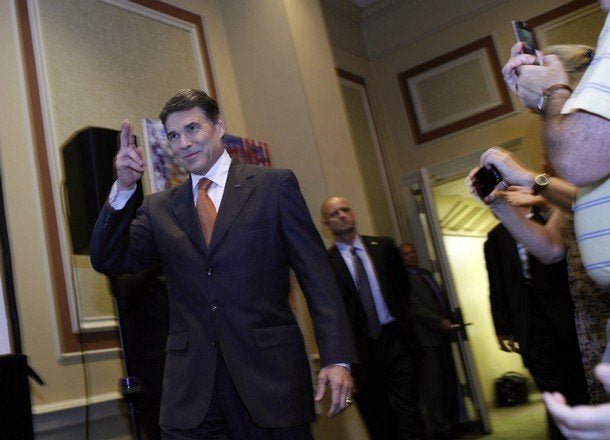 CHARLESTON, S.C. -- Leaders of the South Carolina Republican Party received an extra treat from Texas Gov. Rick Perry (R) after he announced his presidential candidacy on Saturday, getting to attend a private reception where the governor assured them he'll be a frequent presence in their state.
"You are going to see me, see me, see me," he said at the gathering, which was closed to the press. He assured the attendees that they would all soon be on a "first-name basis" with him.
The reception took place at the RedState Gathering, a conference being held at the Francis Marion Hotel in downtown Charleston and attended by more than 400 conservative activists.
At the event, many attendees were given "Perry for President" signs to wave, and the governor stuck around after his brief remarks to chat with people and pose for pictures.
South Carolina GOP Chairman Chad Connelly was scheduled to meet with Perry later in the day and told HuffPost he was planning to advise the governor to come to the state as often as possible.
"Because we're a carve-out state, we're small, we're easy to get around and we're an inexpensive media market to campaign in, they can really get to know people," he said. "They can go to the small diner for breakfast in one corner of the state, they can be in the midlands, they can be in the low country, they can be all over the place. So that's my advice: Come and meet the [voters], get to know them and answer their questions."
Florence County GOP Chairman Bill Pickle is originally from Dallas and first voted for Perry when he ran for state agriculture commissioner. He said while it was still "too early" for him to endorse a candidate, he was impressed that Perry chose to come to South Carolina to make his announcement on the same day as the Ames Straw Poll in Iowa.
"It was an outstanding move," he said, adding that it could significantly help him win votes in this first-in-the-South primary.
Aubrey Alexander, a member of the Charleston City Council who came to the conference with his son, said he hoped that Perry could provide an extra "spark" to the GOP field that seemed to be missing from Thursday's debate. Perry, not yet a declared candidate at the time, did not participate.
"I watched the debate on Thursday night. I thought there just wasn't something there. There was no spark," he said, noting that his family members in Texas were big Perry fans.
Alexander said that he respected former House Speaker Newt Gingrich and thought he was "the most intelligent of the group," but felt he has "too much baggage."
"Gov. Perry -- he's fresh, he's successful and again, you've got the recommendation of family in Texas. That's why we're here to see him," he said.
Perry will be traveling to Iowa and New Hampshire in the coming days, but Connelly said Perry will be back in the Palmetto State next week for another event.
Popular in the Community