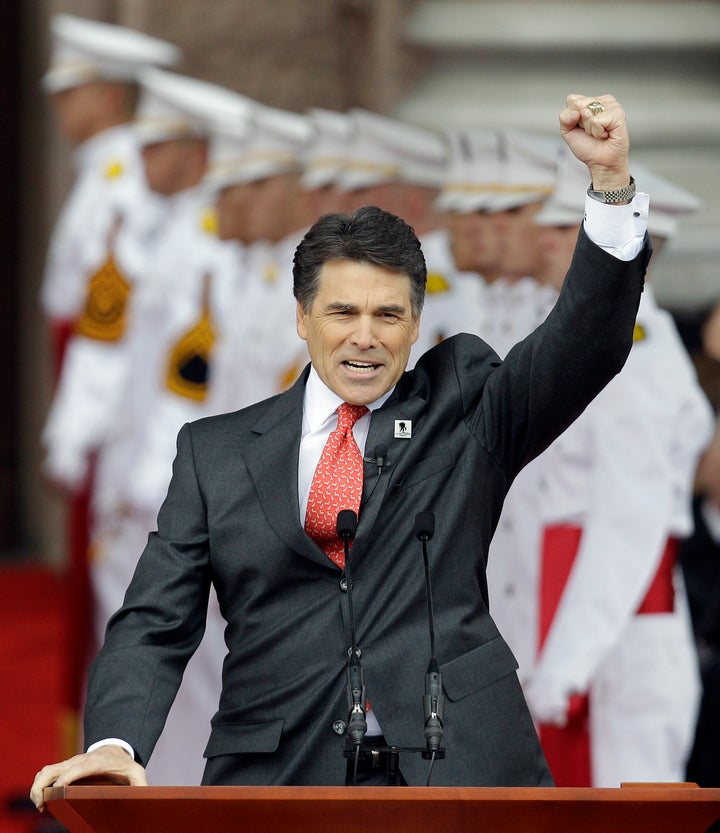 WASHINGTON -- A Super PAC backing Texas Gov. Rick Perry's bid for the Republican presidential nomination plans on spending $55 million to help secure the nomination for Perry, according to documents obtained by NBC News.
The extensive plans of Make Us Great Again, a Super PAC founded by former Perry chief of staff Mike Toomey, mark the most striking development in the rise of Super PACs and the decentralization of political campaigns following the Supreme Court's Citizens United decision last year.
Super PACs were created after the Supreme Court ruled in Citizens United v. Federal Election Commission, and subsequent court cases implemented the ruling, that there was no legitimate corruption concern when independent political action committees raised and spent money in elections but did not donate directly to politicians. The decision allowed corporations and unions to make unlimited direct donations to these committees or to spend that money themselves to make direct electoral appeals to the public.
"It's a game changer," Paul S. Ryan, the FEC director for the campaign finance watchdog Campaign Legal Center, said of the $55 million plan. "Super PACs will make the 2012 presidential election unlike any election we've seen before."
Make Us Great Again, which asserted control of the pro-Perry Super PAC universe in August, has fielded a top campaign team to reach its spending target. Aside from Toomey, the Super PAC boasts executive director Scott Rials, formerly on Newt Gingrich's presidential team, which also included Perry campaign staffers Dave Carney and Robert Johnson; senior adviser Barry Bennett, a close associate of Carney; and finance director Tony Russo, a California fundraiser.
The $55 million plan, if successful, would vault Make Us Great Again into the stratosphere of outside spending in elections, besting the $33 million in "issue" advertising by the U.S. Chamber of Commerce and the $21 million by the Republican-supporting Super PAC American Crossroads in 2010. That a Super PAC supporting only one candidate might raise and spend so much should come as both a surprise and a rebuke to both the Supreme Court and the appeals court that issued rulings creating this deregulated campaign finance playing field.
"How five members of the Supreme Court, or anyone else, can think that this environment is any different than someone cutting a $1 million check and giving it to a candidate is beyond me," Ryan said.
Make Us Great Again will likely be able to raise and spend more money than the actual Perry campaign and will easily dwarf the campaigns of all the other candidates and their Super PACs, with the exception of former Massachusetts Gov. Mitt Romney. The Perry campaign, which must raise money under federal contribution limits, could be freed to spend more on grassroots organizing than television advertising. Make Us Great Again donors would surely have great influence.
According to NBC, those close to the Super PAC state that Toomey is telling donors that it's impossible to run a presidential campaign with the current contribution limits of $2,500 or $5,000 per individual.
"It strikes me as beyond odd that that remark would be made less than four years after a presidential campaign was run that shattered all records while under federal campaign limits," Ryan told HuffPost.
Only three of the single-candidate Super PACs -- of which there are nearly a dozen -- have reported any contributions yet, and only one can hold a candle to the amount Make Us Great Again plans to raise.
Restore Our Future, a Romney-supporting Super PAC, raised $12.2 million in the first half of 2011, with an average donation of $135,000. A mere 12 donors -- four giving $1 million and eight giving $500,000 -- accounted for $8 million of the total raised.
The Make Us Great Again plan obtained by NBC calls for raising and spending $45 million between now and March 24, 2012, the peak of the primary season. That would mean raising $225,000 per day from Sept. 6 through March 24. The PAC plans to raise another $10 million to cover the final months of the primary campaign.

Popular in the Community